About IntellIoT
IntellIoT is a pan-European research and innovation project funded by the European Union as part of the Horizon 2020 programme ICT-56-2020 "Next Generation Internet of Things".  The overarching objective of IntellIoT is to develop a reference architecture and framework to enable IoT environments for (semi-)autonomous IoT applications endowed with intelligence that evolves with the human-in-the-loop based on an efficient and reliable IoT/edge- (computation) and network- (communication) framework that dynamically adapts to changes in the environment and with built-in and assured security, privacy and trust. This reference architecture and framework was applied in the heterogeneous use cases encompassed in the project, covering agriculture, healthcare and manufacturing smart environments - and also tested in the energy, smart city and construction domain. 
This HackWeek represents the third and final Open Call of our IoT project which will end in January 2024.
At the end of the HackWeek, four SME will be selected to join a special 1-month pilot programme to further co-create the developed solutions with some of our 14 IntellIoT partners, among them Siemens, Hololight, TTTech, AVL, the University of St. Gallen, Sphynx Analytics, the University of Oulu, Aalborg University and our ecosystem partner Startup Colors. For their efforts, the selected startups will receive 7,000 Euro per SME.
Check out IntellIoT's website!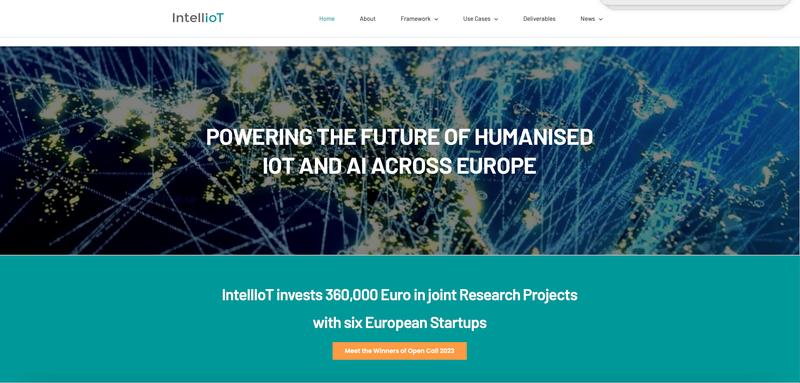 Image Caption
Categories
We invite all Startups and Micro-SME to co-develop technological approaches that apply the IntellIoT framework specifically in the novel space of "Industrial Metaverse". To frame the applicable areas, IntellIoT defined four specific challenges that especially MicroSME shall be able to address within the HackWeek:
Who can hack with us?
This HackWeek is especially for small startups and Micro-SME with up to 10 FTE and revenue of max 2 mio Euro - so called Micro-SME. (please check: https://ec.europa.eu/growth/smes/sme-definition_en). So your team needs to be incorporated to join and you should also be able to provide a PIC.
How to join /register:
Ideally, 2 to 10 team members of your startup register on Taikai and fill out the custom registration form.
The team lead sets up a project and provides all relevant information. Please also check here.
The other team members join this project and collaborate. 
There will be no matching if single hackers with teams.
Please note that of you list your projects as "private" or "draft" other teams will not be able to see your sensitive information.
Deliverables
Hackteams are expected to showcase MVPs and concepts that showcase solution pathways focusing on the four identified Industrial Metaverse challenges. 
Besides a project description provided on the platform Taikai, all eligible HackWeek teams will present their approaches in special 10 min presentations to selected evaluators. So you can also provide access to demonstrators or videos as well as source code.
Important Dates
We will apply the following multi-stage process:
HackWeek
August 8th, 2023, 12:00 CET: Start of Registration for HackWeek via Online Hackathon Platform Taikai
October 8th, 2023, 12:00 CET: End of Registration for HackWeek followed by Eligibility Check
October 8th, 2023, 12:00 CET: Invitation of eligible Micro-SME to join the HackWeek
October 9th , 2023, 17:00 CET: Kick off of HackWeek
October 10th – 12th, 2023: Attendance of a minimum of 3 online Check-ins
October 13th, 2023, 12:00 CET: Final submission of information/MVP/Slide Deck 
October 13th, 2023, 15:00 CET: 10 min-presentation of HackWeek achievements (Demo Day)
October 13th, 2023, 18:00 CET: Announcement of Winners
HackMonth
October 23rd, 2023: Start of HackMonth / 1-month pilot programme
November 29th , 2023: Final 30 min-Presentation & Q&A of Pilot Results
Please note that between October 8th and October 9th we will conduct a first eligibility check to ensure that only Micro-SME and companies based in Europe or its associated countries attend the HackWeek. We will reach out to any Hackteam that might not be eligible based on the provided information.  In case you are not sure if you are eligible, please reach out to our HackWeek coordinator Maren beforehand via email: maren.lesche(at)startupcolors.com
During the HackWeek eligble SME can decide if they want to enter the final presentation/ DemoDay taking place on October 13th, 2023, 15:00 CET. Applicants that have not uploaded their final information/MVPs/Slide Decks by October 13th, 2023, 12:00 CET onto the hackathon platform will be disqualified automatically.  Applicants that do not check-in with the IntellIoT team (via Email, message, Slack) during the HackWeek at least 3 times will also be disqualified. 
Please check out our Guide for Applicants for this Open Call #3!
IntellIoT receives funding from the European Union's Horizon 2020 research and innovation programme / ICT-56-2020 "Next Generation Internet of Things" under grant agreement number: 957218. The content of this website does not represent the opinion of the European Union, and the European Union is not responsible for any use that might be made of such content.