Hello!
This link provides information on how to better understand the functioning of TAIKAI platform used for applying your projects for Hackathon. TAIKAI is a network for hackathon/open innovations that was built to ensure a system for transparent and centralized streamlining of hackathons based on challenges where the organizers suggest competitions to our community of innovators. As a facilitation medium, the platform provides a set of tools which simplify the registration, assessment of submission of projects in order to enable stakeholders to gain an undisturbed experience during the competition.
Three key functionalities that you need to know for the entire process of application via platform are given below.
1. HOW TO REGISTER AS A HACKATHON PARTICIPANT
In order to use the platform, the first step is to register on the platform.
This is done by clicking on any of the following (LOG IN TO JOIN), picture below: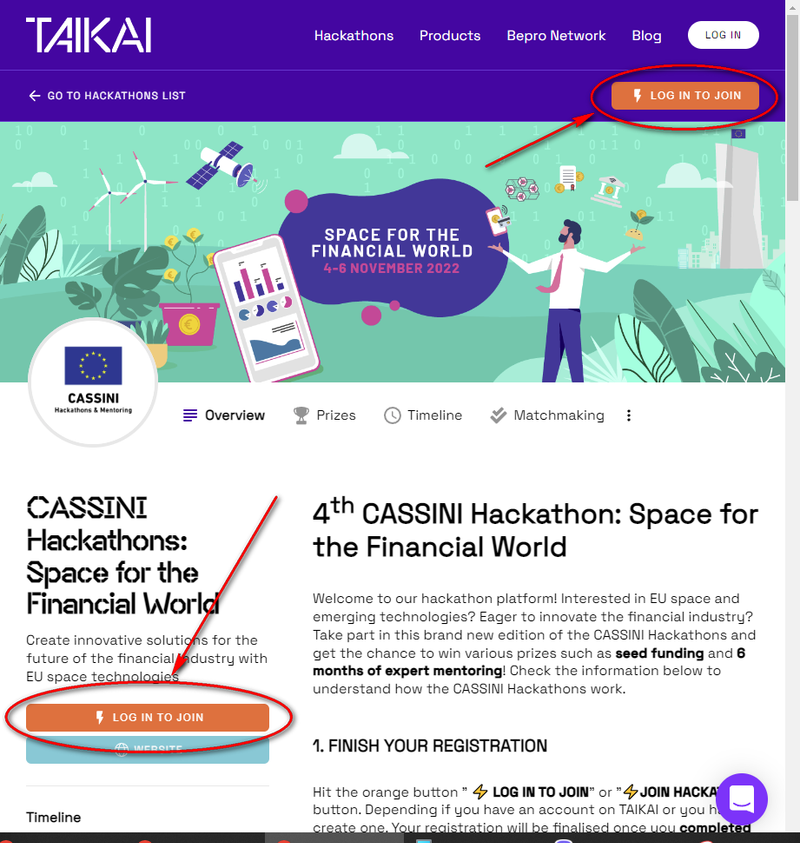 After that, follow through the process for creating new account (CREATE ACCOUNT), picture below.
If you already have an account, only you need to do is to log in (LOG IN).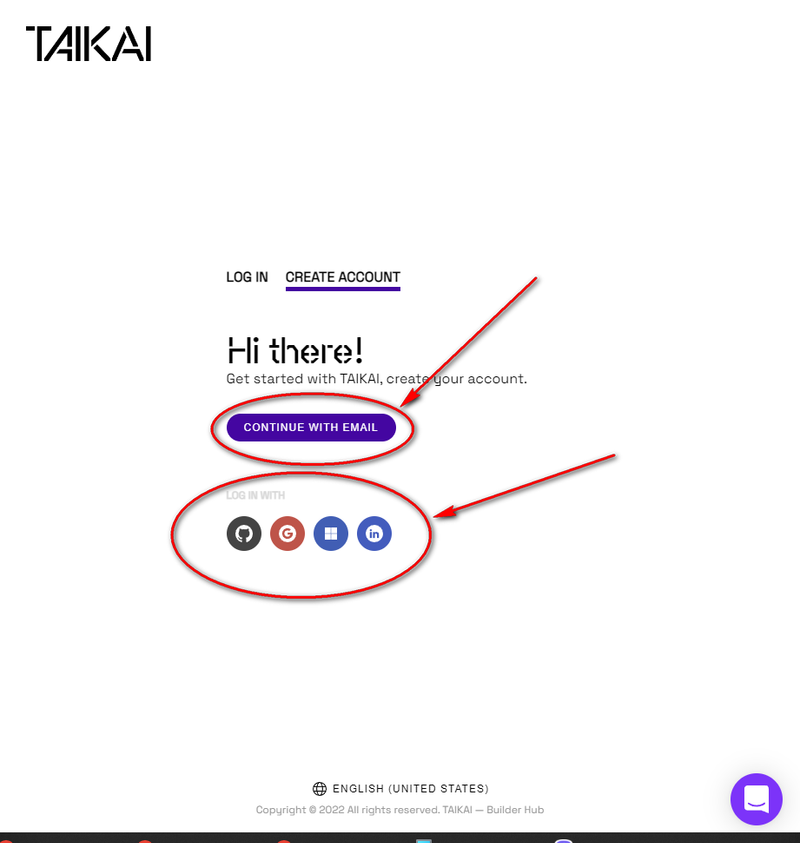 2. HOW TO SUBMIT THE PROJECT
The hackathon projects must be sent via TAIKAI web page. 
As soon as the project registration opens, as defined by the hackathon organizer, you may create i.e. apply the project for your team. In order to do that, on the first hackathon page (Overview), click "CREATE PROJECT" in the upper right corner of the screen or on the left side menu.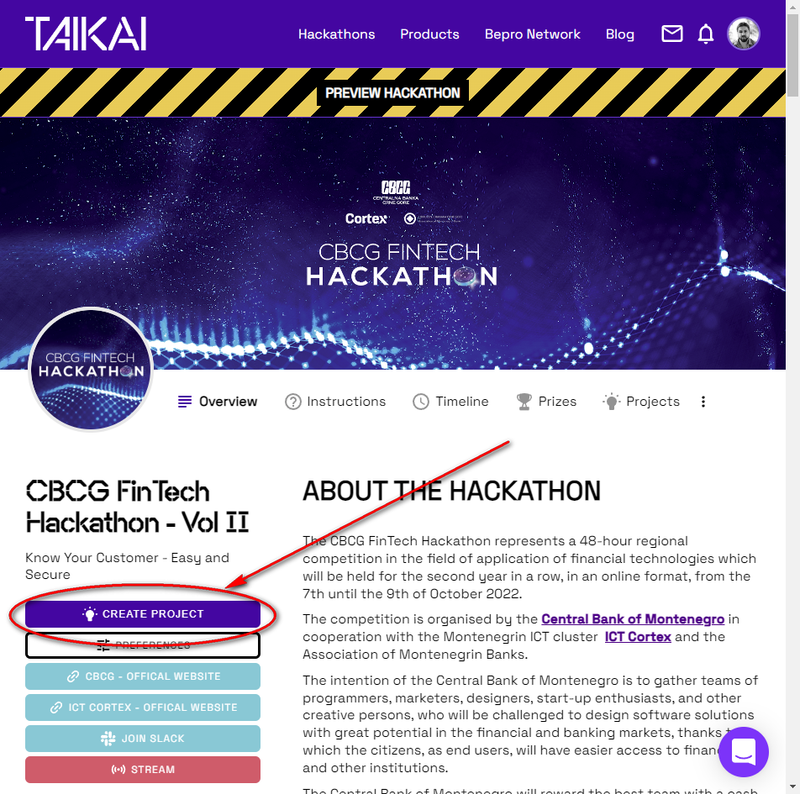 Then, you must provide the title of your project and a short description of what you plan to apply.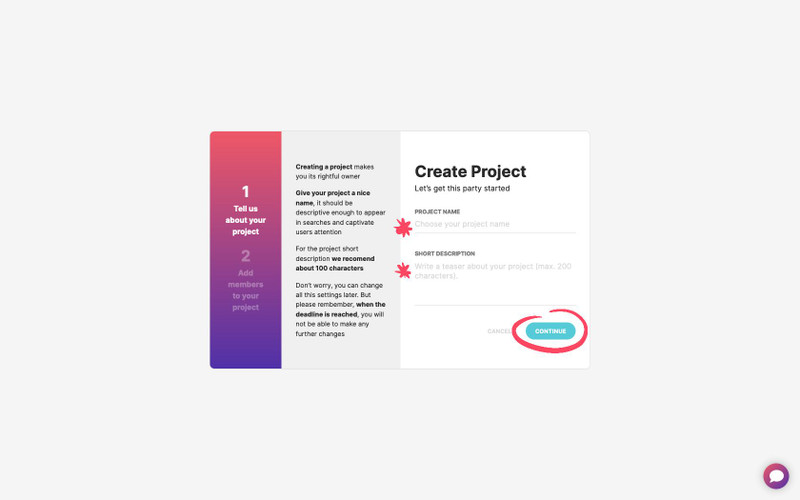 After that, add team members to your project.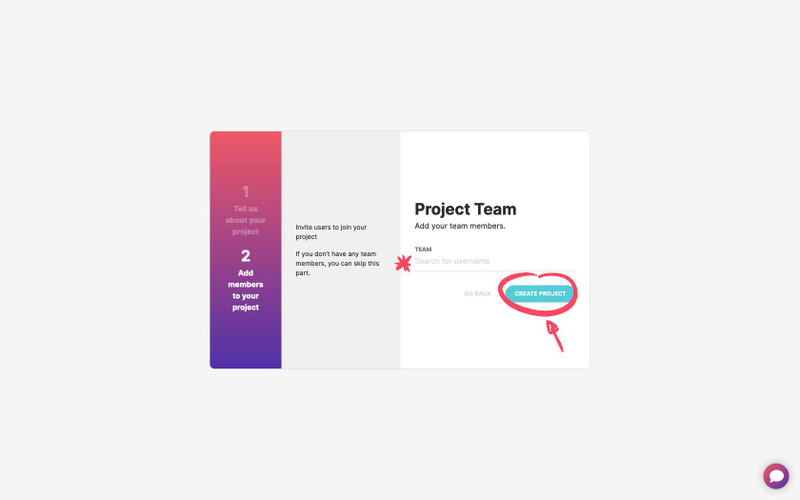 Remember that all team members must be registered on the TAIKAI platform and registered to our hackathon. You may take this step later if there are no team members on the platform who meet the specified conditions.
When you finish adding team members click "CONTINUE".
3. HOW TO MAKE CHANGES ON THE REGISTERED PROJECT
When you have successfully created your project, i.e. registered the idea for hackathon, you can make the following functionalities on the page of your project: 
Change the project title
Add and change team members
Add project information in the form of video recording, text and supporting documentation in the form of attached documents
NOTE: The applied project is invisible for the organizers by default, i.e. it is in the "Unpublished Project" stage, and to apply it, click "PUBLISH".
These functionalities are illustrated below.