Join the Race to Build Sustainable Software!
In celebration of COP27, we are hosting Carbon Hack 22 - a race to build the most innovative carbon aware software solutions using the Green Software Foundation's Carbon Aware SDK/API with a total prize pool of $100,000 USD.
The SDK/API enables software to do more when the energy is clean and less when the energy is dirty.
        Watch this video to find out more about Carbon Awareness.
        Read up on the SDK/API
        Get inspiration on the types of carbon aware solutions you can build. 
  Register now and join the race to create sustainable carbon aware software
Visit https://greensoftware.foundation for more information about our Foundation and to join our newsletter.
Requirements
What to build
Project submissions must leverage the Green Software Foundation's Carbon Aware SDK/API to create carbon aware software, or to create enhanced capabilities for the Carbon Aware SDK/API. 
Projects can be written in any language capable of connecting to the Carbon Aware SDK/API. That would likely include code, but it is not limited to it. We encourage participation of any type as we are looking for creative and innovative solutions to green software. There are many areas to explore.


Here are some sample ideas for Carbon Aware applications across different categories.
Carbon Aware Cloud

Carbon Aware Kubernetes

Moving workloads to different regions and times.

Carbon Aware AI

Training models in different regions and times.

Inference, scaling down accuracy.

Carbon Aware Web

Carbon Aware Blockchain

Moving blockchain calculations to take advantage of lower carbon intensity.

Standardize capturing green software metrics.

New SDK/API capability

New cloud providers

New language platform

New integration
Have you registered yet? 
If not, go ahead to the registration tab and blow our minds! Once you have registered, you will receive an email (within 24hrs) from GSF containing a Participation Package with detailed information about the hackathon and your WattTime key.


Publish Project & Find Team Members
When you have decided on a project, we require every participant/team to create their project on the platform. Publish the project with a title and a short description. Once you have published the project, you can use the matchmaking tab to find team members. Project teams in this hackathon can be both made before the hack, or made during the beginning of the hack. We recommend the maximum number of team members to 5.
What to submit
We are looking for tangible ideas that can either be applied right away or such that have a clear completion roadmap for a significant long term contribution. To wrap up the three weeks of work, the hackathon will end with pitches of your creations. Use the following guidelines. Further details can also be found under the project tab. 
Create a project page on this hackathon. 

Feature a 2 minute (maximum 120 seconds!) presentation video.

Textual pitch submission on Taikai.

Feel free to add more details and resources such as links to code, forks of the carbon SDK/API Github repo, presentations and video or longer demos, enabling the judges to more deeply explore your solutions (recommended).

All Submission materials must be in English 
Sponsors
This year's Carbon Hack is sponsored by GSF member organizations:

Partners
Judges
The hackathon is being judged by industry leaders, all with a passion for green software.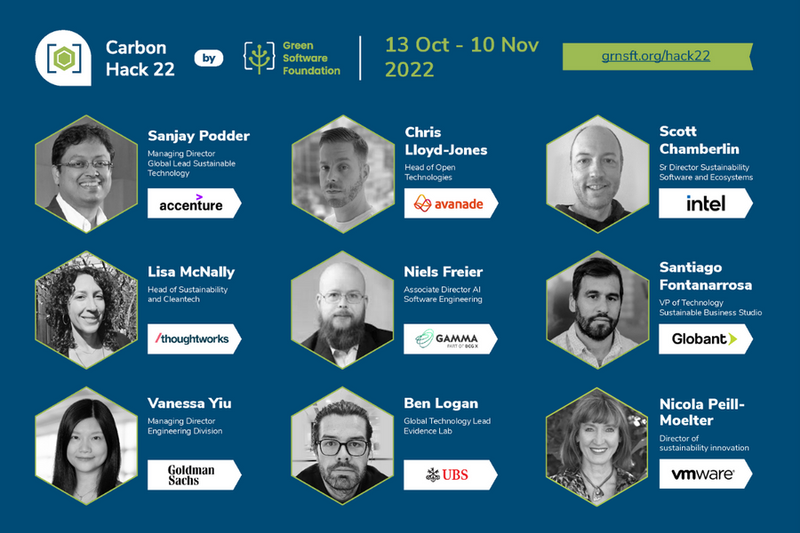 Green Software Foundation
The Green Software Foundation (GSF) is a non-profit formed under the Linux Foundation with organisations and individuals participating in various projects to further our mission.
GSF is creating the Carbon Aware SDK/API, an open source toolkit for building carbon aware applications. A collaborative effort from multiple corporate and non-profit partners, the Carbon Aware SDK/API will reduce the barriers for software practitioners in creating carbon aware applications. The carbon aware SDK/API has two parts, a hosted API which you can query using a client library available in 40 different programming languages.
If you are interested in receiving our newsletter with the most recent developments in the green software sphere, signup here.