💎 Idea
oDam: open Diplomatic Aquatic Modeling

Hydropolitical tensions in the world are rising every year and impacts on local communities keep growing. These tensions can lead to limited access to water, affecting everything from potable water supplies to agricultural viability and the stability of local hydropower plant.
At oDam, our focus is on creating a transparent platform that uses satellite data to provide information about upstream water supplies. In regions where infrastructure for diplomatic communication and water management is underdeveloped or strained, oDam steps in to facilitate the crucial availability of information and predictive analyses.  
Through oDam's services, water-dependent communities and nations can transition from reactive to strategic, ensuring equitable and efficient use of shared water resources.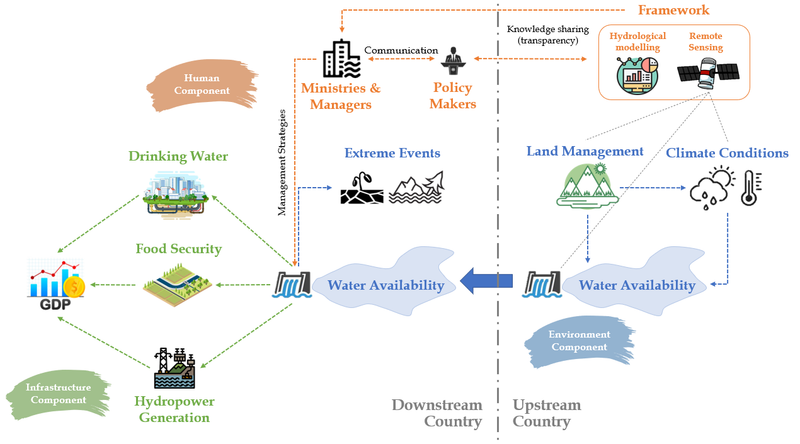 🛰️ EU space technologies
OpenDam leverages the power of EU space technologies, particularly copernicus satellite data (CMIP6, GFS, NDWI, Digital elevation model) and remote sensing products. By harnessing these resources, we created robust models that offer invaluable insights. These insights enable local governments and authorities to make informed decisions about water resource management. The use of EU space technologies provides accurate modeling that brings a high level of precision and reliability to our solution.
⛑️ OpenDam directly addresses the following challenges:
Challenge #1: Supporting sustainable infrastructure development: OpenDam helps local governments and communities better manage water resources through the use of EU space technologies. This sustainable water resource management contributes to infrastructure development by ensuring a stable supply of clean drinking water and hydropower, which are fundamental to the development of any region.
Challenge #2: Strengthening food security & access to clean water: OpenDam plays a vital role in enhancing food security by providing local farmers with essential data to optimize their crop yields. This information empowers them to make informed decisions about water resource usage, ultimately strengthening food security. Additionally, our solution aids in ensuring access to clean drinking water, a fundamental element of food security.
In summary, OpenDam's innovative approach, using EU space technologies, directly addresses these challenges by providing crucial information and insights that empower local governments to better manage their water resources, thus contributing to international development and humanitarian aid efforts. Our solution is a valuable asset in building a more secure and resilient future for communities in need.
🛠️ Get the service
oDam provides two types of services:
Annual Water Management Plan: Monthly dam water supply available and future downstream water flux is modeled based on historical and climate projection data. This plan will advice you optimal water management strategy to prevent water deficit.

Early Warning System: This service predicts for the coming two weeks if there is a risk for drought or flooding based on the predicted water retention in the dam reservoir and real-time weather forecast data.
Our services can be tailored to the needs of various client groups such as:
Local Governments and/or water authorities
Humanitarian Aid Agencies
Agriculture
Other
Interested in the services? oDam will work hand in hand with you to customise the service to your needs and context. You can then sign up for an annual subscription with your organisation.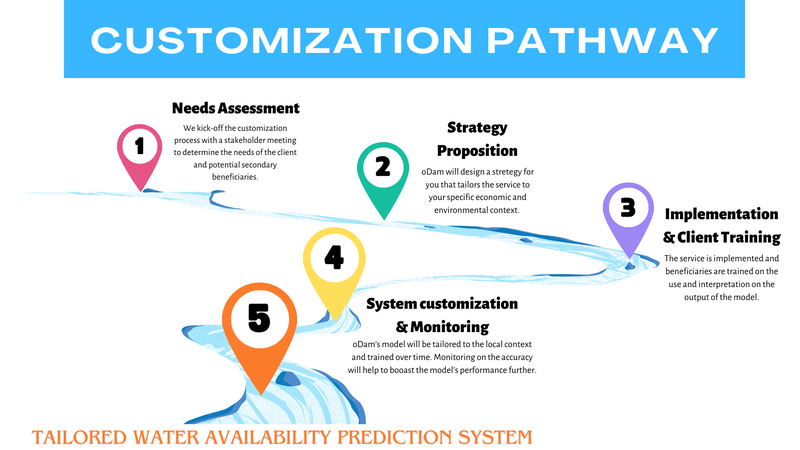 🤼 Team

Awad: a Sudanese professional with a background in Civil Engineering, he recently acquired  a Master's degree in Earth and Environment at Wageningen
Fedor: Master's student in Computer Science at KU Leuven, enthusiastic about hackathons and entrepreneurship.
Janina: Meteorologist and climatologist in the field of food security with a focus on the global south and experience in business development.
Cédric: a French geo-data scientist with a degree from Wageningen University, also studied History and Geography in France. He's set to join the UNDP's Sustainable Development Goals AI Lab in November, contributing his skills to sustainability projects. 
Lars:  A recent Artificial Intelligence graduate passionate about data visualization and modeling, interested in bringing these tools to the Space and Humanitarian sector.
Edgar: A computer vision PhD and CTO at his startup.
Tom: A civil engineer with experience in large-scale infrastructure projects and learning Python.
Merlijn: An electromechanical engineering student with an interest in IT and business.