Hackathon
Who can attend?
Anyone. You can be a coder, artist, photographer, biz dev, legal or anything in between.
Is the hackathon virtual or in person?
hackathon fully online.
Due to stricter Covid19 rules applied by the Swiss Government on 13 September, art-st-urban, presenting partner and host of the #hackARThon cannot guarantee anymore for the safety of all involved and must refrain from a physical hackathon in St.Urban. As a result: We focus now on an online only #hackARThon. In the coming days, we will take all measures to prepare an unforgettable online event during Art Basel. There will be no changes in terms of challenges, criteria and prizes. With Taikai, we have the perfect hackathon management platform to hack into the Metaverse. Any updates regarding Covid19 will be shared via the Updates section and Discord.
What is the application process?
Final deadline is 11 October 2021. However we highly recommend to apply with your whole team as early as possible using this platform. You have to use takai to ship your project.
Can one team submit more than one application?
Yes, you can apply for up to 2 challenge categories.
How does team formation happen?
You first need to apply as an individual. Then you can form teams via the Match-Making function.
Can one person submit an application?
We permit individual work, but we encourage interdisciplinary teams of 3-5 members.
Is the usage of third party tools allowed?
Yes, third party tools, libraries or usage of own software is allowed.
Can I use old projects or existing products?
Usage of old projects is allowed, but must contain 1-2 new functionalities. Judges will only consider new functionality introduced during the hackathon in determining the winners.
What are the assessment criteria and process?
A diverse panel of judges, who are experts in their respective field will receive and assess the entries for relevance to the challenge problem solution fit, feasibility & business model, technology, and novelty factor. Other aspects that will be assessed include; teamwork and presentation/public speaking.
How does the voting work?
The voting is based on KAI token distribution via the Taikai ideation platform: The judges check each project and assign a value from 1 to 10 to it for each criteria.
11. How many winners are there?
3 x winners within the SOLANA category
1 x winner within the Persistence category
12. How do participants collaborate with their mentors?
You can get in touch with the mentors via Taikai directly or via our dedicated Discord-Channel.
On top, the mentors have the opportunity to hold webinars from the beginning of September and have regular exchange with the participants via Discord. We will share any upcoming webinars via the Updates section on Taikai and Discord!
Project idea submissions
1. How to submit my idea?
1. Please go to the "Overview" page!
2. Click "Create Project"
3. Fill in your idea and select your team-mates!
4. Very important: Before you submit your project, please select the challenge category - This step is very important to map your idea to the right jury!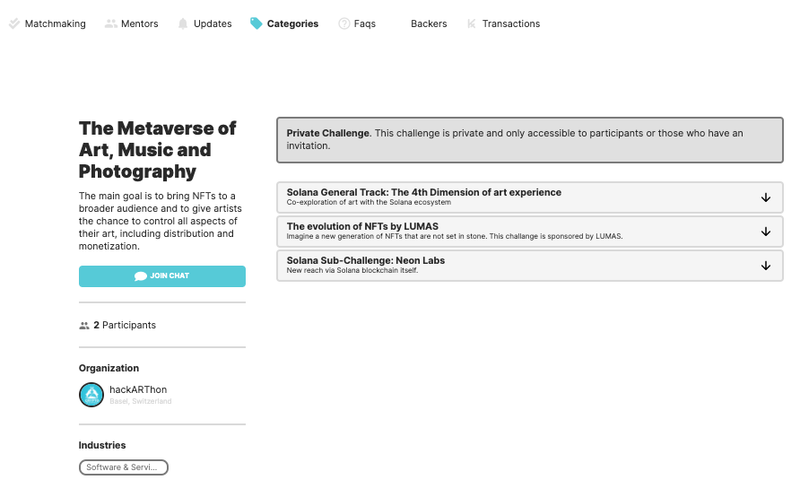 Before you submit the final project idea, you can ask the mentors for advice!
2. Can I submit one project to more categories?
Yes, it is possible to submit the same project to different categories.
IP
Who will own the IP?
The developed product's intellectual property (IP) remains the property of the team participating in the programme. The team will agree among themselves on who owns what part of the idea. We can share your submission under an open source license.