Description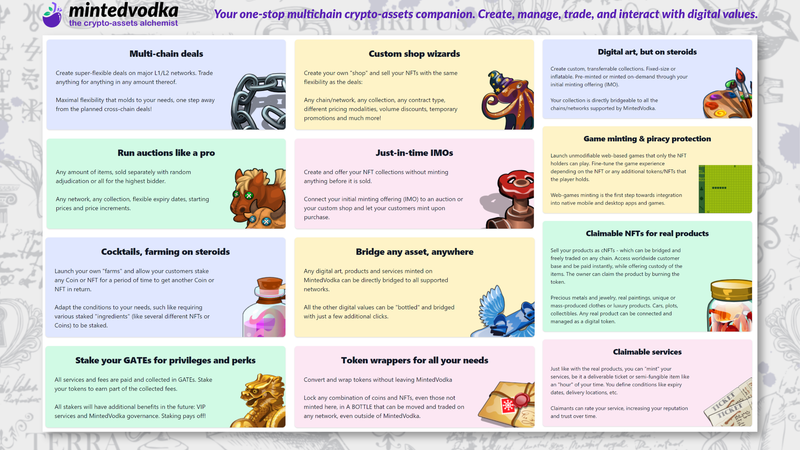 GAT Network is a web of connected NFT trading & gaming projects centered around MintedVodka the next-gen crypto-assets marketplace and NFT toolbox ( https://minted.vodka ) :
Non-escrow
Multichain / Cross-Chain
Claimable NFTs
All-around flexible deals
Mystery Boxes
Multichain NFT Wallet
On-demand Minting
Game/Software Minting
Layered NFT minting (of auto-generated collections)
NFT bridging/wrapping
User-launched farming events
All the features are scheduled for release within the next weeks/months as part of MintedVodka 2.0.
Minted Vodka is focused on collaboration and on creators - we want to attract the best artists and developers to the tEVM!


MULTICHAIN: MV2 has a highly flexible multichain architecture. Assets minted or wrapped on MV2 can be bridged to dozens of other chains 
ANYTHING FOR ANYTHING Trading: Flexible non-escrow trading: any token, any amount, any combination, any chain. Create simple deals, auctions, bulk deals, mystery boxes or other gamified trading events. 
NEXT-GEN NFT MINTING: Mint-on-demand or pre-mint your collection. Easily do layered minting of collectibles. Easily launch your customized sale event. Mint playable NFTs using GameAce technology. Everything is bridgeable to other chains. 
COOPERATION MEETING-POINT: Discover other projects and use flexible tools to collaborate and promote. Gamify the user experience and launch customized sale and farming events.