Description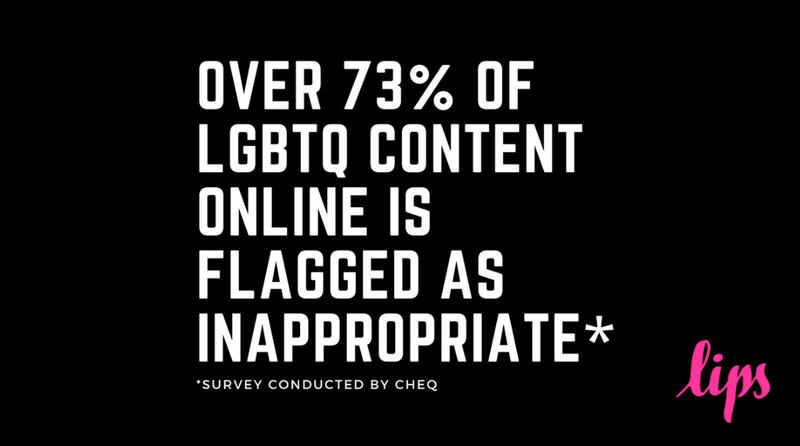 what is lips?
lips is a feminist technology organization at the forefront of the inclusive design movement, building products designed to unlock opportunities for previously underserved and intersectionally marginalized communities.
our first product is a social media platform - lips.social - designed for women, non-binary folks, lgbtqia+ individuals, and their fans who are seeking a space to express themselves through art, and discover creators without the unhealthy aspects of mainstream internet culture such as online harassment, discriminatory censorship, and plagiarism.
the problem
currently, most of the mainstream app algorithms and human moderators lack nuanced understandings of sexuality and sex work, hence why content by intersectionally marginalized creators [women, non-binary, lgbtqia+, biopic] is so often misunderstood and censored. at the same time, hate speech and exploitation continues to flourish on mainstream apps. the root of the problem lies in top-down "community guidelines," biased moderation algorithms, and a lack of thoughtful barriers against hate speech and harassment. 
community-designed
what does a healthier space online for women-identified, non-binary folks, & the lgbtqia+ community actually look like? it takes bringing these marginalized voices in and centering them in the design process, which is a practice known as design justice led by professor sasha costanza chock.
these communities are well equipped with the knowledge and tools necessary for their flourishing, but representatives are not often brought to the decision-making table. as members of these communities ourselves, and using research from user testing and co-design workshops, all of our decisions—from features, to the language of our "community guidelines," to how our community is built, maintained, and moderated—are made with this awareness.
we aim to give brands, artists, influencers a place to share content that educates and empowers marginalized communities. our "community guidelines" are rooted in freedom and fairness for all groups and do not tolerate hate speech and harassment. we keep our people safe through a vetting process, and only allow those who choose our values to contribute their original work to the community.
inclusive moderation & self governance 
our proprietary inclusive ai and blockchain-enabled moderation system is what enables us to exclude exploitative content without unfairly deplatforming marginalized creators.
[patent-pending] community-trained, more nuanced moderation algorithm
[patent-pending] blockchain-enabled anti-harassment & plagiarism features
secure voting for community moderator representatives and boards
incentives for community participation in moderation and ml training 
ultimately creates contextual ai that can be outsourced to make the internet as a whole safer and more equitable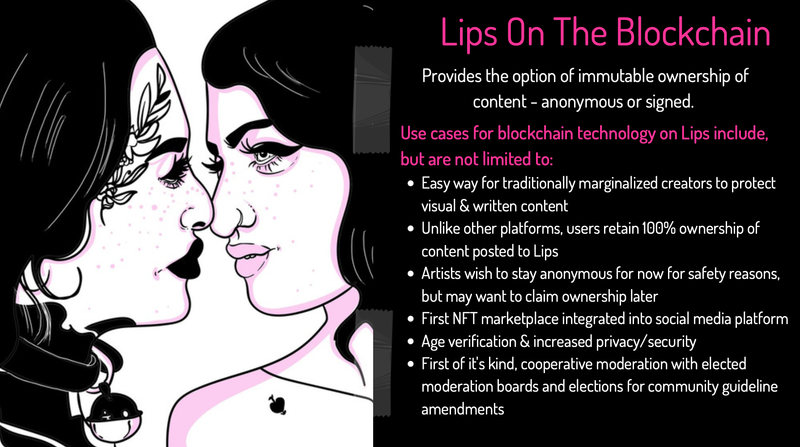 lips is a digital space where these groups can express themselves creatively, buy and sell their work, and never worry about being banned or targeted with abuse. to be clear, all posts on lips are legal creative expressions - only banned on other platforms due to poorly-designed, blanket policies, and discrimination caused by insufficient awareness, lack of nuance, encoded biases, and a shortage of diversity on technical teams.
the lips app is designed with marginalized voices at its center. we combine patent-pending machine learning and blockchain technologies, clear community guidelines, proactive & feminist moderation, and built-in ui/ux protections against censorship, harassment, and plagiarism to create a space online where marginalized communities can thrive.
ultimately, our goal is to use the data gathered from our participatory moderation system to build an algorithmic model that addresses many of the problems of moderation bias found on existing platforms. this ethical, anonymous, and diverse data will become increasingly valuable as the public demands more inclusive technologies.
additionally, because lips is building on the blockchain, our product will allow for revolutionary, and much-needed features for our community such as the option of immutable ownership of content - anonymous or signed, and secure community voting for moderation and community representation. 
backed by users & experts
we've already witnessed the difference a platform like lips can make for marginalized communities through feedback from our 20k+ user-base, and our participation in the youth mental health focused headstream accelerator. we are also working with some of the world's leading ethical ai experts and research organizations to develop and measure the impact of our technology. 
"lips is providing a safe, inclusive place for communities that will never be accepted on big tech's platforms. these values and freedoms are worth protecting, and because these communities are getting rejected in other platforms. i was senior counsel for international relations and free expression at google where i advocated for google's position on the open internet and free expression at the united nations and globally. while advocating for google's vision, i learned that google's open internet is not, in fact, a truly inclusive, open internet; instead, google's internet is defined by specific value judgments of a few classes of people. google no longer carries the torch of free expression that it once did for the internet, but my personal passion for protecting the open internet and free expression has never changed. i'm happy to be an investor and advisor in lips and to help lips accomplish what google and other silicon valley tech firms have long given up. lips is already a beacon of free expression in this space and will continue to do so." - patrick ryan, former trust, strategy & engineering principal at google, currently technical program manager/security and r&d at tiktok
"a much-needed solution to an important problem with social media. the idea of developing an application using ai that actually can include and become a safe space for queer people is a great idea and a way to solve part of the ethical and social aspects of content moderation rules in the most popular social media platforms."  - international conference for machine learning submission review board member 
"at this point in time and history, this is a grand opportunity to be rolling out a new social network. especially one that addresses the widespread issue of discriminatory deplatforming. the lips team's ability to identify the scope of this issue early on, even before it was in mainstream headlines, is indicative of the visionary quality and high potential of this tech." - barbara bickham, managing partner at trailyn ventures  
"annie brown is one of the most tenacious, determined, technical, and forward-thinking founders i have been graced to advise and watch scale her exceptional startup, lips. the product-market fit has been tested & proven because this highly-vetted and mindfully-built technical platform is uniquely created, organically grown, & varified to be exactly what the intended, ideal target market needing. annie is the perfect founder-market fit example, having (1) high awareness of the community she is empowering, (2) business acumen to build the right business model for optimal scale, (3) knows the exact growth marketing hacking strategies and technique to make the platform go viral, and (4) a high eq surrounding investor relations as she consistently follows up, is coachable and seeks feedback. finally, the momentum lips has received post-launch from her community will allow for exponential growth in users, conversions, and long-term brand loyalty; which converts to growing revenue due to the economic empowerment opportunity of an untapped market. the strengths of the founder, annie brown, coupled with a machine learning & blockchain-enabled empowerment platform for womxn, lgbtq+, & marginalized communities is a game-changer." - silvia mah, director of innovation at biola university, and co-fund manager at san diego angel conference
"one of the beautiful parts of digital places are the communities filled with support and the platforms promoting self-expression. unsurprisingly, the prejudices that exist offline have become pervasive in the online experience of many marginalized groups. the right to self-expression, to explore your identity, to seek kindness and support should not be afforded only to those who fit society's intolerant standard of 'normal.' lips is at the forefront of reshaping our perception of what digital platforms can be by creating powerful experiences for individuals who rarely see themselves represented, or worse, constantly face discrimination while online." - david ball, senior director of headstream @ secondmuse