Description

Artist Statement
Heart and Soul
The heart and soul of Fluff District is inspired by Christ. He lived His life in service to others. In a world where so many are striving for self gain and fulfillment, with Fluff District I hope to follow His example and draw our focus back to serving others first. In doing so we will be pleasantly surprised to realize our own needs were being taken care of all along.
Mission
The world is moving in a new direction. With social media, metaverse, cryptocurrency, NFTs, and the likes, we are connecting with each other in so many new ways. While moving forward in this direction, Fluff District wants to make sure not to leave other important ways behind.
Our goal is to connect NFTs with valuable real life experiences and connections. Not only do we want to build a community in the NFT world, we also want to connect it with the every day real life community in front of us.  
NFT Art Style
Personally, I really enjoy the art style of Fluff District. I believe it stands out from other NFT styles with its happier tones and light heartedness. I really wanted an NFT style that embodied the mission of Fluff District. Not only will our Fluffs be enjoyed by its community members but also those who may not be familiar with the NFT world at all. Through Fluff Giving so many others in the real world will enjoy our Fluffs. The personality and characteristics of our Fluffs will bring smiles to many faces. 
Fluff Giving
Fluff Giving is a once a month opportunity for our community to serve the real world through giving. Using 20% of earnings from Fluff District mints and royalties, we will be able to fund our gifts to worthy causes. 
10% will fund a worthy cause chosen by Fluff District
10% will fund a worthy cause chosen by Fluff District and a randomly selected Fluff District NFT holder
Fluff District will collaborate with selected NFT holder to choose a worthy cause to give to. Our social media outlets will feature the selected NFT giving away their gift (example picture below) as a way to keep our community involved and excited about the gifts being shared. How cool would it be to see your NFT featured in a Fluff Giving giveaway?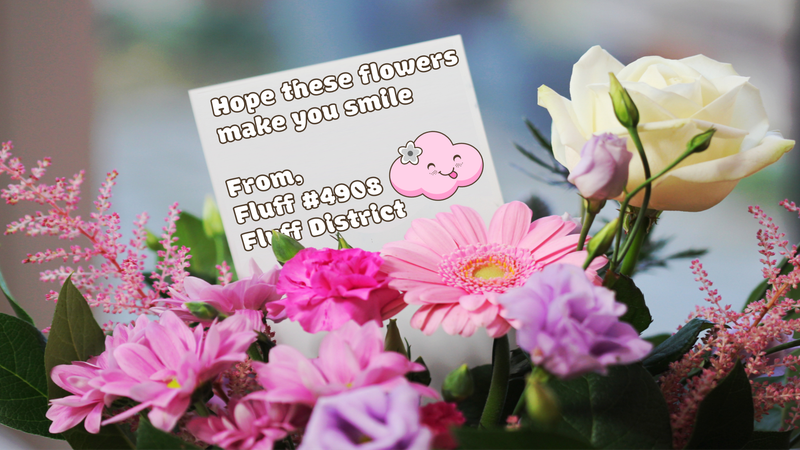 The options for gift giving are very open. Fluff District will work with you to make sure the give away idea is approved first. You could choose to give flowers to a stranger, buy groceries for a family at the grocery store, buy warm clothes for a homeless community, support a local youth sports team, help fund a struggling student's tuition, or even pay for a babysitter to give an overwhelmed mom a break. There are so many possibilities.
Our funds in the beginning will be humble. Nevertheless, every gift given will be worth it. A need is a need no matter how great or small and there is always joy in giving no matter how big or small the gift. Through giving we hope to motivate the growth of our community. As our community grows, so will our Fluff Giving.
Once all aspects of the give away are complete and verified by Fluff District, the chosen Fluff Giving NFT holder will receive a special gift from Fluff District as a thank you for their thoughtfulness and consideration in giving.
Fluff District serves you so you can serve others. 
Community
With a percentage of its earnings, Fluff District will serve its community through airdrops, missions, Telos giveaways, NFT giveaways, and more. We are excited to put a spin on the common NFT missions by implementing more real life experiences into them. For our holders who participate, such missions will bring more than just a giveaway reward. This will help us accomplish our mission of connecting our Fluff District holders to the real life communities surrounding them. Whether it be their family, neighbors, coworkers, peers, or other type of community, they will be encouraged to build on those connections.
One of the major goals of Fluff District was to create a family friendly NFT community. From the NFT art work to the mission and happenings, Fluff District will always be a welcoming environment for families. 
What's Next?
For now we will focus on building our Fluff District community. Through Twitter and Discord we plan to get the word out about Fluff District and put some incentives in play to set us up for our launch.
With two other Fluff District collections already in the making, we feel prepared on the NFT art end for our community to grow.
We are not disheartened by the fact that it may take awhile for our community to grow. We are patient to wait on the right people to join our community. We believe in our mission and are excited to move forward, even if only one little step at a time. With the satisfaction of our monthly Fluff Giving, I envision a lot of strength and endurance for the long road ahead.
If I win 25,000 Telos?
40% -- HODL
I think highly of the Telos blockchain and would like to keep a portion of my winnings in the Telos network.
25% -- Community Development
With this I will fund different initiatives to grow our community. I would push the minting of Fluff District with incentives like missions, Telos giveaways, NFT airdrops, and such. 
25% -- Career Development
To help further my career, I'd like to upgrade my equipment and tools for future projects.
10% -- Fluff Giving
I am excited to kick off Fluff Giving right away with funds from my winnings. I want to put my money where my mouth is and I believe this initial Fluff Giving will serve as a great example to our community as to what is possible when you become a part of Fluff District. 
Specs
Collection size: 7777
Price per NFT: 25 Telos
Artist: Nimbus Republic
Dev: Nimbus Republic
Socials
Twitter: @FluffDistrict
Discord: Fluff District#0529