Introduction 

Chain SDG Project is an ambitious initiative aimed at promoting and incentivizing the implementation of the United Nations Sustainable Development Goals (SDGs) through blockchain technology and non-fungible tokens (NFTs).
Polygon is a high-performance blockchain that offers a scalable and low-cost solution for executing smart contracts and creating decentralized applications. Choosing this blockchain for the Chain SDG project allows transactions to be performed quickly and securely, as well as offering a low-cost solution for users.
With the Chain SDG platform, companies, governments, and non-profit organizations can certify compliance with the UN's SDGs by issuing audited NFTs on the Polygon blockchain. These tokens can be traded on specific markets, generating financial incentives for organizations that achieve goals in a sustainable manner.
Moreover, the Chain SDG project also offers a solution to the lack of transparency and reliability in information related to the compliance with SDGs. Through blockchain technology and audits conducted on Polygon, information is recorded transparently and immutably, ensuring its integrity and authenticity.
The Chain SDG project works in the following way:
1. Creation of NFTs for each of the UN's Sustainable Development Goals (SDGs) that represent the goal and contain information about its implementation.
2. Collection of evidence related to the implementation of each SDG by organizations, governments, and companies.
3. Verification of the evidence collected through audits conducted on the Polygon blockchain, ensuring the authenticity and integrity of the information.
4. Issuance of audited NFTs to organizations that have achieved the SDGs sustainably, which can be traded on specific markets.
5. Promotion of the implementation of the SDGs by offering financial incentives for organizations that achieve the goals sustainably, and by creating a transparent and reliable system for tracking progress towards the SDGs.
In summary, the Chain SDG project creates a certification platform that uses blockchain technology and NFTs to promote and incentivize the implementation of the UN's SDGs, while also creating a transparent and reliable system for tracking progress towards these goals.


Impact Measurement
For each audit conducted by our organization, the company will receive a set of points based on the questions formulated by the UN regarding each SDG. Based on this, a non-fungible token (NFT) will be issued, which will initially be static, but the idea is to make it dynamic in the future.
After receiving the NFT, the company will issue an equivalent number of tokens that will function as a currency. These tokens will be provided to beneficiaries for the completion of activities such as:
1. Specialization courses taught by partner organizations;
2. Medical/dental services;
3. Basic food baskets.
In summary, the impact measurement process involves conducting audits on each SDG, issuing an NFT to the company based on the results, and providing tokens to beneficiaries for completing activities that contribute to the achievement of the SDGs. This incentivizes companies to make sustainable changes and promotes progress towards the UN's SDGs.
When the company uses the tokens to pay partner organizations, the equivalent in fiat currency will be paid out. These tokens will then be burned after their use.
In addition, our group has developed an auditing tool that enables the tracking of all operations made with specific tokens from a company on the blockchain, creating transparency in the process.
We will start by certifying four SDGs, but our goal is to cover all 17 of them in the future.
Website
We will have a project presentation website with registration and audit follow-up tools. The idea is that our project participants, as well as third parties, can measure our impact and what we are really changing in terms of social reality. All of this based on blockchain auditing.
Site sample: https://codigobrazucasocia.wixsite.com/chainsdg-project


Workflow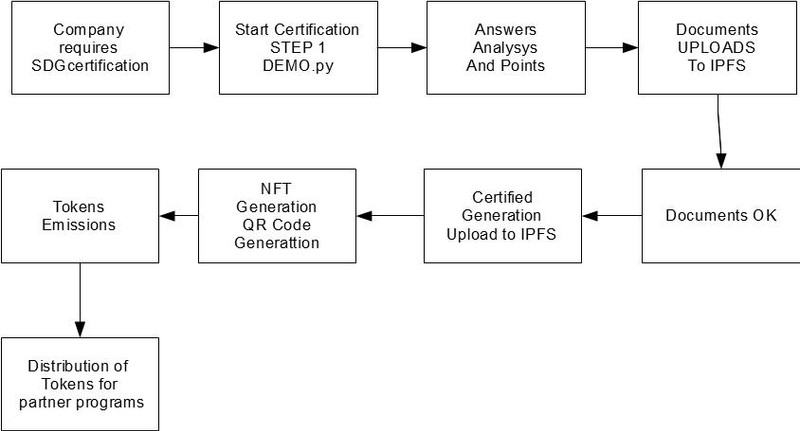 STEP 1 - Company Requires SDG Certification
At this stage, the company contacts and requests certification in the desired SDG.
STEP 2 - Certification
The company is submitted to our automated form, which generates a json with the answers to estimate the score based on the ONU score.
STEP 3 - Answers Analysis and Points
Analyzing the answers and reaching the required score, she moves on to the next phase.
STEP 4 - Document uploads to IPFS
At this stage, the necessary certificates and documents are sent to prove the actions focused on the SDG of the company to be certified. These documents are placed in IPFS for future functions in our project.
STEP 5 Documents OK
All documents analyzed are in compliance and approved.
STEP 6 - Certified Generation Upload to IPFS
A certificate generated by our project is generated in the form of a pdf and uploaded to IPFS. This registration is the first step of certification.
STEP 7 - NFT Generation and QR Code Generation
At this stage, the certified company receives an NFT with a set of metadata composed of the following
Company Name
SDG certified
Certification Period
NFT image
IPFS address of pdf certificate
This is the first certificate on the blockchain for your audit. The company will now create a portfolio where this NFT will be received and duly mined.
Next, a qrcode pointed to the pdf file in IPFS will be generated. This QRCODE is a seal for packages or actions in the web2 world that the company can make available to its customers/partners.
STEP 8- Token Emissions
At this stage, the number of tokens equivalent to the number of employees in its workforce will be issued to the certified company's wallet. The average cost of issuing a token is $60 per employee. If a company has 100 employees, it will receive 100 tokens, with each token worth $60 in fiat currency. These tokens will be used in social impact operations. (See Tokenomics)
STEP 9 - Distribution of Tokens for partner Programs
In this phase, the company will be able to choose which social impact projects it wants to donate its tokens to and thus generate an impact (see Partner Programs). From there we started the blockchain auditing process (see auditing)
Tokenomics
The created tokens are placed in a wallet guarded by the company and can be directed to partner projects certified by our project.
Each partner project has a specific wallet where you can receive these tokens and thus perform the necessary action. When choosing the project, the company transfers the number of tokens to carry out the action and thus have the initial registration on the blockchain. The company can choose more than one partner project to donate tokens.
At the time of project execution, NGO or contemplated institution, transfers the tokens to our wallet, where this token will be transformed into FIAT money by our project and sent to a bank account of the contemplated project. This is not an onramp activity as it will need our approval for this to occur.
This option was based on a series of regulations made by the CVM (Brazilian Securities Commission) regarding onramp securities transactions. In order to be able to do this, we will have to obey the criteria of the Law of PL nº 2303/15 with prior registration based on the law 1888 of the Federal Revenue of Brazil. In this case, we could act as a DEX, converting these onramp values and sending them to a bank account.

Brazil is currently undergoing regulation with regard to cryptocurrencies and we would have a longer process to make this process possible. One proposal would be to have a partner DEX in this environment, to carry out this operation.
Partnership program
Social projects will be able to certify on our platform to receive benefits from our project's tokens. For this, a series of compliances must be obeyed due to Brazilian laws.
Once this is done and going through this certification process, the projects will be part of a list, divided into SDGS classifications. Each project will receive a wallet to receive donation tokens from companies certified by our project. Each project will receive a certificate in the form of an NFT to demonstrate its competence. This NFT is given for a period of time.
These projects, upon receiving these tokens, will be able to exchange them for FIAT currency by sending them to our wallet and thus carrying out this transaction.
Gamification and Ranking
Certified companies and projects will be able to participate in a gamified ranking system, indicating the degree of effectiveness of their actions. The benefits are as follows
Certified Companies
- A special NFT showing your degree of commitment to social impact actions and application of the SDGs
- Featured in the Ranking
Outstanding Social Projects
- A special NFT showing your degree of commitment to social impact actions and application of the SDGs
- Featured in the Ranking
- Possibility of bonus tokens from our project to generate more resources for your actions.
This system will be audited by our team using our sdgaudit tool.
Auditing
Project auditing is one of the main problems in many organizations. Records can be tampered with and thus cause inconsistencies and falsifications in reports.
The blockchain solves this in a simple way, since it is an immutable and certified record. With that in mind, we created a tool that would audit token transactions on the polygon blockchain, through its smart contract or even token designation.
SDGAudit will generate a report showing all the operations for periods of time of a contract and thus generates a real and simple way to monitor how resources are being applied to social projects and how certified companies are generating impact.
The idea is to have an application that, when generating reports in txt format, can also generate html entries from the registers and display them on our website in real time to monitor these transactions.
The Site as an Audit Viewer
Our project website, in addition to having a series of information about certification stages, will have a sampling of the ranking system and reports on investments made by certified companies in contemplated social projects. With this, we can measure the effectiveness of investments and generate information based on blockchain transactions, thus validating the processes we are involved in.