Be seen & get help in less than 1 minute...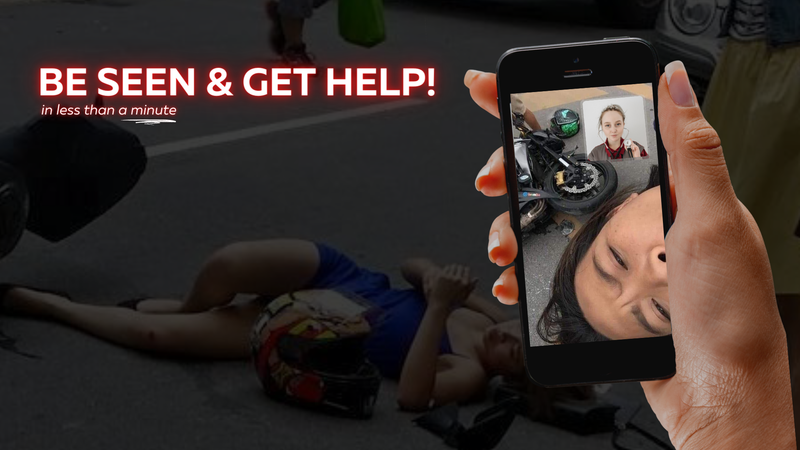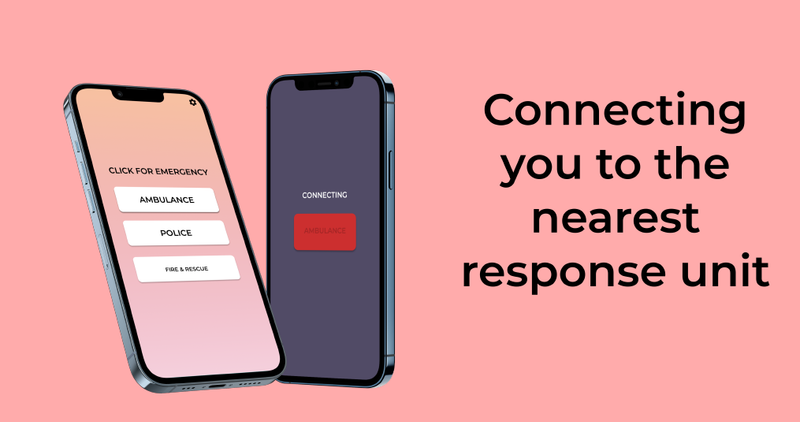 SOLUTION AND USE CASE

Q1: What is the problem you are trying to solve?
1. No universal & standard number for an emergency that causes delays, confusion & inaccessibility to care & rescue in developing countries (SEA)
2. Prolong response time due to multiple factors including
   a. Lack and poor locating devices & platform 
   b. Poor Emergency Medical System  
   b. Inefficient distribution and allocation of resources
   c. Lack of resources (ambulance, emergency facility, Rescue equipment and limited number of trained personnel)
   d. Lack of infrastructure (Hospital, primary healthcare 
3. Outdated system & technology on dispatching rescue units. 
4. Voice call is inefficient anymore to the patient to high-level assessment & triage.
Q2: How can your solution be used to solve this problem?

1. One press button and be directed to the nearest dispatch unit for immediate response and care.

2. Upgrade the delivery of high-level assessment & delivery of care with one press button via tele emergency call

3. Easy to access & interface to any civilian and CIvil defense unit, Police, Hospital & Rescue

4. Integration to smartwatches for real-time vital signs of the person


Q3: How does your solution work?

At a touch of a button, the platform will serve as....

1. Activation of the real-time location of person in distress
2. Platform for immediate assessment & delivery of high level assisted medical care
3. Platform for integration of smart devices for real-time monitoring of the patient condition


Q4: Why is your solution unique?

1. One press feature, Nearest dispatcher, dispatch unit & Responder

2. This Technology will deliver assisted care to a person in distress in less than a minute.

3. Uses GNSS, GPS & Internet that gives HIGH PRECISION Location

4. Offline Distress Signal Capability (no internet)

5. First of its kind emergency Tele emergency app

6. Applicable and can be adopted by different cities with different protocols & policies

7. Collection of data's & distribution is easy & in real-time

8. Bystander can activate the response unit for to others 
USE OF GNSS   &  SPECIFIC USE OF GALILEO
Where and how does your solution use GNSS signals?
EmergencyOne will utilize High Accuracy Service (HAS) for positioning accuracy. This will help the nearest response unit will be able to identify your exact location in real time. Our app will also use Open Service Navigation Message Authentication (OS-NMA) for mitigating "spoofing" attacks from heists and other criminal activities. The fire and rescue sector can also benefit in organizing the people during fire outbreaks with the help of geofencing. Lastly, Emergency Warning Service (EWS) helps in informing authorities about the ongoing emergency.
MARKET POTENTIAL
What is your customer segment?

Southeast Asia Region
Person in Distress from Road traffic incidents
In any age
In any gender
Have access to Internet & local Telco infrastructure


What is the total addressable market (TAM)?

277k+ Thousand estimate number of casualties from traffic accidents in SEA in 2019
100 USD ambulance service cost
10 usd every ambulance call and service

2.7M+ USD Revenue for a year

Revenue Model

1. 10%Transactional Commission
2. Subscription model at 10 USD per month of Civil defense, Private Ambulance Service, Hospitals, Local Government Unit.


*Reference data Statistica 2019
https://www.statista.com/statistics/1009600/asean-number-traffic-accident-casualties-by-country/


INNOVATION FACTOR
What is new and innovative about your solution?

Types of innovation:

The product or service – what we as an organization offer the world.

E1 offers a chance for everyone to access emergency care & respond at a touch of a button anytime and anywhere.


The Process – the way we create and deliver the product or service that we are offering.

A mobile & web application accessible to both civilian, civil defense & private service providers for faster delivery of response and care.


The position – who we offer the product or service to and the story we tell about it.

The platform is for both in distress civilians & response providers. Giving them a chance to access the innovative to Tele Emergency App


The paradigm – the way we think about what our organization does and who we do it for. The paradigm is sometimes called "the business model".

E1 is the ultimate intermediary platform for civilian and civil defense& response unit. For high level of assessment & delivery of immediate care 



Where does it add value to existing market offers?

How does your product/service place itself in the big picture of the market?
                The platform is a solution to the most pressing problems in the first chain of emergency medical systems.  The most critical part is where most life is being lost.





TECHNICAL BACK-END



Backend

Frontend
How will you ensure that the GNSS-related requirements (e.g. accuracy) for your solution are achieved?
         In order to achieve geospatial positioning accuracy for our solution, with the utilization of Kalman filtering and noncoherent integrations on real-time data stream on our mobile app, we can deliver             PPP(Precise Point Positioning) corrections for the nearest response unit to see.
Which technologies will you use? 
          In addition to Galileo services, cell network based technologies from telecommunication networks           (e.g Cell-ID, E-OTD, TDOA) will be used to have a rough estimate of your current location to the              nearest response unit before the Galileo system kicks in. Infrastructure based technologies will                also be used since 60% of ASEAN population uses internet.
PROOF OF CONCEPT
See Attached Document in asset

TEAM
Lab Casas
Real-life Entrepreneur & Tech Startup Founder
11 years working as an Ambulance Nurse & Medic
Real-life experience in Disaster Management & Leadership
Disaster Risk & Management Facilitator and Programs development
Certified Health Safety & Environmental Professional


Lourenz Baliber
Web & Mobile Developer Learner
High-level learner Student