Description
Project Description
Verified Anonymous provides verification with POAP and protects user privacy with Semaphore.
Source Code
https://github.com/taijusanagi/verified-anonymous
Live App
https://verified-anonymous.vercel.app/
The Demo only works on a local network, see the contracts package to run the local setup.
For the mainnet functionality check, see the below script.
https://github.com/taijusanagi/verified-anonymous/blob/main/packages/contracts/scripts/integration-test-gnosis.ts
Pitch Deck
https://docs.google.com/presentation/d/1qPRk-fP52QXpEG-6EvGmDNyGn5eiyEdVi29xm45Z-30/edit?usp=sharing
Benefit
This approach offers the following key benefits:
Reviewers

Can give honest feedback while remaining anonymous
Verification ensures the authenticity of reviews

Viewers

Read honest reviews from verified users, providing greater trust and confidence in the feedback
How It Works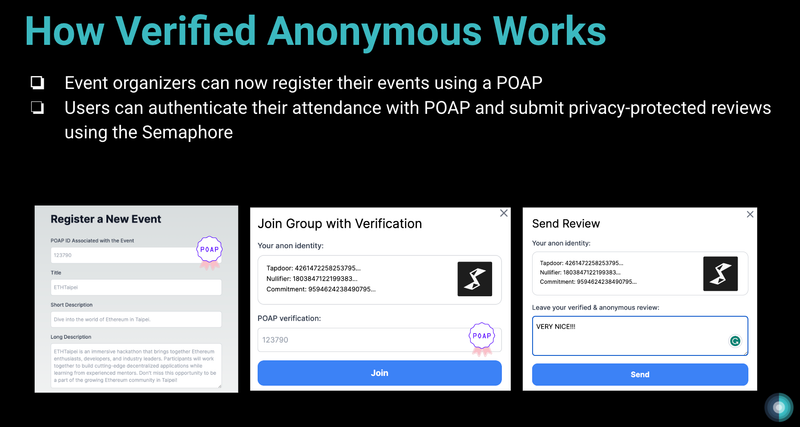 Technical Detail

Only targeted POAP users can join the group
The signal is public, but the actual sender remains hidden with Semaphore.
Team
This project was developed by taijusanagi, a solo hacker who is passionate about decentralized identity.
Reference

Semaphore Implementation
Most of the Samphore implementation is in the following contracts, frontend, and backend link.
https://github.com/taijusanagi/verified-anonymous/blob/main/packages/contracts/contracts/VerifiedAnonymous.sol
https://github.com/taijusanagi/verified-anonymous/blob/main/packages/app/src/pages/events/%5BeventId%5D.tsx
https://github.com/taijusanagi/verified-anonymous/blob/main/packages/app/src/pages/api/proof.ts
Deployed Contracts
Smart contracts are deployed Gnosis mainnet to test with actual POAP
https://github.com/taijusanagi/verified-anonymous/blob/main/packages/contracts/deployments.json
Tested POAP
https://poap.gallery/event/123790
Tx 
mintPOAP
https://gnosisscan.io/tx/0xd477291d00c25f124ec6365f9f7b846afaf176b1c6350685878cfaadc54bc8a9
createEventTx
https://gnosisscan.io/tx/0x92c00e4080bd5adce9819a7a6e8590d185eb464a7fd28a26e0a1b74917c537a7
verifyAndJoinEventTx
https://gnosisscan.io/tx/0xd852f6f0e3c2828947a775ae389821edb3ac45a9366220831c237b2b1ee590bd
sendReviewTx
https://gnosisscan.io/tx/0xa9e4736d003815b2c756235b6754c5639a78042741eac89d0247e2256661fef6