*Demo: https://drive.google.com/file/d/1ZNLPA8ABDma6SjkQAxyXZhpN8-Gtf-FR/view?usp=sharing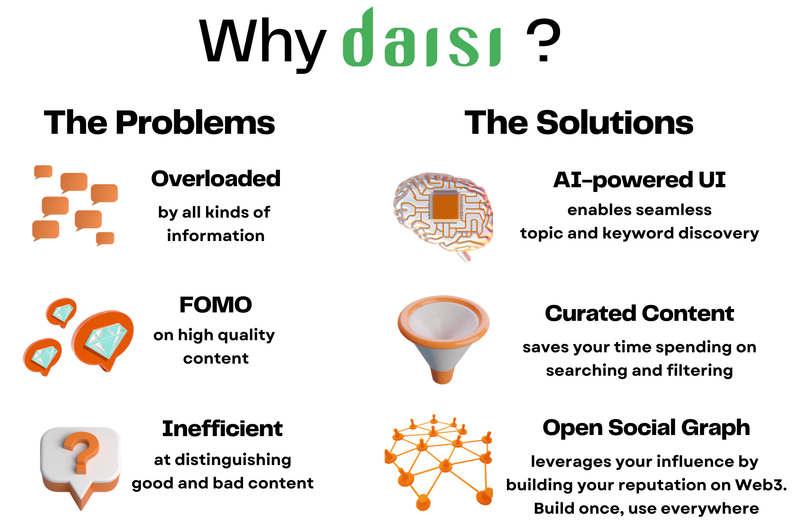 Daisi provides an efficient way to curate and discover high quality content. User can become a content curator by submitting a single link or trusted source, powerd by ChatGPT.
Daisi is designed to provide the most comprehensive and reliable information with contributions from a community of experts and enthusiasts just like you. 
Daisi's AI-powered UI provides cleaner and more focused topic and keyword discovery, making it easier than ever to find the information you need.
Daisi also leverages your influence by building your reputation on the open social graph (currently CyberConnect, Gum and Dataverse). Discover once, share everywhere, and become a thought leader in your field.

1. Github Repo
https://github.com/DappioLab/daisi-ui
(Scope: from commit 65a7729 and afterwards)
2. Team
Jim - Founder @ DappioLab
Benson - Core Developer @ DappioLab
Emerson - Core Developer @ DappioLab
Wei - Core Developer @ Dappio Lab
3. Category
DataverseOS
4. Assets
Website: https://daisi.social
App (Beta): https://beta.daisi.social
Deck: https://drive.google.com/file/d/1sfVRCkrq1BpDPJfTqfG6PtaPed-JSmkx/view?usp=sharing
Demo: https://drive.google.com/file/d/1ZNLPA8ABDma6SjkQAxyXZhpN8-Gtf-FR/view?usp=sharing