Description
PROBLEM
Hyperinflation is on the rise in many African countries. As of 2022, the overall inflation rate in Sub-Saharan Africa is expected to grow to 12.2 percent. Most Nigerians are switching to USD via banks as a way to help preserve their savings but this comes at a cost - Most banks offer high exchange rates and also charge ridiculous maintenance charges.
GIVVIE SOLUTION
Givvie is a decentralized savings platform that helps users hedge against hyperinflation in Africa. It enables the user to swap their local currency for USDC and save on the blockchain. Givvie solves this problem by implementing: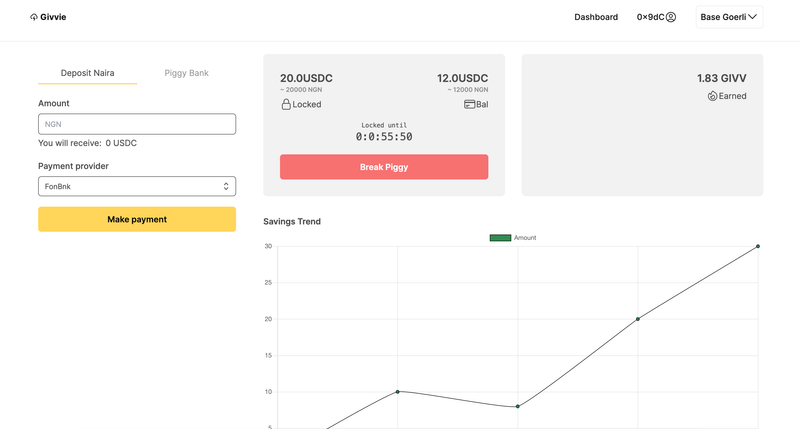 Easy onRamp service that allows users to exchange airtime, mobile money, and Naira directly into USDC.
Helps users lock up their USDC on-chain for their specified period of time. 
Helps combat impulse spending by charging users a penalty fee when they break their savings.
Rewards users who meet their savings target with GIVV Tokens.
BENEFITS OF GIVVIE
Givvie is not just a decentralized savings app; we're your financial companion, your motivator, and your partner in achieving your financial goals. No more hidden fees or surprises – everything is clear and accessible at your fingertips. As users save on-chain and earn GIVV tokens while meeting their saving goals, Givvie will allow access to
Decentralized micro-loans protocols
Support more African currencies
Utility bill payment and access features with GIVV tokens
Introduce smart wallet accounts for easier onboarding and management of on-chain savings via USSD.
OffRamp integration allows user to convert their digital assets to their local currency equivalent.