DEMO: https://aqua-vantage-nine.vercel.app/
💎 Idea
Water, our most valuable resource, is at the heart of climate change challenges. Essential for life and agriculture, its fluctuations cause disasters. Hence, water status monitoring, database creation, cataloging, and prediction are widespread in sectors such as agriculture, construction, and insurance.
Although hydrological data analysis is vital for these sectors, effective tools are often lacking. Main issues include manual data entry—making current solutions cumbersome, even for experts. Single-source trained models and cloudiness, like Poland's 70%, result in inaccurate predictions. Likewise, low temporal resolution significantly affects machine learning models.
Theoretical research may solve these issues, and we know how to implement it. Using historical data, radar observations, and ML, we'll clarify skies. By combining heterogeneous data, we'll create virtual satellite constellations for accurate modeling. We'll also hide source data specifics from users. Focus should be on water bodies, not Sentinel-2A or Landsat 8.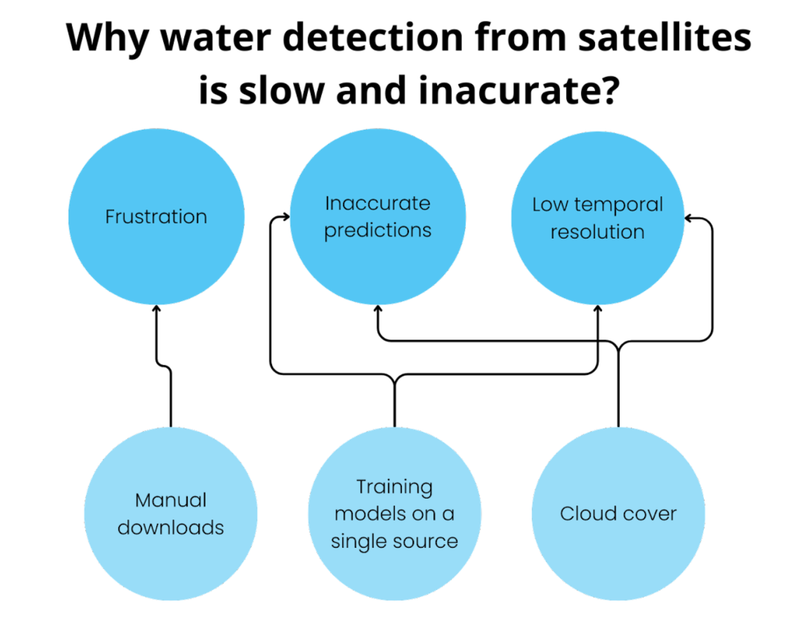 Our work involves developing a web app product, tentatively named WaterWatch, capable of creating interactive, personalized hydrological reports. Key features include cataloging unanalyzed satellite data sets, creating classification models, and generating AI-supported reports. This solution will produce reliable analyses in seconds at a fraction of current costs, crucial for making insurance decisions, initiating investments, or planning drainage works.
🛰️ EU space technologies
We Are Data
Our product's core is the analysis of data from both optical and radar satellites to observe and analyze water bodies. The aim of collecting this data is to support people in making business decisions by providing them with credible information from space. This data allows our solution to deliver three main values to people: better quality of satellite data analysis, time savings, and cost savings.
How Will We Do It?
Nevertheless, we believe that our innovations will transform the downstream market for four reasons. Firstly, our algorithm analyzes data from both optical and radar satellites, enabling hydrological analyses even on cloudy days, ensuring precision for areas with significant cloud cover. Secondly, by using data despite cloud cover, our AI model learns from a richer dataset, yielding better analyses. Thirdly, we utilize both optical data and the often overlooked but incredibly valuable radar data. Fourthly, by cataloging water bodies, the user can focus on analysis rather than data sources. Our product is more accurate, universal, and easy to use.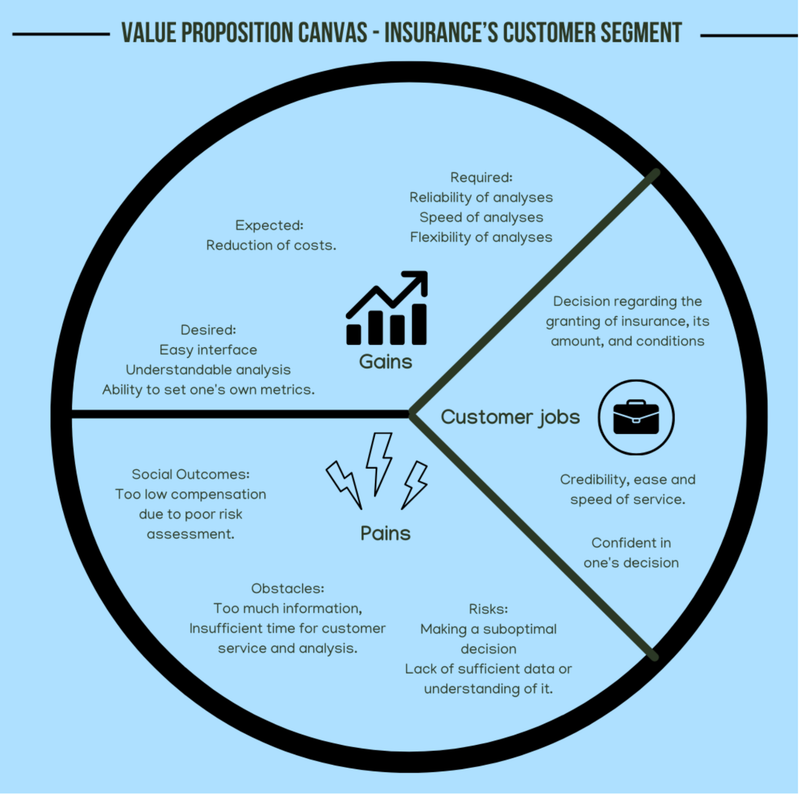 ⛑️ Space for International Development & Humanitarian Aid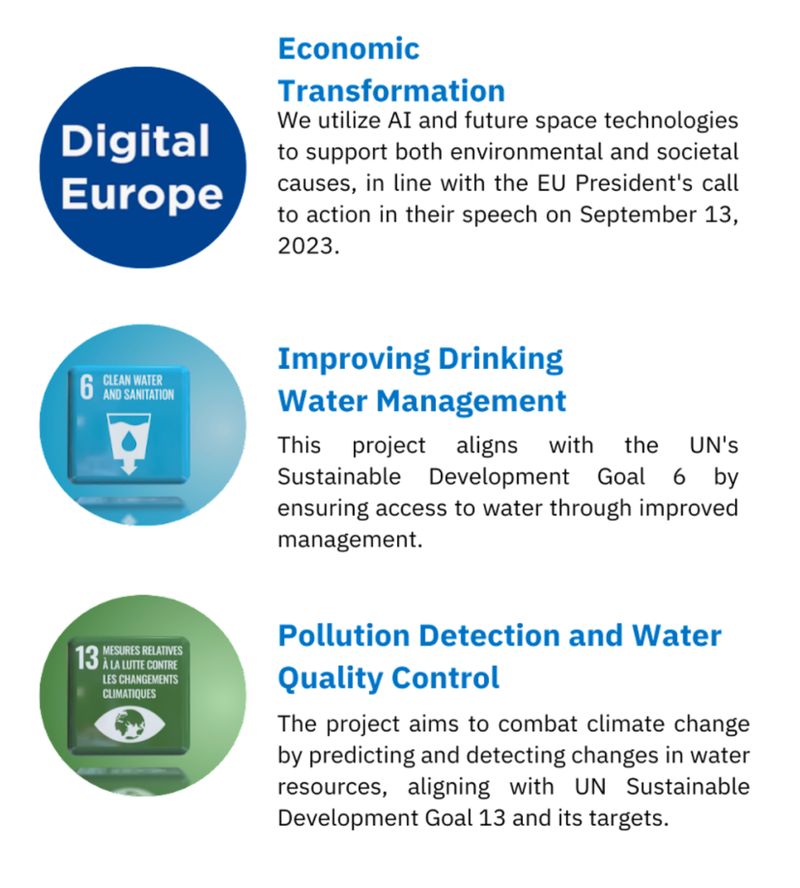 1. Economic Transformation
The project is in line with the European Commission's "Europe fit for the digital age" objectives. Our research is aimed at enhancing analytical tools for satellite data from ESA. We employ AI for both the environment and people, as urged by the EU President in the speech from September 13, 2023, while utilizing, among other things, future space technologies.
2. Improving Drinking Water Management
The project supports the UN's Sustainable Development Goals by focusing on ensuring access to water for all through better management (UN Sustainable Development Goal 6, targets: 6.4-5 and 6B). Our research could lead to intelligent management of clean, drinkable water, thanks to AI and improved data quality.
3. Pollution Detection and Water Quality Control as a Sustainable Development Key
Our project will contribute to combating climate change through early detection and prediction of water resource changes (UN Sustainable Development Goal 13, targets: 13.3 and 3B); it will also aid in the protection and sustainable use of water resources (Goal 14.1-3), particularly through the detection of pollutants and their sources.
🤼 Team
Tell us who is in your team, what role they have (e.g. coder/designer), and a 1-2 sentence bio.
Rafał Grabiański - Our Specialist in Software Development and Big Data Analysis of Satellite Data.
With over 8 years of experience, he has worked for companies such as IBM, served as a Full-Stack Engineer and Front-End Engineer, and developed cloud applications dealing with big data processing for large international and governmental enterprises.
He is the author of numerous popular science publications in the Urania magazine in the field of astronomy, with a particular focus on the functioning of satellites.
Jakub Czuchra - Our Specialist in Frontend and UX. 
He has been employed for 4 years at companies including IBM and Tesco Technology, mainly as a Software Engineer. He has experience in programming JavaScript for SaaS applications, creating intuitive and efficient user interfaces. He also works as a developer for mobile and web applications utilizing artificial intelligence, as exemplified by the SmartSnap and WaterPath applications.
Piotr Sobuś - Our Specialist for Development and Optimization. 
He worked for 4 years at FRENCH4 DEV as a Full Stack Developer, where he designed and implemented reservation systems for users. He worked in the gaming industry at Lottomart, where he was responsible for creating interactive user interfaces and developing web and mobile applications. He wrote popular science articles for Medium.com on web application development and exploring new tools and architectural solutions, including the integration of external services.