💎 Idea
In scenarios of natural catastrophes, the quick mobilization of people in danger is the top priority.
Prevention, preparation and awareness are crucial steps in guaranteeing public safety.
In a situation of disaster, it is crucial to control chaos and quickly inform people on where to go and how to get there in the safest way possible.
Our idea is to develop a web platform that aims to provide continuous and reliable risk assessment data to local authorities. The focus is on providing ongoing preemptive insights on the safety of the road infrastructure that comprises escape routes for residents, especially on remote locations.
Although available to everyone, the platform focuses on providing information to local authorities, so they can better support their communities with mobilization efforts. 
We believe that the platform has the capability to be scalable for the majority of disastrous events such as floods, earthquakes, and droughts - the improvement of evacuation protocols can have a big impact on the outcome of catastrophic events of any size and nature.
However, it is important to state that the development of large scale tools, such as this one, need to start with specific use cases in sight and continuously improve in its reach and functionalities.
Throughout Europe, according to the European climate and health observatory, wildfires have been responsible for 702 casualties between the years 1980 and 2022, and, with our solution, we hope to reduce this number.
The first implementation that we would want to see happen would be in regards to wildfire risk assessment, in the rural areas of Portugal. We chose this country because most of us are familiar with the geographical conditions of the territory, and its constant high risk of wildfires makes it a strong candidate for a prototype. However, we believe that this solution is scalable and very relevant especially to less developed countries, since they are most affected by natural disasters. 
We've seen here in Portugal multiple instances of how dangerous wildfires can be when plans of action fail to protect the population, case in point, the fires of Pedrógão in 2017.
We want to begin implementing this platform in small rural areas that have been historically at risk. Bringing input from local authorities and correlating that information with historical & current satellite data, we would provide an assessment report that includes data on risk of wildfire and a better landscape of the available escape routes.
This assessment is updated periodically through new satellite information and reports from responsible teams on-site. This allows evacuation routes to be created and continuously updated in order to maximize the speed of civilian mobility whilst minimizing the hazards they might be exposed to. 
As a basis for our platform's preventive guidelines we used Portugal's national government official plan of fire preventive measures, called "Aldeias Seguras", which offers guidelines to local settlements on how to protect their citizens through the implementation and management of zones of protection and shelter, promotion of public awareness for the prevention of behaviors of risk and adoption of protective measures when faced with wildfires. However, these guidelines are very general, and every settlement has their own specific needs and conditions, which is where our platform would help local authorities meet these requirements. 
Development would be done in four stages.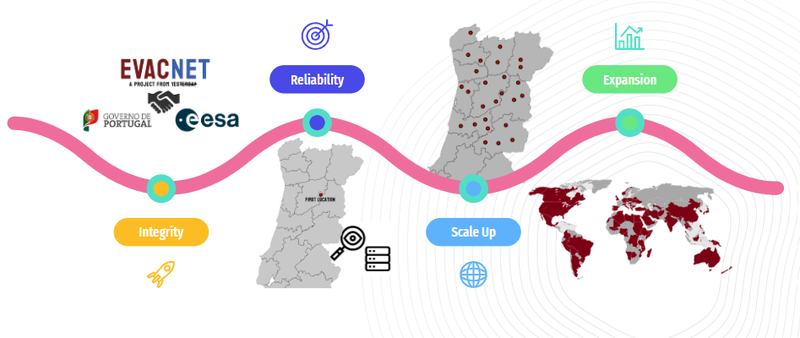 Development Roadmap
1st Stage - Integrity
First round of investment;
Establish cooperation between EVACNET, the national government and ESA;
Choose an at-risk location to create a prototype for route planning in case of wildfires.
2nd Stage - Reliability
Use prototype in simulations. Use historical data and investigate how the system would react and what impact it could have in a real situation;
Reach a stable working service - Minimum Viable Product.
3rd Stage - Scaling
Second Round of Investment;
Implement platform on multiple at-risk locations;
Expand functionalities to include floods, earthquakes, storms, and other disasters.
4th Stage - Expansion
Third Round of Investment;
Expansion to international levels, focus on countries more affected by these natural disasters.


🛰️ EU space technologies
To make any assessment, we will merge the data coming from the Copernicus Emergency Management Service, road prediction software, local authorities' and citizen's feedback. 
The Copernicus Emergency Management Service provides data that supports the decision making process for planning and managing natural disasters. One of its components called Exposure Mapping produces information on human settlements that can give estimates on questions such as "how many people would be directly affected by a forest fire". 
The European Forest Fire Information System (EFFIS) provides assessments on fire danger, active real-time fire detection, fire severity, land cover damage and emissions. The data provided by these services can be linked to roadmaps and infrastructure data fed by the local authorities and other public data providers such as OpenStreetMap to provide a better landscape of the available escape routes. For distance and time calculations, and mapping of the routes, there are geographic information systems like ArcGIS that streamline this task with powerful tools.
For a more detailed analysis, data from the different Sentinel Satellites can be used to provide more meaningful insights. For example, Sentinel 1 would be used to capture surface images when there is large amounts of smoke in a large and long living fire situation. Sentinel 2 data for detailed surface images on better conditions, and Sentinel 3 to gather atmospheric and temperature data.
The implementation of this platform should always be done in collaboration with local governments. We believe sharing knowledge between people on-site and our "eyes in the sky" is the best way to guarantee the most accurate, reliable and relevant data possible.
Lets use the following images as examples for the concept: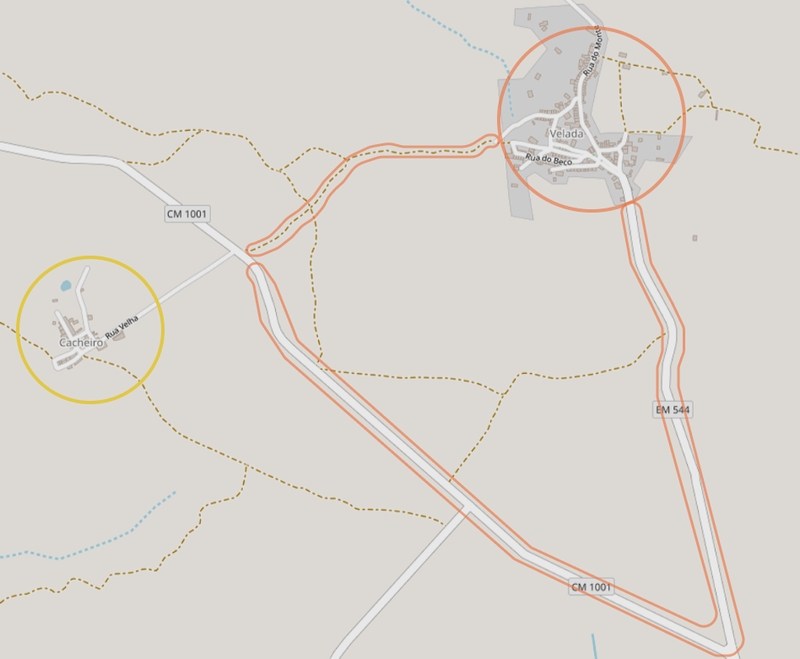 Case Study Example Route PlanningThis figure serves as an example of 2 rural towns that were chosen arbitrarily.
Cacheiro, the town circled in yellow, is small, remote, and has been historically at-risk of wildfires. 
The platform was implemented in this zone and Velada, the town circled in orange, was identified by local authorities as a viable shelter zone due to its more advanced infrastructure and compliance with local fire prevention legislation.
With more data gathered from the local authorities, the input EFFIS and other Copernicus services,  the primary routes of evacuation are identified and evaluated. In this case, we can observe two ways of evacuating - a long path that is comprised solely of paved roadways and a short dirt path. 
Although safer and more reliable in principle, historical data also tells us that the long paved roadway crosses zones that have been at-risk of wildfires. The most up-to-date information available from Copernicus also implies that this might repeat itself during this year. This information is reported to the local authorities and work can begin to mitigate the risk exposure of the town - for example, the short dirt path can be better maintained in order to guarantee that, in case of emergency, it is an viable alternative.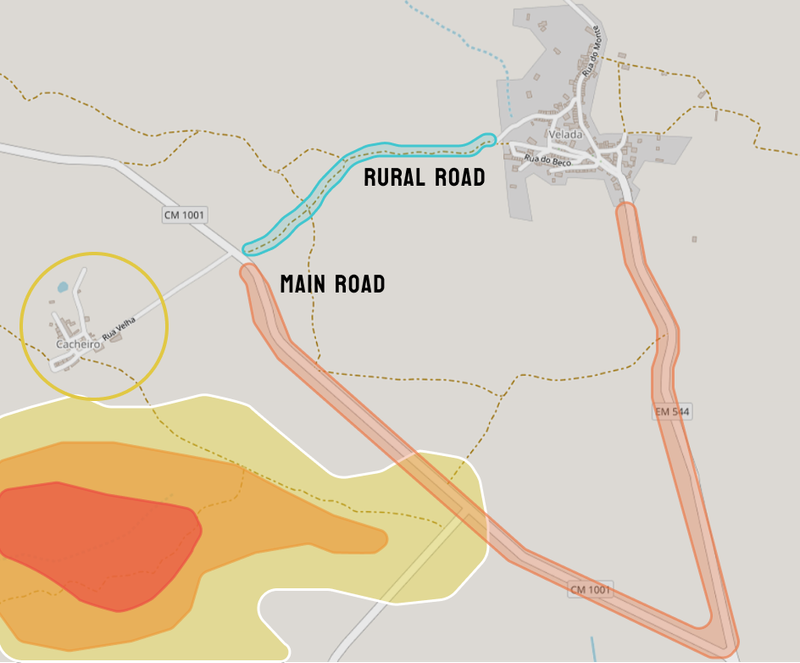 Case study Example of Route Management
When disaster strikes, and the town becomes at risk, the latest information available to us from EFFIS is that the main road might be affected in the next couple of hours. To minimize the risk, the rural road is recommended. 
Both the population and the local authorities have access to information, allowing for better coordination and faster response.
⛑️ Space for International Development & Humanitarian Aid
Challenge #1 - Critical infrastructure monitoring and planning for remote communities
As stated by the ESA "According to the Intergovernmental Panel on Climate Change (IPCC), the frequency and severity of humanitarian crises is rising, with the impacts disproportionately affecting the most vulnerable populations. The ability to identify vulnerability to disasters and act early can help minimize casualties."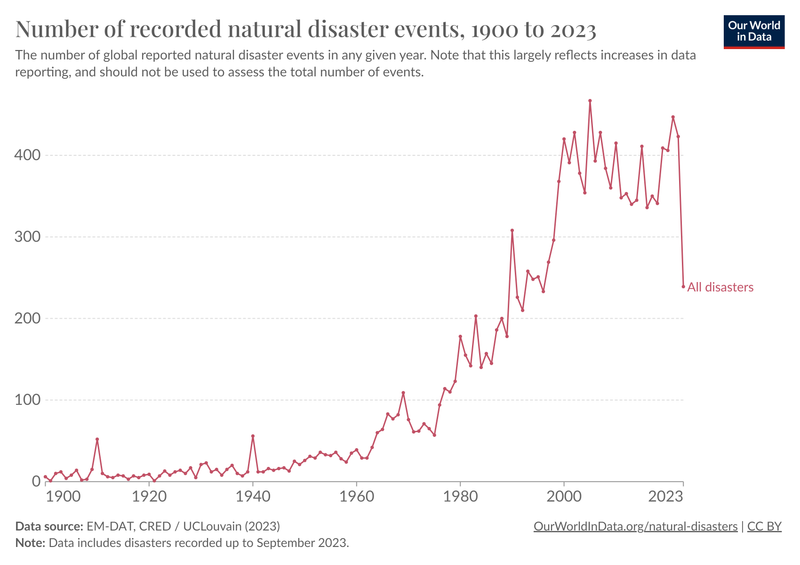 Recorded Natural disaster per year
Even in a developed country like Portugal, the number of settlements that follow the guidelines for evacuation plans established by the government is less than half. With our platform we believe local communities would be able to efficiently address these shortcomings.
🤼 Team

Team
Daniel Correia, MSc in Computer & Electrical Engineering, Experience in Software Development and Testing
Eduardo Pacheco, aka Parrachoques, MSc in Automotive Engineering, Experience in Software Development and Testing
José, Software Engineer, Audio Enthusiast, Avid Anime Watcher
Pedro Chaves, One of many Software Engineers, Friend of his friends, former cook
Pedro Pintado, MSc in Automotive Engineering, Post-grad in Operations Management, Experienced Team leader and Project Manager.
Rúben Silva, Software engineer, Wannabe Robotics Engineer, Handstand Business Specialist
Young Park, BSc in Electronics Engineering, Post-grad in Software Engineering, Experience in Sales and Customer Success