Idea
Context
During the research and preparation for the hackathon, I realized that the Copernicus ecosystem, while being extremely powerful, can also be very overwhelming for newbies. Additionally, most of the time the real experts for a challenge are people on the ground, within the affected communities itself or NGOs that work on a problem space for many years. 
Solution idea
Therefore, this project aims to find ways for making the Copernicus Earth Observation world much more accessible to general users, citizens and domain experts. 
The main idea is to identify most impactful features of the Copernicus ecosystem and integrate them into an existing (preferably Open Source) NoCode tool, like AiTable, AppSmith, NocoDB, BaseBudi, Airtable or Bubble.io. 
Concrete example
One example could be a NGO that operates in a certain region and collects data of farmers about their harvest yield in a spreadsheet or NoCode tool like Airtable. The solution we have in mind would enable them to map these data on a Copernicus based NVDI (normalized difference vegetation index - a satellite image configuration that shows the vegetation density) map or on a map that shows soil moisture to easily see correlations here - with just a few clicks and without the need to gain EO expertise for even a simple prototype test. This way, quick ideation and testing is made possible as well. 
On top it would also be very inspirational to look then even further into the powerful capabilities that Copernicus offers additionally. 
The solution aims to simplify the process of accessing and utilizing Copernicus data, enabling users to prototype solutions in a much faster way and therefore address regional or global problems with tailored regional or global solutions. 

This screenshots show an example of a prototype that extends an existing NoCode tool with the ability to render data on a map (here OSM-based and not yet Copernicus satellite data based).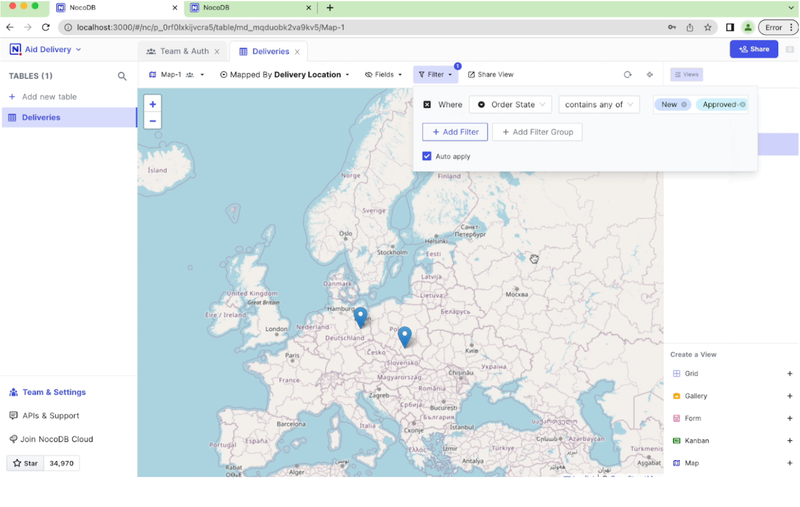 What we could work on during the hackathon
Let's decide on that together once the team is complete. So far I would like to suggest a rough proposal like the following: 
Explore and collect (ideally with experts both from the NGO as well as the EO world) common use cases: where the Copernicus Space Data ecosystem helped in - ideally simple ways - to solve problems on the ground and of NGOs

Identify use cases and features that make most sense (feasibility and impact) to integrate into an existing NoCode solution 

Pick one use case that belongs to one of the three challenges and sketch out a user journey that shows the potential of the NoCode solution idea

Pick one NoCode tool and try to build a first simple POC (e.g. having Sentinel satellite imagery rendered as views directly in the NoCode tools and showing custom data as pins on it)

Sketch additional features via UX mockups

Sketch a sustainable business model
Our team consists of: 
EU space technologies
The project aims to make, at least in the mid- to long-run, potentially all EU space technologies much more accessible via integrating it in a user-friendly way into existing NoCode tools. 
This could even include the triggering of OpenEO processes, but for the beginning we would probably focus on simpler use cases which are leveraging e.g. tiles from the Sentinel data sources. 
Space for International Development & Humanitarian Aid
Our project has the potential to address all three challenges and to go even beyond these - the actual challenges and problem spaces that value can be delivered for with a user-friendly NoCode tool are potentially infinite. 
For the sake of the hackathon and being able to focus on low-hanging fruits, we would identify and focus on the problem of one specific challenge. By empowering communities and NGOs with easy access to EO data, we contribute to solving the problems faced in international development and humanitarian aid, as these organizations are best placed to create sustainable, locally-tailored solutions.