💎 Idea
Problem:
In war, every life counts! 36 900 against 900 000. This would be the situation for active army of the Baltic states if Russia decides to invade this region. 
To keep our soldiers safe and protected in the battlefield we need to know where they are, how they feel, how to reach them by the fastest route and what to do if they need life-saving assistance. No one should be left at the mercy of the enemy! 
Currently, wounded soldiers are identified by a sergeant, who reports that help is needed. Sometimes, if the sergeant is not there other soldier tries to rescue a wounded one. But if no one is around and the soldier is unable to report himself the result can be lethal. 
To prevent such cases we have created an idea on a rapid response and emergency system for military personnel "Soldier Signal". 
Solution:
The Soldier Signal system will include three main parts: 
Satellite data for fastest route calculation and suitable equipment;
Detection of soldiers' health, location and ensuring data protection;
AI-based algorithms for task prioritization and communication with National Armed Forces.
The basis of the system is satellite data-based models. It uses LiDAR laser data for Digital Terrain Model (DTM) and Digital Surface Model (DSM),  Sentinel-2 optical satellite data for moisture and vegetation (NDVI) index, also Sentinel-1 radar data will be used to identify moisture levels when clouds disrupt Sentinel-2 data. Additionally, meteorological data, information about available transportation, medical and rescue procedures will be added and used for AI-based algorithms. Weekly updates of satellite data will be used to gather season-specific data and require suitable transportation equipment.

To identify health conditions and location of an injured soldier, ultra-wideband and other sensors embedded in the soldier's helmet will read their heartbeat, pulse, temperature and breathing, and transmit the information to the central system via GoTenna wireless mesh network. If an injured soldier is outside of the GoTenna mesh network, we can deploy a drone fleet with GoTenna devices to to extend the network area.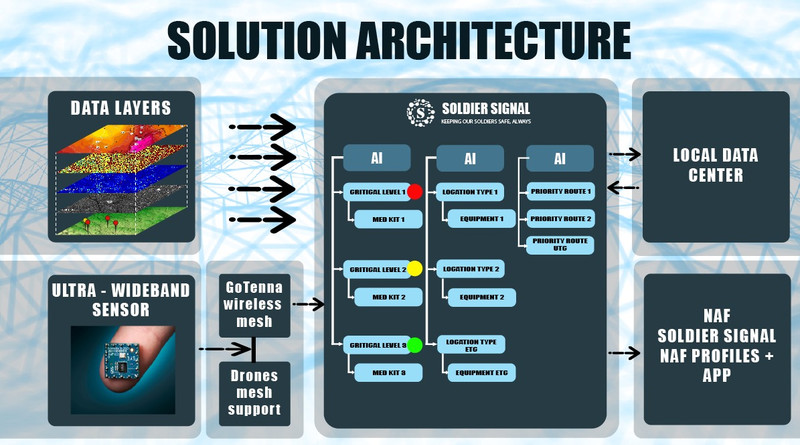 Technical information:
Ultra-wideband (UWB) technology is a wireless communication technology that uses high bandwidth to transmit information over short distances. UWB technology can be used to monitor vital signs such as heart rate and respiratory rate.
GoTenna is a wireless communication technology that allows people to send messages and exchange location information even in remote or hard-to-reach places. GoTenna devices can create a decentralised network that allows soldiers to communicate without relying on a centralised command structure and easily exchange location information.
🛰️ EU space technologies
The system is based on LiDAR laser scanning data to define the terrain and surface of the area, Sentinel-2 satellite data to define the humidity index, vegetation index and their seasonal changes, Sentinel-1 radar satellite data to determine the humidity level when clouds interfere with the Sentinel-2 data application. It is also planned to add meteodata, information on available transport, medical and rescue procedures.
🏦 Space for Defence & Security
Challenge #1 Enabling cross-terrain mobility.
🤼 Team
Guna Dātava: #Smart city soltions, #Project management
Inese Zariņa: #Business development, #AI, #Speech-to-text, #Text-to-speech
Juris Elksnis: #Data analysis, #AI, #Speech-to-text, #Text-to-speech
Rihards Mukstiņš: #Services development, #Networking, #Technologies
Mikus Narvils: #OTT, #Business development, #Sales strategy
Andis Neilands: #IoT, #Services development, #AI
Mentors and experts: Raimonds Kursītis (National Armed Forces), Jānis Beķeris (Embassy of Latvia in the USA), Māris Kaļinka (Riga Technical University), Roberts Ķēniņš (Ventspils International Radio Astronomy Centre), Klāvs Ašmanis (Global Wolf Motors), Vents Riekstiņš (Institue of Electronics and Computer Sciences), Dmitrijs Ņikitins (Tet CTO), Artis Ābolts (Tieto, data protection), Matīss Neimanis (Buildit Accelerator)


*P.S. the presentation is in the zip file, cause the file was too large. Or see here