Salutes space aims to revolutionize the space industry by providing advanced space infrastructure as a service. Our decentralized, blockchain-based services utilize cutting-edge technologies in satellites, artificial intelligence, IT, cloud services, drones, and edtech to address critical infrastructure requirements in underserved areas. Our solutions aim to enhance the connectivity in these fields and ensure the security of European infrastructure.
Salutes' approach to space technology is unique, as we are utilizing AI and blockchain to provide high-value services to 3 customer segments: open-source community, commercial and governmental customers. We aim to create resilient and efficient systems through the use of autonomous and semi-autonomous systems such as swarm robotics, which reduce reliance on centralized control and increase distributed coordination and collaboration.
As we move towards the future, Salutes is also planning to integrate 5G and 6G technologies into our services to provide faster and more reliable connectivity. This will enable us to support various industries, such as agriculture, energy, transportation, and logistics, by providing real-time data and improving operational efficiency.
Problem:
Lack of reliable connectivity, especially in remote and underserved regions. Lack of situational awareness in critical geopolitical regions. Lack of Drones control and communication standardization.
Idea:
We would like to build the AstraDroid, which is a space-ready AI platform. The AstraDroid can be integrated in autonomous and semiautonomous systems, providing them ultra-low power AI capabilities and secure satellite connectivity.
The AstraDroid includes 5G transceiver to enable real-time and reliable connectivity as well as independent communication in case of the lake of terrestrial networks. Further, the AstraDroid includes an ultra-low power AI module to enable decentralized decision-making power.
Impact:
Offer reliable connectivity and decentralized decision-making power. Make space infrastructure services accessible and affordable. Eliminate space debris by reusing and sharing access to space resources. 
🛰️ EU space technologies
EO satellite data in real-time and near real-time as a rapid alert system. Then we will send our aerial robots (AstraDrones) to tackle and interact with the situations.
5G advanced and 6G satellite connectivity will power our AstraDrones to operate in remote areas independently and securely. Furthermore, our Salutes Unified Flying Objects (S-UFO) will be deployed as a middle-layer between space and ground segments in the stratosphere. The S-UFO acts as a portable 5G/6G station where it can be deployed stationary to power the AstraDrones with Green AI and connectivity, as well as control and land back in Airfields to retrieve sensitive data without exposing them. 
Galileo signals and the Open Service Navigation Message Authentication (OSNMA) will power our AstraDrones and S-UFO to maintain a sync in Position, Navigation and Time PNT with precise point positioning and real-time kinematics (PPP-RTK). With PPP-RTK + OSNMA + S-UFO referencing, we will mitigate jamming and spoofing in critical geopolitical areas.
The following diagram illustrates a use case of our services.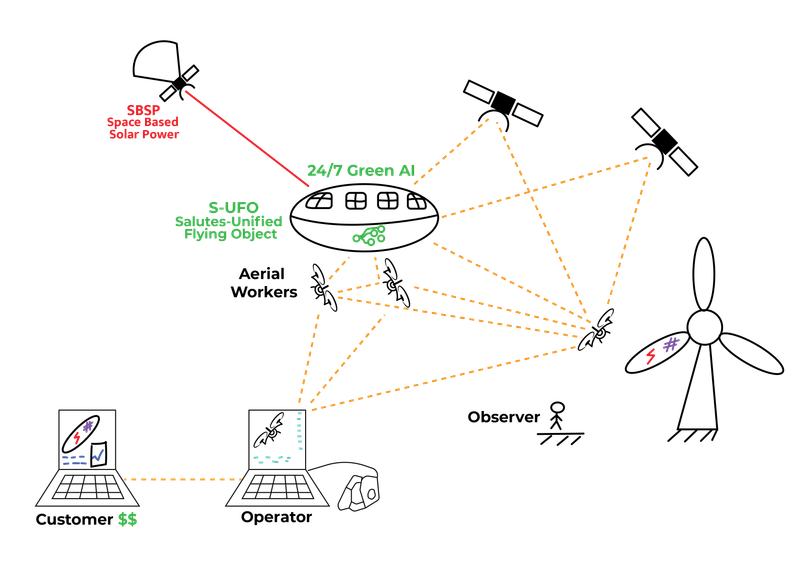 🏦 Space for Defence & Security
Challenge 3: Protect our infrastructure.
🤼 Team
Basma: Business Informatics, Data mining (Business Link)
Sobhy: Aerospace, Mechatronics (Pioneer)
Ismail: Electrical engieering, Software engineering (Hacker)
Ramy: Aerial Robotics, Mechatronics (Drones expert)
Salma: Project management