Social tokens are a type of cryptocurrency that can be created by a brand, an individual, or a community, and they are more than just a way for people to join the web3 and blockchain world. 
It is significant for businesses because ambassadors and other stakeholders can own a piece of the brand (or community) in the new individual social economy: not via stocks, but via tokens.
Another important aspect of social tokens is that they are fungible in the same way that other cryptos, such as Bitcoin and Ethereum. After all, they have their own values. And it also distinguishes them from NFTs – Non-Fungible Tokens.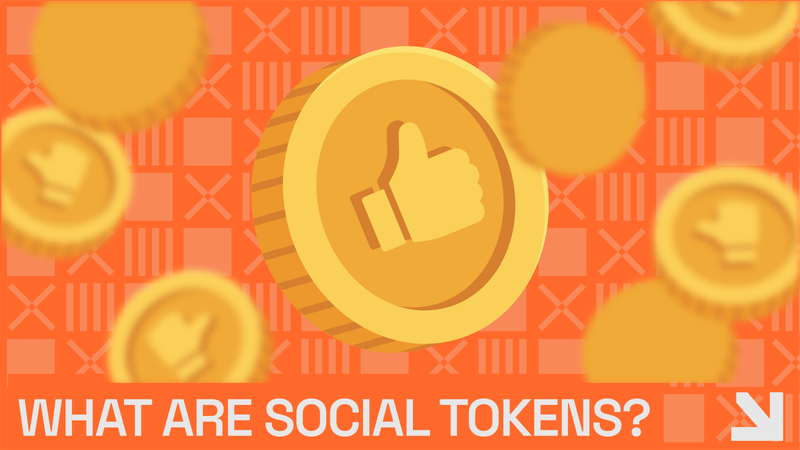 Table of contents
What exactly are social tokens?
Understanding personal tokens
What are community tokens?
Social Tokens as a marketing tool
TAIKAI is a virtual hackathon platform that makes an online hackathon event much easier to host. Talk with us today or request a Demo, we're always here to help :)
What exactly are social tokens?
Let's take a closer look at social tokens definition and utilities to see the differences from personal tokens and community tokens.
To begin, it's critical to understand that a social token can be launched by an individual, a Decentralized Autonomous Organization (DAO), or even a traditional business to monetize their skills or services. Investors and fans can purchase the tokens as a mean to invest and be involved in as a stakeholder.
At the end of the day, whether it is a personal token or a community token, they all fall under this umbrella: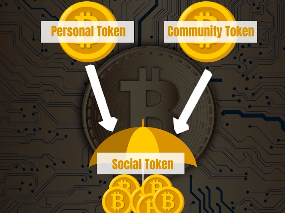 Personal tokens
When referring to individuals, social tokens may also be referred to as personal tokens or creator tokens. Here's an example of how this type of social token works:
The DJ RAC (André Allen Anjos), a Grammy award-winning artist, launched his personal token in February 2022. People who purchased his tokens received the artist's cryptocurrency as well as various perks and exclusive content.
If you want to do something similar, Personal Token is a platform where people can tokenize themselves. It is a way of exchanging tokens for the issuers' services or products, thereby creating one's own market. 
Talent Protocol is another great example. They serve as a web3 professional network where high-potential individuals can build an on-chain resume and launch a talent token that allows anybody to simply invest in their careers.
By using platforms like this, ordinary people and fans can become investors. As a result, they will almost certainly want the individual to succeed. Especially since they will have a stake in the token and want to see it grow in value.
Personal tokens may also be used to reward token holders through giveaways or competitions, as well as to provide customer loyalty programs, exclusive products, or special events. People must be inventive in order to see social tokens soar to the moon.
But there's even more to social tokens: meet the community tokens.
Community tokens
Community tokens are a type of social token that provides access to a web3 community. It means that only people who own a specific community token can access a particular platform or a particular set of features and benefits.
Community tokens generally have the same benefits as personal tokens, but if issued by a DAO, the social token may include governance rights and revenue.
To be part of it, tokens can be acquired or earned as a reward. 
TAIKAI is a great example of this. We award $KAI tokens for the best projects from our hiring challenges and hackathons, recognizing innovators, evaluators, mentors, and experts who participate in our hackathons.

Our social token works like this: 
Challenge providers, such as organizations or universities that promote hackathons or challenges, buy KAI Tokens to be distributed.

Innovators, who may be students, freelancers, or startups, create projects. As social recognition for their innovative proposals, the best ones receive KAI tokens and prizes.. 

Backers are experts who evaluate and analyze the submitted solutions. They are recognized with KAI tokens. 

Investors – who can be private investors or business angels – contribute money to the network in exchange for a return based on economic growth.
As we've discussed before, a social token can have a variety of purposes. Here's how you can use the $KAI Token: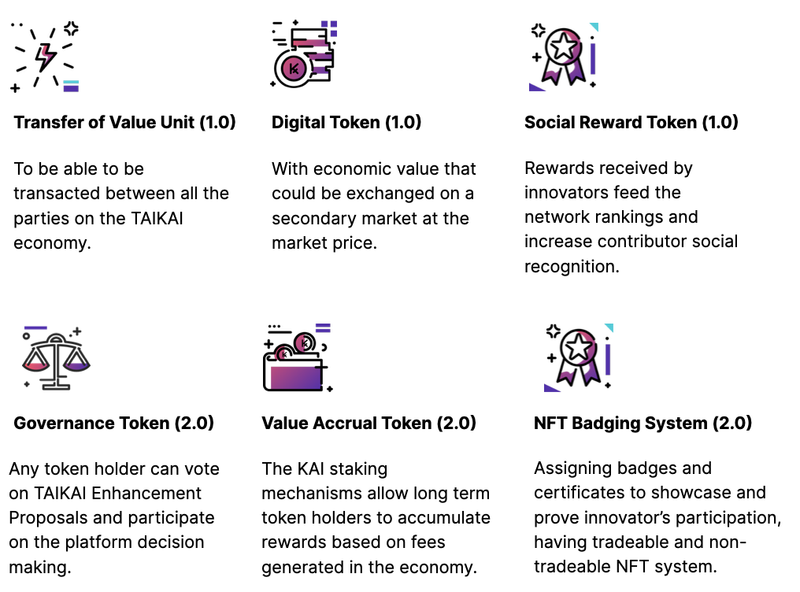 👉 Learn more about KAI Tokens and how the challenge rewards are calculated
Another excellent example is the Bepro Network Protocol, which also has its own social token. Bepro Network is a decentralized marketplace that connects developers with operators and investors interested in establishing open-source development repositories.
Our community offers rewards in the form of $BEPRO, $USDC, and other tokens.
$BEPRO functions as a utility token, ensuring decentralization and financial stability over the protocol's assets. Members who have locked 25M $BEPRO on the network can also propose bounty distributions to developers.
This is how blockchain and web3 developers, for example, might get their first $BEPROs.
Holding $BEPRO tokens also allow for a multitude of different use cases:
👉 Find out more about $BEPRO
Social Tokens are a marketing innovation
Personal and community tokens are also used to reinforce personal and corporate brands. For example, large corporations may create community tokens to allow people to be among the first to learn about new products. Nike and Coca-Cola are doing it with NFTs, but in the near future, they may do it with social tokens as well.

But we can go beyond that. If a big tech company wants to start a spin-off, it can certainly attract investors by using social tokens. By doing so, they will most likely attract more fans and investors to their new startup project than if they launched it through traditional marketing. It's similar to selling stocks, but it's more fun because you can interact with users more, hold competitions, such as incentivizing social media distribution, or even challenge social token holders to design the new startup/spin-off logo.

Of course, if you do something like this, you should reward holders of social tokens. And what better way to reward them than by giving them more social tokens as a bonus?
This is more than just paying for a membership, and there is a good chance that the person who invested in the new idea will benefit from the appreciation of social tokens.
Also, social tokens are tangible; memberships are not. Memberships can't be transferred, unlike social tokens. After all, tokens are cryptocurrencies. Aside from that, social tokens provide a fantastic opportunity to engage with communities and receive genuine feedback from token holders. It's a full-fledged network!
Social tokens recap
A social token is a cryptocurrency created by individuals, communities or organizations that allows for a truly social economy.

Social tokens can provide many different benefits to their holders, such as exclusive access to content, exclusive launches, rewarding programs, or even governance rights and revenue. In fact, because tokens are fungible and have upside potential, they can make brand ambassadors, customers, and project aficionados more engaged and interested in your brand.

Whether you're building a corporate or personal brand, social tokens allow everyone to participate in the company's growth.
Looking to take your web3 project to the next level?
Hosting a hackathon is a great way to engage your community and get developers to test and use your protocol or EVM. 
TAIKAI is a virtual hackathon platform that makes an online hackathon event much easier to host. Grow your network today with us.