Much has been said about web3 and blockchain in recent years, but many people are still uncertain about its real impact and benefits, particularly for businesses. Web3 is more than just a growing industry. In essence, web3 is a concept that combines together innovations in data management, security, decentralization, and other fields - all on the internet.
New to web3 concepts? Learn the basics of web3 and blockchain here.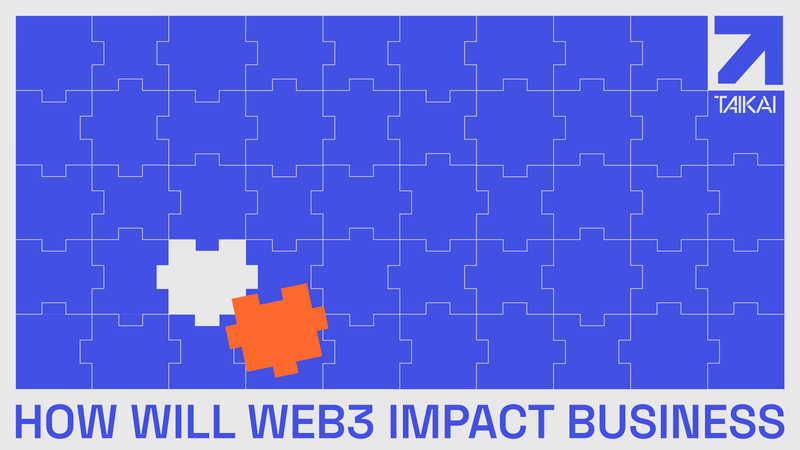 The internet as we see it today will most likely remain unchanged. However, what we see is merely a portion of what actually occurs. The social networks we use, the media websites we read or even the movies we watch, for example, represent the internet's "User Interface" component, to put it in simple terms. The architecture and identity of the internet are already changing, and this is a meaningful and profound transition.
Why you should adopt web3 in your business 🤝


For companies, this transition is even more important. While it is impossible to predict the future, we believe that blockchain and web3 technologies will be fundamental to the internet's roadmap.But, more importantly, there are several opportunities available on web3 right now. We are entering a new era on the internet, and the most clever and risk-taking businesses will profit in the medium and long term.


Five ways web3 will change businesses forever ♾️
We've created a list of five ways web3 will impact and revolutionize the corporate landscape. Keep in mind that the technology is recent and there is still much more to be developed, so the possibilities are enormous and go beyond this particular list.
Without further ado, here's how web3 and blockchain technologies can help your organization.
Web3 will change the way we interact with each other
Web 2.0 was a breakthrough moment in the history of the internet since it introduced user interaction. It was at this moment the first social networks, chat rooms, and other forms of communication emerged. Web 3.0 will be an incremental change rather than a radical one; for example, interactivity could take place in virtual reality through the numerous metaverses that are being built.

You'll be able to socialize with friends and family in a virtual environment, as well as enjoy a concert or a football game as if you were in the stadium, without ever leaving your sofa. As a business, you must decide if virtual reality is a risk worth taking. Companies such as Nike, Samsung, Adidas, and Atari are examples of major corporations that have already invested in the metaverse.
We are now sponsoring web3 community events! We're offering the tools and platform so you can create the best possible experience for your challenge. Talk with us today and mention #taikaisponsor in the form.
Web3 will lead the way in how companies attract and recruit talent
We are increasingly witnessing a global labor market. As such, in today's day and age, we can be easily connected with the four corners of the world.

The recruiting landscape has fundamentally changed as a result of the most recent job trends, such as the great resignation and the massive shift to remote work.
More than half of new Gen Zers admit to losing interest in a job if the hiring process is archaic (we cover this in detail in this article).


One way to attract global talent is to improve your recruitment process. At TAIKAI, we designed a hiring challenge tool based on hackathons. In only a few steps, your organization can launch a real challenge for candidates to come up with a solution, and at the same time, they are applying for an open position.


Candidates, on the other hand, are rewarded with cryptocurrencies for their engagement in the selection process. Even if they are not the chosen candidate, they receive tokens for each step they take in the process - assuming they provide a valuable contribution and put effort into it.

In an increasingly competitive market, we believe this innovative structure encourages candidates to participate in the hiring process. More information regarding hiring challenges can be found here.
Web3 is redesigning the outsourcing market
Many professionals have chosen a freelance career over the typical corporate progression, given the inherent benefits that come along with it, and we're also witnessing a growth in side jobs (or side hustles), which are ways to earn money while still working full-time.
This is a watershed moment in the labor market: outsourcing is becoming more common and prevalent, especially at a time when the job market is more competitive than ever.


TAIKAI's latest acquisition - Bepro Network - has been developing solutions to facilitate the outsourcing of programmers. Companies, for example, can use Bepro Network's bounties to encourage developers to work on a specific goal, such as fixing a bug or writing code for a new project.


The projects are then peer-reviewed and companies assess which project(s) are valid. Rewards are then paid in the form of BEPRO tokens and can be converted to other cryptocurrencies or FIAT money at an exchange.
You can also learn more about bounties over here.
Web3 will shape the internet's security, data management, and privacy
One of the most popular terms in the web3 universe is blockchain. A blockchain is, very simply, an interconnected database shared over many computer networks. The data stored on the blockchain is decentralized, that is, it is not exclusively stored in one place.

The innovation a blockchain provides is that it ensures the accuracy and security of a data record, and produces trust without the requirement for a trusted third party. The information collected in a blockchain is structured in blocks, while traditional databases structure data into tables. Because decentralized blockchains are immutable, the data entered is permanent.

In the case of cryptocurrencies and DeFi, for instance, this ensures that every transaction is recorded and nearly impossible to manipulate. On a privacy level, you own your data in Web3 and have the option of selling it or remaining anonymous.
If blockchain is correctly implemented, users should be able to select when, how, and for how long to share their data, as well as be aware of how it is used. If a corporation sells user data to a third party, the user should be aware of who the data was sold to.
Web3 is fostering innovation on a global scale
With all of the technological improvements we've seen previously, it's impossible to ignore the beneficial changes that web 3.0 will bring. And one of the challenges identified we haven't mentioned yet is innovation.


Web3 has the potential to change financial systems, improve security, and restructure the job market. However, it also plays an important part in corporate innovation. Companies such as Microsoft, Pfizer, and NISSAN already employ hackathons to produce novel ideas and concepts, develop products, and tackle current problems.

Through web3, it is possible to reward participants with cryptocurrencies and ensure full transparency during the event. On the other hand, companies that already develop web3 products, such as Caduceus, Harmony, or Telos, on the other hand, employ hackathons to accelerate their network development. And this is only the beginning of integrating web3 into hackathons!
Unsure if you should host a hackathon? Take a look at the top hackathon trends for 2022!
To sum it up 

The next iteration of the internet - the web3 - introduces plenty of updates and new features. Businesses will be impacted by web3 in a variety of ways, including security and privacy, innovation, to the way you recruit talent and leverage the workforce to your own advantage.
Organizations that embrace web3 during this transition period will reap the benefits of their efforts and leave the competition in the dirt - so think about taking a calculated risk and being part of the next level of the web!
Looking to take your web3 project to the next level?
Hosting a hackathon is a great way to engage your community and get developers to test and use your protocol or EVM.
TAIKAI is a virtual hackathon platform that makes an online hackathon event much easier to host. 
Grow your network today with us. Request a Demo or launch your hackathon.