Campus recruiters play a key role in acquiring talent for their companies.
With an increasingly younger workforce, it is essential to be within the student community and aware of the new batches that will embrace the job market for the first time.
Better yet, there is a tool that can help college recruiters recruit talent on campus.
Curious?
We are, of course, talking about hiring challenges!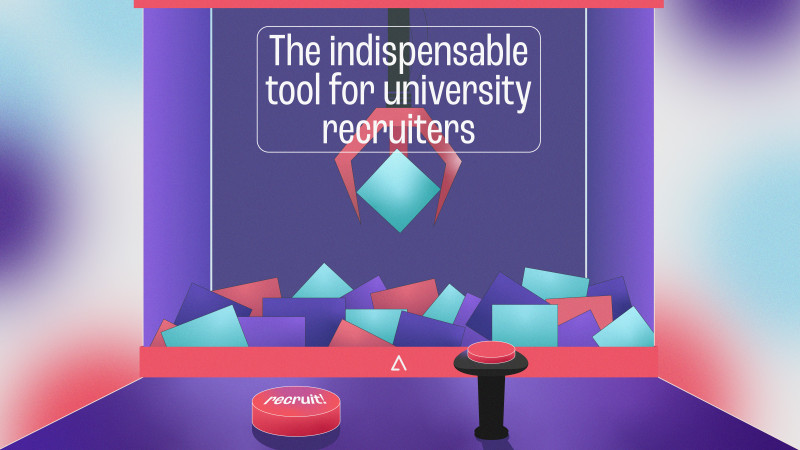 What is a hiring challenge?

A hiring challenge is a tool to assess the skills of candidates for a job offer. 
The company launches a real challenge, based on the position for which it intends to recruit, and pre-screened candidates participate in this challenge.
The challenge is tailored to the position you're looking to hire and provides a reliable assessment of each candidate's hard and soft skills - so that you can jump to the next step of the recruitment process faster.
The hiring challenge can be employed as the primary vehicle for your recruiting process, or as one of the stages in your existing model.


The current recruitment landscape and Gen Z
The implementation of automated processes, artificial intelligence, and other technologies has changed the current recruitment landscape. And the truth is, companies that don't adapt to it will be left behind.
For technological companies, in particular, having a university recruiter is no longer a differential factor - it's a necessity. 
However, these recruiters need to understand the mindset and technologies that the current generation uses.
And no, we are not talking about TikTok!
We are talking about updating the current recruitment process – which remains outdated, discriminatory, and drags for a long period.
A study conducted by Aptitude Research found that almost one-fifth of Gen Zers expect a job offer within a week of the initial phone interview, and the majority anticipate receiving an offer within two weeks.
Also, Gen Z isn't interested in using obsolete recruiting technology: a whopping 54% will not complete the application if your recruiting methods are outdated, and 46% have applied for positions on their mobile devices.
Companies that used modern recruiting technology were also three times more likely to enhance retention, two times more likely to boost engagement, and two times more likely to improve productivity, according to the report.
Why you should use a hiring challenge

There are several benefits to using a hiring challenge in your recruiting process:
It allows a quick and reliable assessment of students
Hard skills are important and the hiring challenge allows for a specific assessment of each candidate.
For a junior or entry-level position, however, one cannot expect a vast knowledge of all the tools and hard skills. That's why we designed the hiring challenge to also validate candidates' soft skills, allowing for an aggregated, reliable assessment.
We reward top talent!
At TAIKAI, we believe in a community-first platform. That means that we have developed a reward system that will give crypto tokens to participants that advance through the stages of your hiring challenge. Even if they are not ultimately selected for the role, they can still claim the tokens earned so far.
Not only it's a great way to attract and engage with students, but it also enables you to build brand reputation by rewarding candidates that put in the effort and commitment.
Recruit students that are aligned with your company's vision
Students are often dedicated and ambitious, but in order to attract top talent, as a campus recruiter, you need to find students that are able to connect with the company's vision and are committed to further developing their skills.
Contrary to a fictitious, simple exercise, a real challenge is the key to making a trustworthy applicant evaluation.
Assess behavior and performance
Given that students have little to no experience yet, a hiring challenge helps to understand how they face a real challenge and, therefore, how their behavior and performance would be like in a professional setting.
Save time during the recruitment process
We live in a day and age where time is precious. We know that time-wasting can be very costly to companies.
For campus recruiters, this is no different. In order for screening to be done and conducted well, the initial interviews are likely to be the most time-consuming step.
Hiring challenges allow you to reduce the average time it takes to recruit a candidate, as the screening is done throughout the challenge.
The best candidates who participate in the challenge will be selected by the university recruiter and proceed to an interview, however, by this time, the pool of candidates is already much smaller.
The recruitment process engages a new generation of students
The new generation that will enter the labor market is looking for meaningful work and does not want to waste time with companies with which they don't identify themselves.
For Gen Z, participating in a real challenge where they can demonstrate their commitment and expertise, is a much more attractive validation method than simply submitting resumes, doing a short exercise, and going to (at least) two interviews - over a period of 2 or 3 months.
The recruiting process is possibly one of the first points of contact they have with the company, so it's an ideal opportunity to make a great first impression.
Final Thoughts 💭
Being a college recruiter is an exciting job, but requires a vast skill set!
Campus recruitment frequently comprises collaborating with university career services, attending career fairs to connect with college students, elaborating recruitment marketing, and building the company's brand.
We believe hiring challenges can complement this duty given they are a fresh and updated method to meet the demands of the current workforce while providing a fast and reliable assessment.
Still in doubt? Request a demo and try out hiring challenges!