This week we announced the acquisition of Bepro Network Labs by TAIKAI, marking a huge milestone for both companies!
It is the biggest evolution for both companies to date and allows Bepro Network's technology to grow to a larger base of enterprises and developers. You can read more about the acquisition here.
To make it clear to our community and the benefits of this acquisition, we invited everyone to a Meet & Greet that happened on Discord. 
For those who didn't have the chance to join, we've gathered all the questions and answers below.
We're also doing an AMA for you to have a chance to ask more questions! if you're interested in participating, just fill out this AMA form.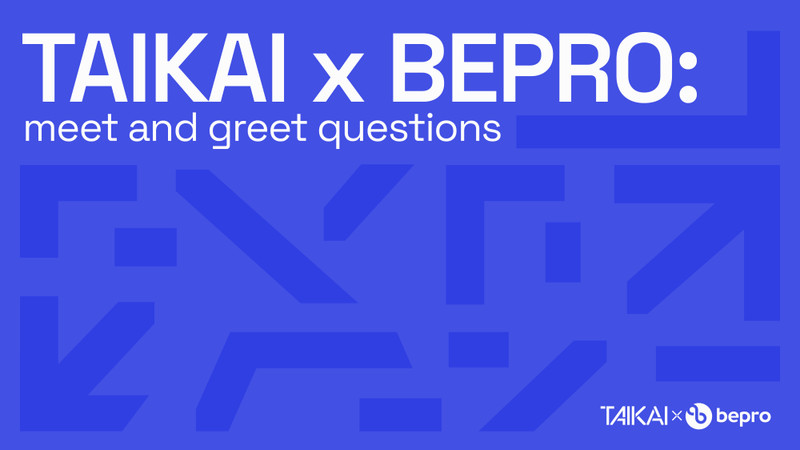 Q: In summary, what does this mean for the current team at Bepro Network labs? Will the current 'team' still be separate, or will they now become not part, but exclusive to the TAIKAI team?


A: Bepro Network Labs and TAIKAI are now one entity, with two brands. What that means for the team members joining from the Bepro side is that they will be integrated into TAIKAI. Rui and I (Justin) will transition out of the executive team and take on supporting roles to help Mario and Helder as best as we can. Some other Bepro team members will remain at their positions/functions but now in TAIKAI, while others will go to new departments and functions to best further the development of the brands.
Q: How will this acquisition influence the roadmap?


A: The Roadmap will just get bigger. Product-wise, our vision is to combine both roadmaps along the way. The products are totally complementary and together will become a super product! As Rui and Justin mentioned, our journey and our paths have always been close and that's why joining forces would be the best step for both companies.
Our focus continues to be to create a developer economy, with added strength, knowledge, resources, and a kick-ass team!
Q: First of all congratulations. Will the operation of the web app remain the same as the initial vision of the Bepro Network Labs team?

A: As Mário Alves mentioned, this is now a new step with bigger resources to make the product grow beyond web3 crypto projects. Now it will adapt to also support web2 companies as the current clients of TAIKAI to a wider audience.
Q: I do have another question: I read that this was starting to plan 6 months ago, was this always the plan from the beginning? What made Bepro go with TAIKAI… why not someone else?


A: TAIKAI provides the resources and know-how necessary for what Bepro Labs needed to enable a wider adoption for the ecosystem. What started as a partnership evolved into something that today is the merge between both teams and visions. TAIKAI currently is one of the most used hackathons tools in Europe and used by established companies.
Q: V2 for all the early adopters and the early ones who have locked their tokens into oracles. Will the rewards still be the same? Or will this affect this?


A: The V2 and all the protocol rewards structures will remain as they are! Nothing will change, just more features might be added for v2 based on requirements from current platforms using TAIKAI´s product in the transition module! @João Gonçalves | MoshMage and @Hélder Vasconcelos are leading this effort!
Q: Congratulations to Rui, Justin, Mário, and the entire Team! Thank you for this very exciting news! I would like to ask Mário about his vision for the Grants program and the possible benefits for the current Bepro Grantees from this acquisition of TAIKAI with Bepro? Any interaction planned with the Bepro Grantees?


A: Great question! First of all, the grants program is here to stay and it's part of our vision as well. The quantity of high-quality projects that come out of our hackathons is huge. On that note, our vision is to continue to assign grants for these amazing projects and eventually expand this to something bigger!
Q: As I saw, TAIKAI's network has over 50k developers. Will these developers use the Bepro protocol and work on the bounties that already exist there, soon?

A: That's the work in progress at the moment. I (Rui) will be handling all the transition processes for the product and its growth. TAIKAI's goal is to create a talent hub to connect developers and companies, by crowdsourcing solutions for their challenges, using hackathons, bounties, grants as a tool to find, test, validate new ideas, products, and talent globally. So yes we are working towards that.
Q: Hey, What does this mean for BEPRO token? Will it continue to be its own coin? I noticed TAIKAI doesn't have a coin.


A: Yes, everything will remain as it is – and you may find more information at https://bepronetwork.medium.com/taikai-acquires-bepro-network-labs-to-build-the-future-of-bepro-network-decentralized-programming-3eb15ad3410d
Q: Will the BEPRO token remain as the only currency for the operation of this decentralised protocol (Bepro Protocol) or will there be any change on that in the future?


A: Currently everything remains as is, with $BEPRO as the only ERC20 used on the protocol and governance for both v1 and v2.
Q: As I saw, TAIKAI has many big names on its list of companies. Will we see marketing campaigns in the near future?


A: TAIKAI has hosted some of the largest hackathons in Europe over the last few years, and we have plans to integrate bepro-js and its technology into these future events. Additionally, we are working on a new Ambassador Program which will encourage the community to engage with and support the Bepro and TAIKAI brands.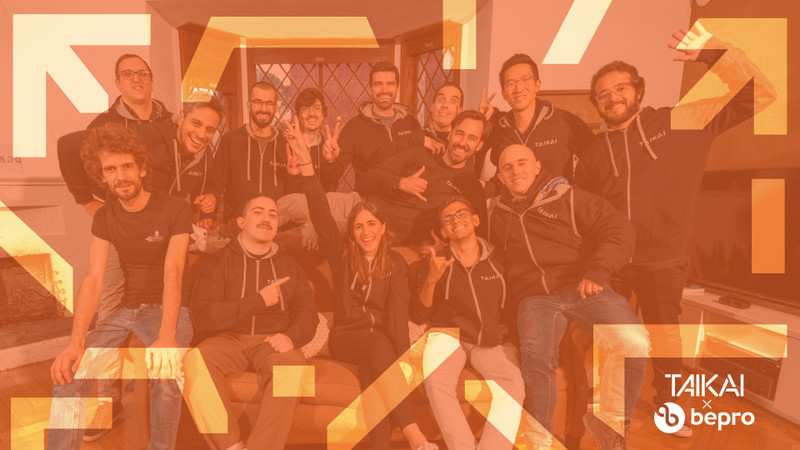 Do you still have questions? Join our AMA
We will be doing an AMA for any questions that weren't able to be addressed on the Meet & Greet on Discord. We'll address questions about TAIKAI x Bepro Network Labs acquisition. Topics include the vision of the company, development of the protocol, future plans, growth, and more.


Please fill out the form on the link below if you're interested in participating in our AMA, by submitting your information and question below. This form will be open until Monday 21st of February at 11.59 PM (UTC).
https://forms.gle/V1q735pK6aPDXwjKA


Please note: This is not a live AMA, questions will be gathered and answers will be published in a blog post at a later date.
About TAIKAI
We're a talent marketplace that connects creators and organizations through crowdsourcing solutions to their challenges. 
The tools developed for hackathons and hiring challenges enable global testing and validation of new ideas, products, and talent. 
About Bepro Network
Bepro Network is a codebase for DeFi, Gaming, Prediction Markets & More. A Code-as-a-Service protocol providing technology and support for blockchain-based applications.