The acquisition of Bepro Network Labs plays a key role in our vision and roadmap to apply blockchain and decentralised systems to the next generation of apps and the internet.
Bepro Network Labs and TAIKAI are now one entity with two brands, where TAIKAI helps companies to accelerate their innovation processes through hackathons and tech challenges, and Bepro Network represent our future in web3 as our brand of total decentralisation for the developer economy.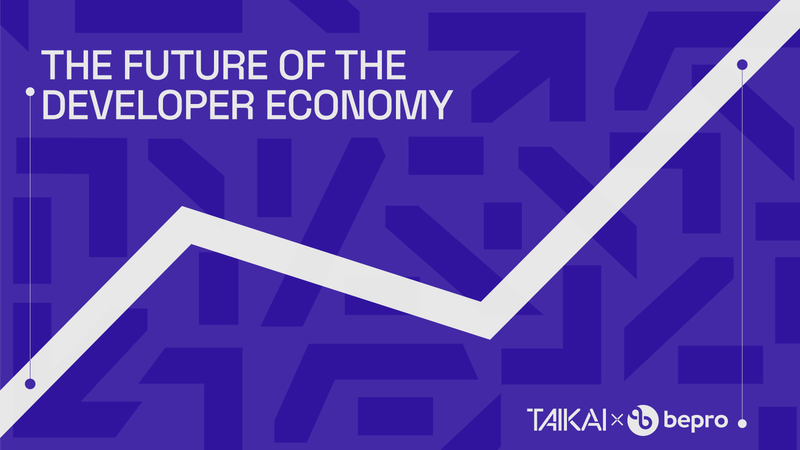 Our vision
The next 6-9 months will be a transition period for the TAIKAI product into the Bepro Network ecosystem. We will move all the clients into the Bepro Network product, as well as grow its adoption towards hackathons, bounties, and bepro-js.
Until then you will see a mutual marketing effort between both products until they ultimately merge into Bepro.Network (Hackathons, Hiring Challenges, Bounties) - all using the Bepro Protocol and its sub-versions to ensure its decentralization brand structure.
More detailed information will be provided on a timely basis, which includes keeping the public roadmap up to date.
Product
We will unify both products, keeping TAIKAI Labs as the developer studio behind Bepro Network and Bepro.js products. This means that the team behind Bepro's products just got bigger and stronger, counting now with more than 20 team members actively working on this project, both from TAIKAI and Bepro Labs; the current TAIKAI Product will transition over the course of the next months into Bepro.Network as an added feature to this product, transitioning also its clients and developers.
Our main focus is to build a fully integrated suite of services that allows developers, organizations, or corporate companies to build products in a decentralized way, utilizing knowledge and expertise from developers around the world in a fair market that rewards all the participants in the network.
We will be making bepro-js a brand by itself, as a tool for web2 companies to transition into web3 product deployment. The SDK framework's name will have its own branding under the TAIKAI Labs umbrella, as well as the Bepro.Network ecosystem, working for a wider usage in current TAIKAI product clients and future Bepro.Network organizations and builders.
Marketing
We're focusing our marketing efforts on three pillars we believe are aligned with our strategy and vision.

1. Ambassador Program
We're currently developing an ambassador program for community engagement and collaboration. Our goal is to establish sustainable community growth and to reward members that support the ecosystem's development.
2. Bepro Academy
We are also developing resources and educational materials for both companies and developers interested in learning about web3.
3. Content strategy
We'll focus on user-generated content as an important pillar in our growth strategy to increase the adoption of more developers in the Bepro ecosystem.
About TAIKAI
TAIKAI is a talent hub that connects developers and organizations through crowdsourcing solutions to their challenges. The tools developed by the company for hackathons and hiring challenges enable global testing and validation of new ideas, products, and talent.
About Bepro Network
Bepro Network is a codebase for DeFi, Gaming, Prediction Markets & More. A Code-as-a-Service protocol providing technology and support for blockchain-based applications.