We're delighted to announce we've joined forces with Bepro Labs!
We are now a single organization, aiming to build the future of decentralized programming.
Bepro Labs' technology and products will allow TAIKAI to continue to be a provider of technological solutions for companies seeking the decentralized development of applications. 
On the other hand, through TAIKAI, Bepro Network will expand its portfolio of customers, programmers, and demand.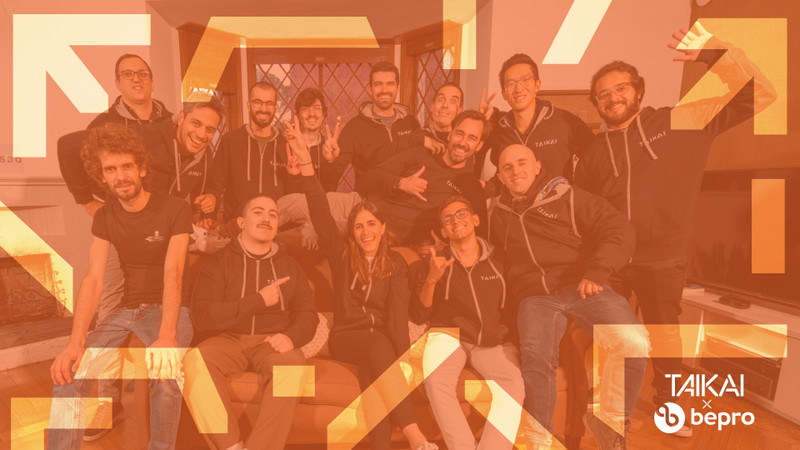 But before we get into the details, let's get to know Bepro Labs:
Bepro Network - Autonomous Protocol for Decentralized Development
Bepro Network is an ecosystem of tools and resources for developers and companies that want to build decentralized applications, in a fast and secure way.
"Over the past few years, Bepro has been building web3 products and services for NFTs, staking, and predictive markets, among others. 




We built the protocol, network, and SDKs to nurture the ecosystem so that developers all over the world can create decentralized economies in collaborative development environments, and help entrepreneurs get the right talent for their projects, building tools for the future of DAOs development", notes Justin Wu, co-founder of Bepro.
Why are we merging? 🤝
We quickly realized that there was a strong connection between the two brands, not only in terms of technology but also when it comes to the community.
We want to provide more resources to an ever-expanding developer community, while also recognizing and rewarding genuine talent on a global scale.
Through the merger of the two companies, we will be able to offer more decentralized, transparent digital products and become a technology hub in the midst of the current web2 to web3 transition.
"TAIKAI's acquisition of BEPRO Network Labs plays a leading role in our vision and roadmap for using blockchain and other decentralized systems for the next generation of apps and the internet. 




BEPRO and TAIKAI are now a two-brand entity, in which TAIKAI serves as a bridge to help companies better leverage the possibilities of decentralized development through the ecosystem and the community we are building for developers. 




The acquisition of BEPRO Labs represents our future on the web3, as a brand of total decentralization for the programming economy," remarked Mário Alves, CEO and co-founder of TAIKAI.

Join us at Discord for a Meet & Greet!
We'll be hosting a Meet & Greet on Discord today, 16 February, at 10:15 AM GMT.
We'd like to invite you to join the Meet & Greet and get to know the team, our goals, and what this merger is all about!
What's going to change with this merge?
TAIKAI will become the largest contributor to BEPRO's ecosystem as a result of the acquisition, allowing our newly merged company to respond to growing consumer demand and integrate blockchain into our products and services.
With this operation, BEPRO employees will be integrated into TAIKAI, which means our team has now grown to more than 20 people!

Our vision and roadmap for the future 🚀
"Our vision has always been to build the largest developer hub and a network that serves as a source and catalyst for top technological talent, from anywhere in the world.




As blockchain and web3 technology continue to grow in demand and potential for businesses, TAIKAI has been looking to decentralize its developer network while preparing it for the future", underlines Mário Alves, CEO and co-founder of TAIKAI.
Together, as one, we are now TAIKAI x BEPRO Labs.
We are living an exciting period and aware that our responsibilities have grown, but we count on a focused team, determined to help our community and organizations.
Although the future is difficult to predict, one thing we're certain of: we want to make a difference and transform the digital world into an increasingly transparent, decentralised, and secure environment for everyone.
Stay tuned!