It's a fact: remote work is here to stay. And that's great news for companies that are already embracing the new work environment.
If your company is looking to hire remotely but doesn't know where to start, we gathered some useful information that may help you in this journey.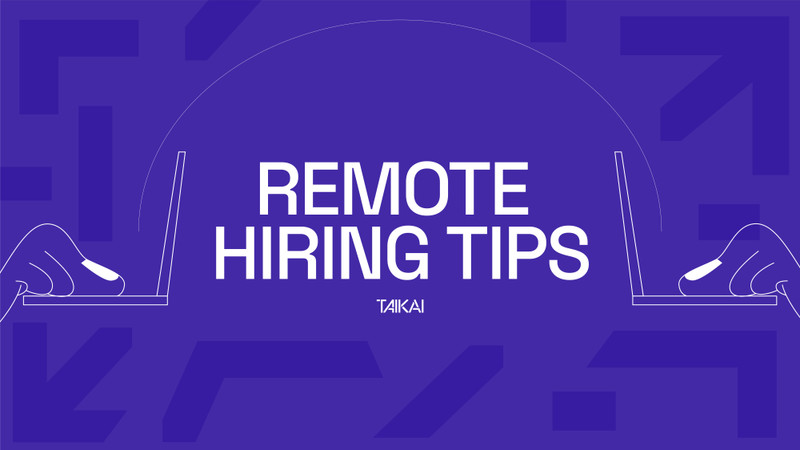 According to Pew Research, 59 percent of U.S. workers who have the option of working from home are doing so most of the time, if not all of the time. The preference scales up to 65 percent among those with a college degree.
Furthermore, according to an Ipsos survey for the World Economic Forum, two-thirds of the global workforce wants flexibility once the pandemic is over. A third are prepared to resign if their boss forces them to return to work full-time.
Those figures indicate that if you want a happy employee, your next hiring process must be for a remote or hybrid/flexible position. And nothing beats doing so through a remote hiring process, which demonstrates that your company is remote-first since the start.
Table of contents
Remote hiring tip #1: be transparent and visual 🖼️
Remote tip #2: Where and how to locate your workforce 🕗
Remote tip #3: Remote hiring platforms 👨‍💻
Remote tip #4: Make a plan for your remote hiring process 🗓️
Remote tip #5: Invest in a challenge-based hiring process 🏆
To summarize remote hiring 💭
Remote hiring tip #1: be transparent and visual 🖼️
There are a lot of good strategies for attracting new talents, but you need to be careful to avoid turnover. Bamboo HR research shows that 33 percent of new employees leave before completing their first six months of employment. 
Of course, we know that millennials and Gen Z change jobs frequently, but according to the same research, the reasons include a sense of neglect, poor candidate experiences, and lack of mentorship. 
It could indicate that your hiring process is not very clear.
As a result, you must go beyond simply posting a job description on your website, LinkedIn, or HR partner websites like Glassdoor and Indeed.
Remote inductions need virtual introductions. In addition to sharing a job description when promoting a job, consider the following remote hiring tips: 
Include social proofs (written or in video format) from your own employees, particularly those who will be working directly with the new employee. This can give a better idea of what it's like to work on the role and in the team.

An embed or a link to an HR video about the company work culture, particularly for remote employees;

Is there a Talent Manifesto in your organization? Tell potential candidates what motivates your employees.

You could show the candidate a SlideShare or PDF presentation about the routine, tools, and benefits.

Be truthful and don't sell what you don't have. If the company has a challenge or even an aggressive goal, make it public, along with the company rules. This avoids employee frustrations.
Remote tip #2: Where and how to locate your workforce 🕗
Now that you know what to include to promote an amazing job description, here's another tricky question: 
How do I amplify my reach? 
First and foremost, ensure that time zones are not an issue. Depending on the role, teams may require synchronous communication. If that isn't a problem and asynchronous work is fine, you can expand your reach to anywhere in the world. 
👉 You may also be interested in checking the key strategies to attract and hire new grads
Because of the similar time zones, US tech companies, for example, are increasingly looking for Latin-American talent. As a result, tech salaries have increased in Latin America during the pandemic – read more on this Bloomberg article.  
Remote tip #3: Remote hiring platforms 👨‍💻
To reach skilled professionals in the four corners of the world, LinkedIn for Business has great talent solutions for announcing jobs, as well as displaying videos about the company's work culture. 
However, you can also work with specialized remote hiring platforms:
Arc is a remote-only job board for developers worldwide that has been used by giants such as Spotify, HubSpot and Floy.    

Remote.co lists categories as design, developer, content writers, marketers, and other opportunities. Companies such as American Express, GitHub, GitLab, and others have used it.

Virtual Vocations is dedicated to job fields like software development, business development, consulting, technical writing and paralegal.

We Work Remotely is the largest remote work community and is trusted by industry titans such as Google, Amazon, and Basecamp.




Jobspresso is a simple way to find remote workers in the fields of development, marketing, customer service, Design & UX, DevOps, and writing. Companies such as Inc., Forbes, The New York Times, and TechRepublick use it.
Remote tip #4: Make a plan for your remote hiring process 🗓️
Now that you know where to look for candidates for the position, it's time to draw your plan. 
Whether you are an HR professional or a manager, get everyone on the team involved and ask them what they expect from the new college. As you'll be hiring remotely, it's good practice to list all the tools you're team uses to perform asynchronous work, such as Confluence or Slack, for example.
Following the team brainstorm, it's time to clearly identify the soft and hard skills and write a job description that includes: job requirements, requisite experience and required degree(s). Don't forget the visual hints we mentioned earlier in this article, and if possible, include a salary range.
Also identify the objectives that your new employee will need to complete in the short, medium, and long term. This information doesn't need to be addressed in the job description, but it's important for the first interview.
Remember to set a budget: not only for the wage but also how much you can invest in the advertising hiring process and if you will use paid platforms. Believe us: they can be decisive in identifying the best candidates. 
Consider testing candidates' skills with a challenge before proceeding to the interview stage (we have a tip below where you can use Hiring Challenges). 😉 
Plan carefully the off-site interviews phase. You must glean as much information from these conversations as possible.
Questions to help you hire remotely 🤔
There are a few questions that can assist you with this process. Consider the following when developing your remote hiring process:
Is your team currently working full-remote or hybrid? Make sure the new employee has a good understanding of the workplace, even if it's a virtual one.

Will they be able to work from home on a flexible schedule? If they must be online at a specific time of day, avoid promising flexibility.

Do you have the tools required to manage your team via asynchronous collaboration? Consider using asynchronous communication tools and test your candidates if they can adapt. 
Remote tip #5: Invest in a challenge-based hiring process 🏆
AT TAIKAI, we've developed an assessment tool to validate and attract talent on a global scale: we call it Hiring Challenges.
Hiring challenges work in a very simple way: 
Your company launches a real challenge in our platform and candidates develop a project to overcome the challenge.

Candidates submit their projects; 

Your team select the best ones and moves them to the interview phase;

You choose the best talent to work with.

We reward every participant that submitted a valid project and put effort into it with KAI tokens - our own cryptocurrency - even if they are not the selected participant to take the role.
By rewarding participants with cryptocurrencies, we are fostering engagement and interaction in your recruitment process.
In a highly competitive market, this might make a huge difference between attracting the best talent or becoming just another job vacancy.


Bonus: Onboarding Ideas 🤝
Of course, after hiring remotely, you have to onboard remotely. This merits its own article, but we can give you some pointers right now.
To begin, instead of mailing papers, use digital signatures for online contracts, such as HelloSign or DocuSign.  
Don't let your new employees down: provide all necessary equipment and tools before they begin on the new role. This will leave a positive impression even before they start.
Introduce the new employee to the team via a virtual meeting, just as you would if you were all in the office. A little gamification can be used in situations like these with tools like Gather.Town, which represents offices on 2D scenarios.
Make sure the new employee's team leader has all the resources and onboarding materials necessary. 
Deliver an expectations-strategy plan for the first 30, 60, and 90 days at work or do it in collaboration with the new employee.
New people tend to be shy (at least at first) on presential work. So, maintain constant communication and encourage your team to share ideas with the new team member. This fosters a sense of belonging.
To summarize remote hiring 💭 
The journey to a good remote hiring process begins way before you post a job announcement online.
To attract the attention of new talents, go beyond a simple job description, and be visually appealing. Understanding your target audience, their needs, requirements, and expectations is mandatory to successfully recruit talent.
There are incredible remote hiring platforms that you can use on this journey, and to hire gold-standard talent you should use an assessment tool such as TAIKAI's Hiring Challenges.