Hiring recent graduates can be a fantastic opportunity for both them and your company.
This young workforce is eager to prove their worth and looking for a solid environment to launch their career. However, they have a unique vision and a modern approach that most businesses do not share.
With more and more companies adopting web3 and blockchain technology we're undergoing yet another digital revolution, therefore, if you are seeking for recent grads to strengthen your team you first need to understand their mindset.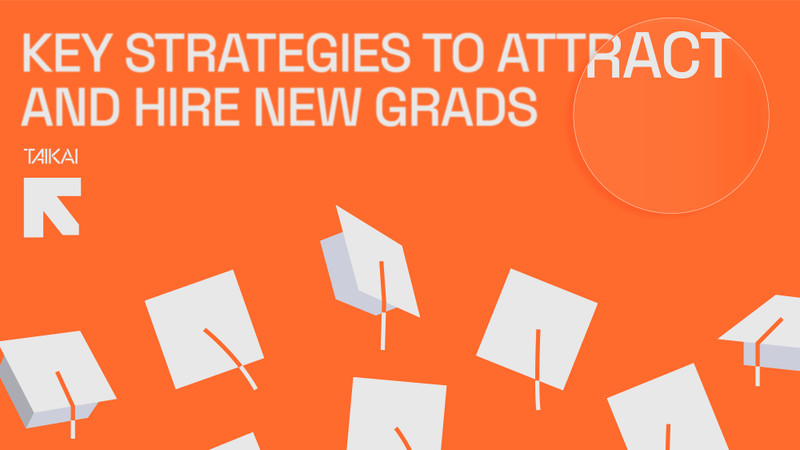 The first step to hire new grads and college students 🎓
In order to hire new grads and college students, you need to be where Gen Z is.
You must be present in the same channels, interact in the same manner, and attract them with simple recruitment processes that serve a purpose and allow them to demonstrate their full potential.


Twitter and LinkedIn researches 🐦
According to Twitter, half of all Tweets sent in 2021 in the US came from Twitter users aged 16 to 24. And Gen Z is at the center of the most popular discussions on them. Another noteworthy finding from Twitter research is that Gen Z is eager to participate in campaign discussions.
That's a solid reason to keep your recruitment marketing and brand marketing teams connected. Not only to promote jobs but also to promote HR events. 
This also occurs when we take a look at LinkedIn: Gen Z'ers are the fastest-growing global audience on LinkedIn.
According to LinkedIn, these young people are ambitious and looking for businesses they can trust to help them achieve their goals.
Aside from that, Gen Z is more likely to follow influencers on both social media channels than any other generation. This is because they are interested in inspirational people, educational content, and voluntary work.
If you're promoting a job offer, raising brand awareness, or promoting an event such as a hackathon, you might want to partner with influencers as well.
Social media advertising ⤴️
Setting up a budget to promote hiring advertising can be a good plan, especially if your brand is new, such as a startup, or if you don't have a significant number of followers.
Targeting demographic, education, employment experience/titles, and interests are possible using LinkedIn Ads and other tools like Facebook Business. It's possible to narrow down the list to focus on specific skills too.
While it's worth mentioning, this isn't a great long-term option in most scenarios, given it's expensive to run targeted campaign ads. But it does allow you to locate the best candidates faster. 
Exploring hackathons as a way to hire new grads 👨‍🎓👩‍🎓
Hackathons, in particular, are a fantastic event to bring talent to your company.
This is a great technique to validate and hire new grads and university students because they'll have to think outside the box to solve challenges.
TAIKAI can help you host virtual hackathons and ideathons, reducing expenses, saving time, and finding talent around the globe.
Hackathons have always been an excellent way to identify talent while building tech solutions and generating new ideas and concepts.
For once, you have dozens or even hundreds of participants working to develop solutions for your brand. Secondly, as you evaluate and filter each team project, you'll get a sense of the best potential candidates that can work with you.
It's not unusual for host companies to contact the best participants after the hackathon and offer a position within the company.
However, a hackathon can also be used to advertise your own platforms and resources.
Microsoft, for example, organized a hackathon at TAIKAI in which participants were asked to develop a project utilizing Microsoft's Azure technology. This is a wonderful approach to promote your own resources and platform membership.
Similarly, Telos Foundation, a blockchain company, hosted the Telos Spark hackathon and required developers to use their own blockchain.
Match university recruiters with hiring challenges 👨‍🏫 👩‍🏫
A hiring challenge is a step in the hiring process, designed to validate a candidate's hard and soft skills.
Simply described, it is a test for applicants to assess their qualifications, core skills, and commitment to the position for which they are applying.
We've built the tool based on the hackathon approach. It's a powerful and user-friendly tool that allows you to validate talent in as little as 48 hours.
Here's how it works:
Create a challenge that is in line with the soft and hard abilities required for the target profile.

Start contacting university professors, course secretaries, and coordinators to assist you in communicating the challenge with students and alumni programs. If you wish, you can promote yourself according to your own recruitment marketing strategy.

Examine the projects that have been submitted.

The best talent move on to the next stage, usually, a final interview.
This indispensable tool for university recruiters can be used as the main recruitment form or as a step in your existing recruitment process.
According to Aptitude Research, 54 percent of Gen Z'ers do not finish an application that uses an outdated hiring process, so you may want to check out the platform. We're offering a free trial too!
Reward talent with crypto, regardless of the challenge 🏛
At TAKAI, we provide yet another reason for talented individuals to participate in our co-created hackathons and hiring challenges with our clients.
That's because we've learned that offering an additional incentive can help companies hire new grads and college students. We do it by rewarding them with our own cryptocurrency (also known as KAI tokens).
Both our hackathons and hiring challenges reward participants with KAI tokens. 
Is your brand an expo supporter? 🎟️ 🎫
Fairs and expos are beneficial to both employers and job seekers.
First and foremost, fairs are a fantastic opportunity to meet and interact with potential applicants. Presential meetings are still very successful and that's why experts agree that you should send your top employees to represent your business.
It's also a one-stop-shop for meeting new grads and college students and other types of candidates. After all, this environment welcomes diversity. 
Fairs are also ideal for acquiring leads and, of course, presenting your brand and business values. Unlike previous generations, Gen Z'ers seek to join a cause they believe in, not just the typical nine to five job.
Useful tips on how to hire new grads and college students 💡🔥
A successful recruitment marketing campaign should never overlook the following pointers on how to hire new grads and college students: 
Manage internally first: your brand is on employers' review sites and 86% of job seekers research companies' ratings before applying, according to Glassdoor research. It's your reputation on the line.

It's vital to be a member of the community ecosystem to retain students and new grads close to you. That's why it is so important to have teams as part of innovation hubs and tech parks. Find partners such as universities, institutions and startups who can help you co-create solutions with their valuable Gen Z talents.

Applicants may have concerns. Are you prepared to answer their questions? Consider including a live chat feature on your career page and respond to all candidates on social media. Make sure no one goes unanswered and they truly understand what's the core value behind the business.

Do you have an email marketing team? Once you've gathered a list of candidates' email addresses, put them to work. This is an effective tool for spreading new job openings, events, hackathons, and hiring challenges.
Because your organization presumably has an institutional video, your careers page should contain video marketing to engage candidates. This is their chance to taste what it's like to work with you, guys. You can also develop a company culture blog and show what happens behind the scenes on a day-to-day basis, and what it's like to work at the company.


To sum it up 👇
While recent grads might not have vast experience and knowledge in the field, hiring recent grads and university students is always a great choice.
Gen Z'ers are fast learners and are driven and motivated by their own personal motivations.
By aligning your company's vision and purpose with theirs, you will certainly get a loyal and hardworking team, committed to giving everything they have for your business.