The main goal of TAIKAI is to create a "Next-Gen Talent Marketplace" that promotes the co-creation of innovative solutions for companies, organizations, and communities and allows a skilled worker to participate in innovation initiatives promoted by any community stakeholder.
The marketplace should recognize and identify the best innovators, evaluators, mentors, and experts on a domain field based on their previous contributions and interactions within the network.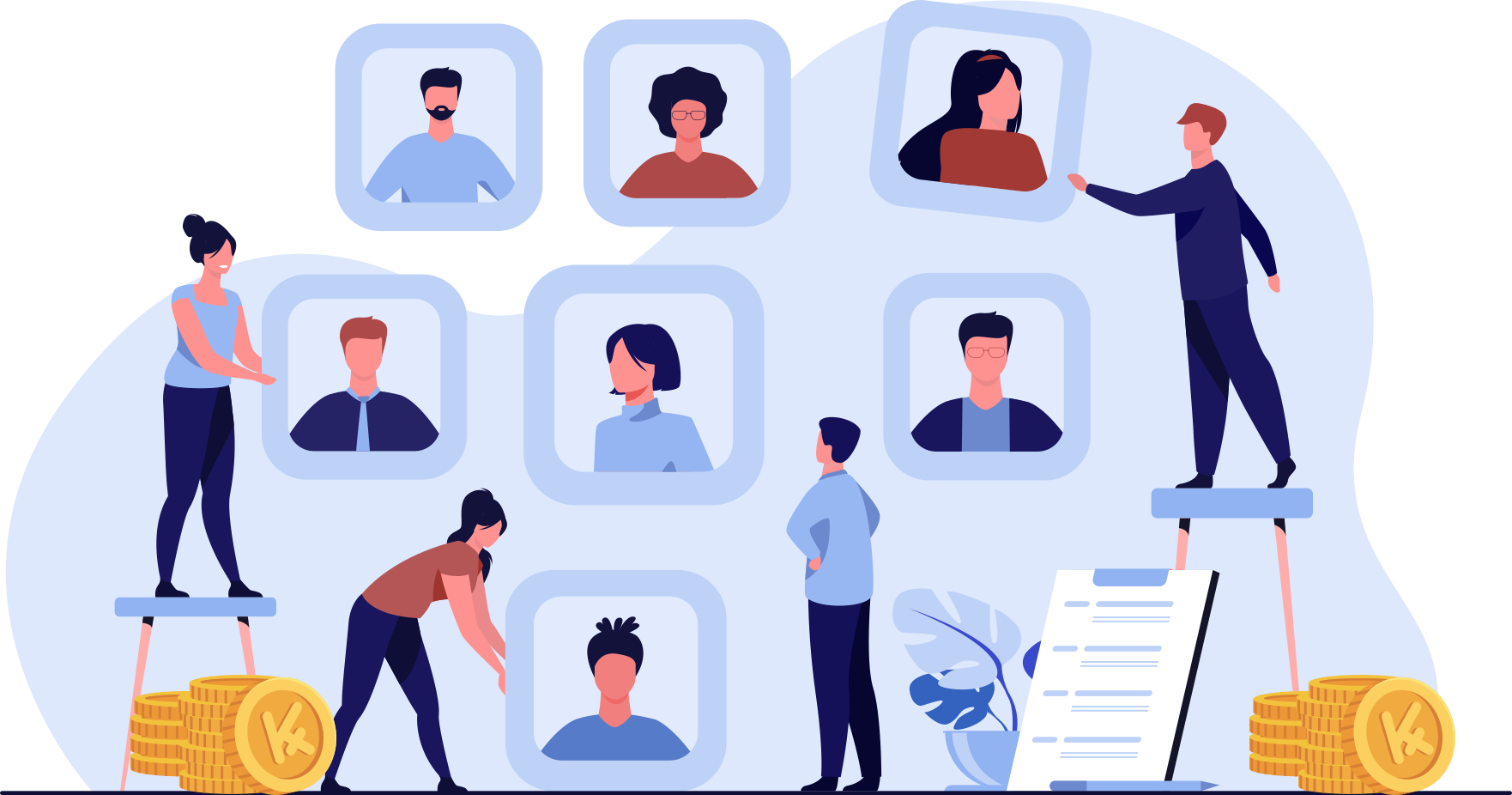 As a Talent Marketplace, the role of TAIKAI acting as a mediator is to provide an economic context where all the stakeholders are rewarded fairly and transparently following the rules defined by the community and a free supply and demand market.

The community main stakeholders on TAIKAI are :
Challenge Providers (Companies, Universities, Communities) — They curate and promote challenges on the community and pay token or/and fiat prices to reward the best projects. By launching challenges on the community they get access to a talent pool of innovators and diverse solutions to solve their business or digital problems.
Innovators (Students, Freelancers, Startups) — They create projects for challenges launched on the platform. They get tokens and prizes in return for creating good quality projects and social recognition for their innovative proposals.
Backer (Experts on Field) — They evaluate and analyze the innovative solutions submitted by the innovators for challenge providers and rewards for curating and selecting the best projects are used as the incentive.
Investor (Private Investors, VCs, Business Angels) — They invest money and provide liquidity on the network and they get returns based on the community economic growth.
In the context where high-skilled workers scouting is becoming crucial to companies, it becomes essential to create an innovation community where all the participants are stakeholders and could benefit from their regular contributions.
Based on these detailed foundations it was essential to propose a public ledger to track the interactions between all the stakeholders and an internal currency to serve as a transfer of value unit in any transaction that occurs on the economy. 
All TAIKAI transactions are published on a public decentralized blockchain not controlled by TAIKAI to be audited by any stakeholder on the economy.
In the early stages of our startup life and after some design thinking sessions and a couple of brainstorms later, we finally came with the main TAIKAI version 1.0 economy foundations. 
Today, TAIKAI Social Token version 1.0 mechanisms are already in place in the TELOS main network and we hope to deliver the version 2.0 in 2021.
The TAIKAI Economy version 2.0 will introduce governance power and yield rewards to token holders, allowing them to benefit from staking the KAI token. Our goal for version 2 is to incentivise token holders to not spend their tokens immediately, reducing token velocity,  and allowing the community main stakeholders to participate actively on the community governance and future enhancements.
What is the KAI Social Token purpose?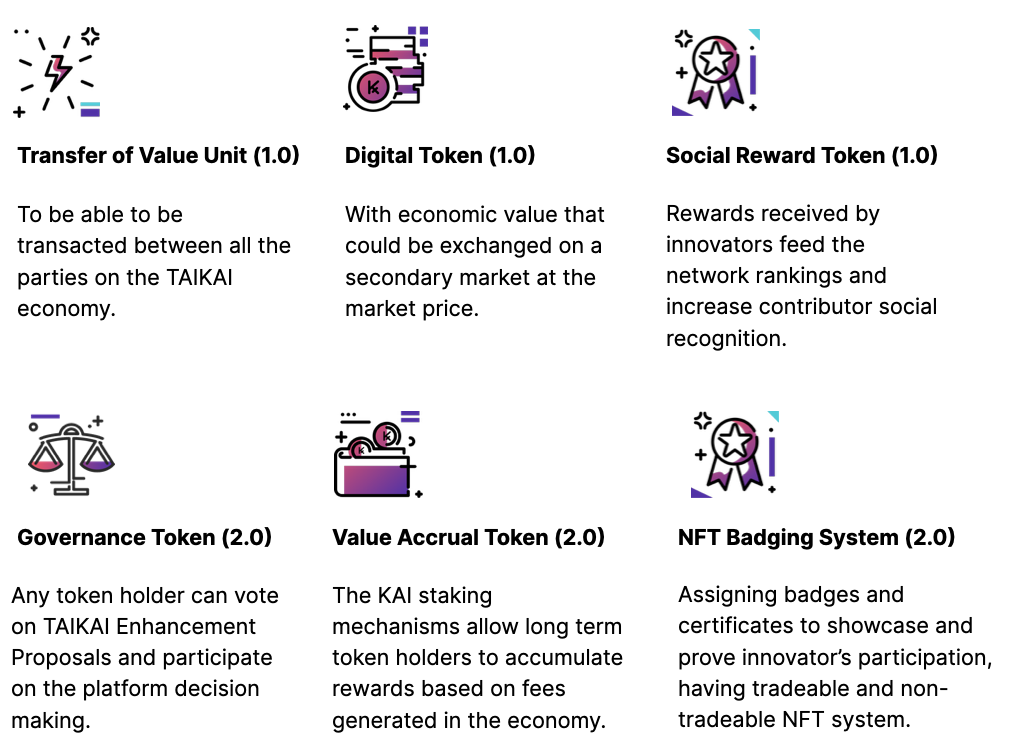 Token Economics 1.0
In the first version, there are no fees collected by the smart contract but, on future versions, transaction fees are going to be accumulated and distributed to token holders that stake their balance.
Mechanisms supported by 1.0 smart contract:
Fund — Fund a challenge with KAI and allow the challenge promoter to distribute them to mentors, backers and participants.
Allocate — Transfer KAI to mentors, backers and participants to be used on a specific challenge's stage.
Back — After analyzing project details, any challenge backer can invest in it to select the winner project. The rewards received by a backer are based on their contributions to the best projects.
Backer Reward — KAI reward received by any backer based on the challenge results.
Innovator Reward — KAI reward received by an innovator based on their project ranking on the final challenge results.
Delegate — Delegate KAI to other challenge backers to be used on challenge voting.
Transfer — Transfer global balance to other user or TAIKAI account.
Withdraw — Withdraw balance to an external TELOS account under the user custody (under development).
Deposit — Transfer KAI balance from an external account to a TAIKAI account (under development).
KAI Token Initial Distribution
The total supply of 300 000 000 KAI is distributed to:
TAIKAI Fund (Fund early adopters and competitions);
Investors (Private Sale and/or Public Sale) with 3 years vesting;
Employees and Advisors with 3 years vesting;
TAIKAI Enhancement Proposals Program;
Inflation that will be distributed to the community based on their stake.
KAI Social Token Economics 2.0
The version 2.0 is an evolution model that will grant the token holders to have an active role and allow them to: 
Collect fees from the platform transactions by staking their KAI balance;
Enhanced distribution of rewards (innovators, backers and mentors) to incentivize the community to be involved in TAIKAI;
Governance program to manage the economy in a decentralized way;
Badges and certifications based on NFTs, with tradeable and non-tradeable items;
More open protocol for 3rd party integrations.
New updates about the our KAI Social Token are going to be published in the upcoming months. Stay tuned! 😉
To know more about Social Tokens we recommend this reading: