Do you remember video games used to have different levels of difficulty? Easy, medium, and hard were common ones. Well, It's not crazy to say that is similar to investing in web3.
We're not trying to spook you, however, there's a deeper learning curve when compared to mainstream investments. Also, keep in mind that these new markets and investments are still very volatile. 
There are ups and downs, but in the long term, the trend – according to several market analysts – is that your investments climb to the top.
Well, we can't really guarantee that because we don't have a crystal ball. But we can explain how you can start and provide some ideas for investors that want to manage money on the web3 universe, where blockchain is the new land to mine gold.  
Disclaimer: This content is provided for informative purposes only; it should not be interpreted as legal, tax, investment, financial, or other advice.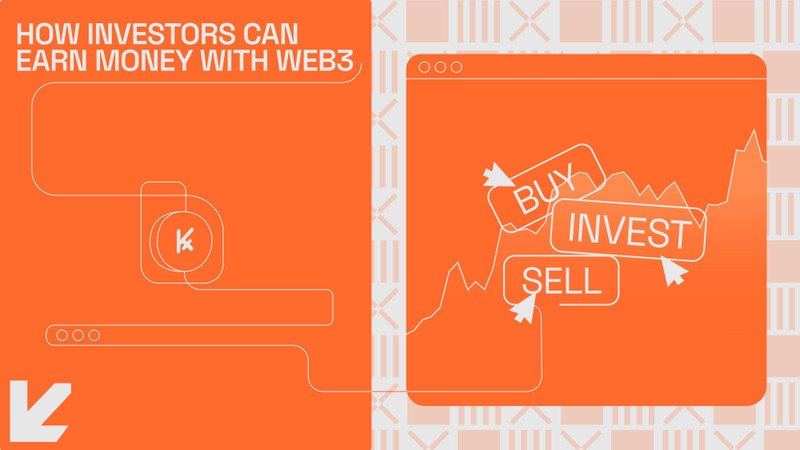 Table of contents
A simple guide to investing in cryptocurrency for beginners

Easy investing in crypto with investment funds

Hot and Cold Digital Wallets

Investing in NFTs: HODL and fliping

Investing through DAOs

Angel investors and capital ventures

Investing in people through tokens
A simple guide to investing in cryptocurrency for beginners 💱
We could tell you to start with a digital wallet. However, there is an easier way to invest in cryptocurrencies for beginners: exchanges. 
Firstly, let us explain the difference between them. 
Wallets versus exchanges
While cryptocurrency wallets allow an investor to store cryptocurrency directly on web3 online (and even physically), connecting different blockchain models, an exchange is easier because there is a thrust-part involved. 
It means there is kind of a Centralized Finance (CeFi) model behind exchanges. Almost like a digital bank does. 
In this case, you must create an account at a certain exchange and sign in. There is someone operating and holding your crypto like a bank holds your money. 
Exchanges benefits
Unlike digital wallets that connect to almost every crypto in the world, an Exchange wallet supports mostly web-hosted wallets available, and you can buy them with dollars, for example, investing in cryptocurrency there.
Moreover, they often show the appreciation and devaluation of cryptocurrencies compared to the Dollar or other currencies, such as Euro.
Furthermore, exchanges allow you to convert your investing in cryptocurrency to popular currencies. If you want to exchange bitcoin for Dollars, they transfer the equivalent amounts to your account on a bank, for example. But, of course, there are fees for this operation. 
Because of this simplicity, it is a smart way of adapting to the rollercoaster of cryptocurrencies' ups and downs. If you're a beginner looking to start investing in crypto, it might be a good option to start operating through an exchange until you get acquainted with the crypto universe.
How to start investing in cryptocurrency with exchanges
Because of the security of web3, exchanges are more exposed to being hacked and the coins stolen. So, it's good to search for a solid and reliable option. 
You can use platforms such as Coingecko - a cryptocurrency data aggregator- to track cryptocurrency prices, manage your portfolio, research fundamentals of new projects (all projects are manually screened through), and evaluate the safest exchanges to trade.
There are great options on the market. Two of them are Coinbase and Binance.
To make it clear, follow these steps to start investing in cryptocurrency with exchanges:
To open an account at Coinbase, you must download their App at Android or iOS store; 

You will be asked to give them some information, such as ID photo, email phone number, and, if you live in the US, the last four digits of your Social Security number. Then, you have to verify your identity;

Once you have an account and sign in, it's easy. First, select buy or sell. 

If you would like to buy, select the crypto and buy, for example, with your credit card. 

Click Preview Buy to confirm, see all details on your screen and click buy to purchase. 

If you would like to sell crypto for cash, select the crypto you want to sell, select Preview sell and sell now; 

Your cash will be available in your local currency wallet. To cash out, on the button (on App is a button Cash Out, and from a web browser, it is on the section Assets); 

Choose out the destination, continue and complete your transfer.  
We have chosen to show Coinbase because it's available in lots of countries. But the procedure is similar on other platforms. 
Based in Europe, Kriptomat is available globally but is a good option for European investors. E-Toro is another popular option available in 60 countries, mostly in Europe and Latin America. 
In Brazil, for example, Mercado Bitcoin also is easy to operate and is the biggest Latin American exchange to investing in cryptocurrency.
Easy investing in crypto with investment funds 📈
Here is another way to [try to] make a profit with crypto. There is no secret. All you need is a good investment broker that has a good portfolio of funds (reliable, please!) and is already investing in cryptocurrency through investment funds. 
You may be asking: what kind of funds? Bet on mutual cryptocurrency-focused funds Crypto and ETFs (Exchange-Traded Funds), negotiated on the market like a stock. Here is some useful information:
In general, there is a large percentage of cryptocurrencies in the basket; 

There are DeFi (Decentralized Finance) funds. It means that these funds invest in smart contracts that carry out operations on blockchains (often Ethereum), such as loans, insurance, future contracts, and other web 3.0-related assets; 

There are minimum investments. Some funds have a minimum of $1,000 USD. Others are required to have a minimum of $50,000. As a result, before applying, it is advisable to read the prospectus of each fund at the stockbroker.
These funds reflect directly the crypto market moment, but the specialists that operate the funds will sweat to do the magic for you. 
Of course, there is always a fee for it (and it's not cheap), but it is a more passive approach to investing.


Other ETFs and funds
Since November 2021, ProShares Bitcoin Strategy ETF (BITO) emerged as the first U.S bitcoin-linked ETF, by investing in Bitcoin futures contracts. 
Individual investors can find it on several trading U.S platforms, such as Vanguard, Charles Schwab, Robinhood, TD Ameritrade, and others. 
Bitwise 10 Crypto Index Fund exposes its portfolio to the 10 most valuable cryptocurrencies by market capitalization. You can start investing in cryptocurrencies through this fund. 
Another Bitwise is Bitwise DeFi Crypto Index Fund, a portfolio of protocol tokens of the legacy financial ecosystem. It applies to Decentralized organizations' crypto trading protocols, like Aave and Uniswap. 
The First NFT-Focused ETF it's also available since December 2021: NFTZ is investing in NFTs, Blockchain, and the NFT Marketplaces. See more and invest on this link. 
Some funds can invest in businesses with exposure to blockchain, the technology that brings life to crypto.
An example is Amplify Transformational Data Sharing ETF, which invests 80% of its capital in these assets. Holdings include Silvergate Capital Corp, Galaxy Digital Holdings Ltd, and Coinbase Global Inc. You can invest here.
Hot and Cold Digital Wallets 💵 👛
Now that you know more about investing in cryptocurrencies, we can discuss the next step: hot and cold crypto wallets. 
The difference between hot and cold wallets is quite simple: hot wallets are connected to the internet, and thus, are more prone to cyber-attacks and hackers. 
Cold wallets, on the contrary, are offline, physical devices that offer a higher level of protection because they are not connected to the web. However, there's no backup for this type of storage and if you lose the wallet, there's no way to recover your investments.
Hot wallets 🔥🔒
MetaMask is the most popular hot wallet and it's based on the Ethereum blockchain, but you can store other tokens by copying the protocol in your wallet. But if you are a bitcoin fan, it may be easier to use Exodus Wallet.  
Whatever wallet you choose, you will need a private password. Keep it safe offline, because if you lose it, you lose your crypto. And there is no way back. Seriously!   
Remember: You can't buy or sell currencies like Dollars or Euros on digital wallets, but you can transfer your crypto from exchanges to digital wallets. 
Here is a fantastic step-by-step tutorial for investing in cryptocurrency with Metamask: 
And another one on how to use Exodus Wallet 2022: 
Cold wallets ❄️🔒
Now it's time to put all this money literally in your pocket. How? Using cold wallets. 
Well, we don't really recommend you keep it in your pocket. Keep it safe, like storing money, gold and valuable items in a safe box. 
That's because cold wallets are hardware devices to store your crypto offline. It's a very nice way to keep large amounts of tokens. So, you really must keep it safe. 
They are only online when you are transferring your crypto tokens to them. 
The two most famous are Ledger and Trezor. And you can connect it to MetaMask by following basically these steps:
Connect your Ledger on your computer and open MetaMask on your desktop;

On MetaMask, choose the Connect Hardware Wallet 

Choose Ledger or Trezor. 

On the circle wallet, at the top, your cold wallet will appear connected. 

Now it's easy to transfer your money or import tokens from your cold wallet to your hot wallet.  

Yes, simple as that. Even though blockchain systems are becoming increasingly more secure, this is the best method to handle your crypto safely from hackers.


Investing in NFTs: the contemporary art  🖼️
NFTs have been in high demand and popularity in the past months. 
An NFT - or Non-fungible token - is a non-interchangeable unit of data stored on a blockchain that can be sold and traded. This means you have total ownership of the NFT, instead of it being controlled by a single entity.
There are several NFT applications, but the craze lately has been on NFT art. For investors looking to diversify their portfolio, NFT can add a layer of risk, but also a higher reward.
Note: NFTs have less liquidity than other assets, like cryptocurrencies.
We recently wrote about how designers and artists earn money with web3 selling NFTs (non-fungible tokens) on sites such as Rarible, OpenSea, SuperRare, and Mintable.
Also, we can recommend FTX NFTs and Zora, but there are also exchanges creating their own community spaces to buy and sell NFTs.
How to buy NFTs
There's already a lot of good information out there, so we won't dive deep into the process of buying an NFT. However, to sum it up, here's what you need to do:
1. Open a crypto exchange account. As we said before, Coinbase, Binance or eToro are the most popular ones.
2. Purchase Ethereum. Most NFTs are Ethereum-based tokens, which means in most scenarios, you'll need to have "Ether" in your wallet to be able to purchase an NFT.
3. Open an account at MetaMask or another wallet and link it to your crypto exchange.
4. Connect your wallet to the NFT marketplace of your choice, like Open Sea or Rarible.
5. Once you have funds and the connections set up, you can purchase your NFT. Most marketplaces have an auction format, so you'll have to bid for the NFT you want to buy.
How to assess the value of an NFT
Along with cryptocurrencies, NFT art is still a highly speculative market, so it's important you make the right assessment before jumping into the purchase decision.
Here are some tips to guide you:
1. Verify the NFT properties: Many NFTs come in form of collections, just like Bored Ape Yacht Club, for instance. These NFT collections are made up of unique avatar NFT artworks, each with their own set of attributes. More attributes can sometimes yield a higher value and rarity, but not always.
2. Check if the seller has a verified account: Most marketplace platforms have an icon - such as a blue tick - to indicate the account is verified. Always make sure to validate who you're buying from, given there's a lot of scams and online con artists looking for preys.
3. Research the seller's price performance of other NFTs: Another great indicator of the NFT value is too see if the other art pieces have grown up in value. This will give you a fair understanding of how NFT prices are shifting and whether they correlate with what you want to see in your selected NFT in the future.


Popular NFT collections in 2022
Here's a good place to start researching your first NFT purchase. These are some of the most popular NFT collections in 2022:
* VeerFriends, from Gary Vaynerchuk: Chairman of VaynerX, CEO of VaynerMedia. He has a collection of NFTs you can buy from the VeeFriends collection at OpenSea. Each NFT is worth an average of 15 ETH. There is a group on Discord;
* CryptoPunks, from Larva aLabs Studio: it offers 10,000 collectible characters. It's one of the biggest NFT projects until now. To buy a piece from the collection, you must go to Larva Lab's CryptoPunks website and check the ones that are listed for sale;
* Crypto Barista, from The Coffee Bross sells caffeine-loving characters on NFTs. They have launched some items for less than 0.1 ETH on Rarible. Some of them are now worth 500% or 1.000% more. 
* CLONE X, from X Takashi Murakami:  this artist sells NFT Avatars on Open Sea. You can find avatars for 15 ETH on average, but there are some with potential that are been sold for less.
After buying…
You can either list the item back for a higher price or hold it and re-sell it in the future. Just like traditional investments, there's no guarantee that the price will go up. However, the NFT market has been growing exponencially and it could be an interesting investment.
Investing through DAOs 🧠 💻
DAO is the acronym for Decentralized Autonomous Organizations. They are built on public open-source blockchains. 
This means digital entrepreneurs of the web 3.0 era are building companies that rely on smart contracts on blockchain. A DAO can scale if others invest in an idea, financing the business. 
Here decisions are made by votes that use tokens, like an internet community of individuals holding a company. So, there is no need for a CEO. 
And now the good news: you can invest in them. To be even more specific, by investing in DAOs, you are investing in an idea or a project you believe in. 
After all, DAOs need funding. And to be part of a DAO, you can purchase DAO's native tokens (or simply DAO Coins). They are nothing more than cryptocurrencies tied to specific projects, that you can find on the Ethereum blockchain, for example. 
The more tokens you have, the more voting rights you hold. 
It's like stocks from a company. If you have a high stock percentage, you hold more of the company. In other words, you have more votes to define the future of the organization.
How to invest in DAOs?
DAO crypto tokens can be useful in many ways: investments, creating NFTs with artists, fundraising are a few examples. 
And, yes, you can start investing in cryptocurrencies from the DAOs world with "real money" through Exchanges that have DAOs tokens on their portfolio, as Binance does.
Once there is enough funding to kick-off, community members start to work on the project, just like a startup does at acceleration programs.
And it keeps going to the post-acceleration process while DAO Coins are being sold and more scale and value the organization catches up. 
Where can you discover DAOs?
Maybe the more successful case is Uniswap, which has begun 2022 with a value above US$ 10 million market cap. 
Basically, Uniswap was the first DeFi solution that allowed quick exchanges between users in a quick way without an intermediary, fully decentralized. It means the DAO isn't owned or operated by a single entity. You should also look for organizations that are built around a great community.
According to Binance, at the moment we write this article, 1 UNI token is equivalent to 10,48 US Dollars. Not bad, right? 
So here are some tips to find great DAOs (and, who knows, the next Uniswap):
Take a look at Twitter's advanced search for DAO. Great conversations are happening there, believe us.
Angel investors and capital ventures ✅
For more affluent investors, you can take your web3 investments to the next level.
There are fund initiatives in which investors can directly invest in a number of early-stage blockchain infrastructure projects.
Here is one example: Helio invests in companies that have a strategy aimed at web 3.0 solutions. They have built a fund and do the pre-incubation to startups getting scale. Click on this link to go to the Helio investor page.
Hey, Angels 👋
Another approach you can use is to directly contact startups to invest in them.  
Traditionally, angel investor groups are a good way, but you can, for example, find angel groups in different countries on F6S. The platform helps groups and angels to deliver funding to starting companies. 
If you're still unsure about investing in web3, here's a great insight: in 2021, Web3 startups captured the largest capital deployed on AngelList in the U.S.
AngelList is a platform that connects angel investors with startups that you can invest deal-by-deal and, since 2020, operates funds.
Introducing the new DAO investment clubs
In addition to investing as part of a business angel group, the Web3 Investment Club launched on January 25th. It's a new crypto-native social investing tool offered by Syndicate Protocol on Ethereum. You can join here.
The main goal is to run an investment club as a DAO to invest in tokens, NFTs and off-chain startups and assets. There, you can also create an investment club. 
Another good news is that Web3 communities such as South Park Commons are already in the process of launching investment clubs on Syndicate. 
Investing in people through tokens 👨‍🎓
There are many great talents in the workplace whose potential has not been recognized yet.
Talent protocol is a platform that addresses that issue. Each person enrolled on the platform has the ability to create their own talent token, which supporters may subsequently purchase.
Supporters can track talent development through mentoring or other forms of support.
Anyone, from anywhere, can apply to launch a token as long as they have unique expertise, an inspirational career objective, and a belief in web3.
Talent Protocol allows you to support people you already believe in, as well as uncover and support undiscovered new talent, and get periodic benefits as they improve. 
Talent Tokens can be used to get access to unique privileges, redeemed for services, or sold back to the market.
Tokens can be purchased with cryptocurrency or credit cards without paying commissions.
As you can see, investment opportunities abound in web3. Investing in organizations, people, art or cryptocurrencies are just a few ways the new web has to offer.
At TAIKAI you can join our hackathon competitions, or even apply for a hiring challenge and get hired while earning crypto!
Your journey starts today. Join our 50,000 member community taking the world by storm ⚡