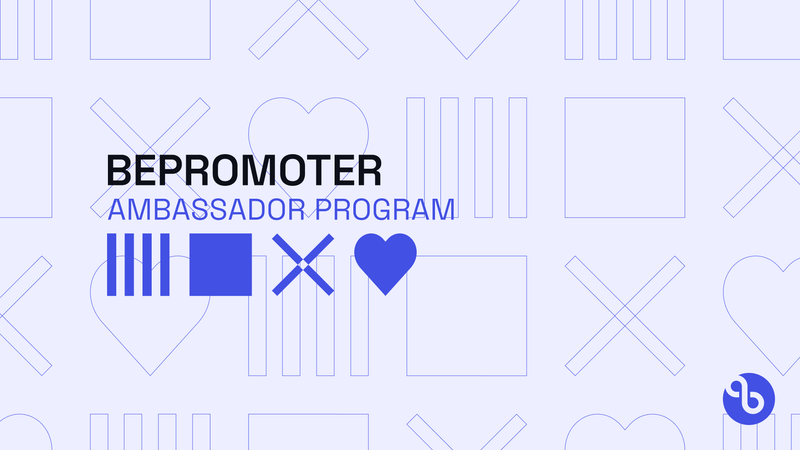 It's been more than one month since TAIKAI and Bepro teams joined forces to build the future of the developer economy.
During this period, we focused on listening to the challenges and pain points of the community, in order to understand how we can build the best strategies for the growth of the Bepro Network ecosystem.
As we mentioned in our previous article, the community plays an essential role in all of our actions and that is why we're excited to announce the launch of the BePromoters Ambassador Program!
We've witnessed sustainable growth in the Bepro community over the years, and we believe that the timing to introduce the ambassador's program couldn't be better.
Our mission is to raise awareness and educate the community about the Bepro Network: the Codebase for Web3 - and there is no one better to support us in this endeavor than the Bepro community.
What's the BePromoter Ambassador Program and how to get involved?
This program aims for community enthusiasts to play an active role in the development of the Bepro Network's ecosystem.
Through closer collaboration with the project, we will provide BePromoters with the tools and resources to help Bepro expand its reach.
We want the community to grow alongside and be a close partner in this journey. You'll be rewarded along the way for your creativity, time, and effort.
You can apply to become a BePromoter using this form.
Note: We're launching a beta version of the BePromoter Ambassador Program. Improvements and updates will be made on a regular basis.
BePromoters roles
As a BePromoter, you'll use your ingenuity, creativity, and charisma, to show your followers and friends how Bepro Network makes a difference. You'll show the social network what's new and what's possible for web3 development. With the support of Bepro Network and the freedom to express yourself, there's no limit to what we can do together.
You can enter one or more roles and choose the tasks that are most suitable for you.
Ultimately, we want to provide everyone the opportunity to contribute in the most convenient and enjoyable way possible.
Content Creators
In charge of creating educational content about the Bepro Network and extending the Bepro Network's social media footprint.
Tasks include producing content in written, audio, or visual media, such as blog articles, podcasts, YouTube videos, live streams, and so on; Rep your region in the community (fluency in English and one additional language – or more – is appreciated).
Supporter
This role is for BePromoters who have experience with DeFi, Web3 and can operate as community educators.
Testing the platform and participating in bug troubleshooting (providing feedback to BEPRO/TAIKAI on your experience); code contributions and lessons; competently addressing inquiries about the ecosystem in Discord and Telegram channels, are all examples of relevant duties.
Community Builders
Your responsibility as a community builder is to contact and research influencers to cover Bepro/TAIKAI news and updates; conduct unofficial virtual gatherings and promote on Bepro/TAIKAI's behalf.
Regular tasks and Super tasks
Aside from the duties each BePromoter role has, there are several other cross-role tasks you can accomplish. We've divided them into two categories: regular and super tasks.
Regular tasks:
Bring new candidates into the Ambassador's Program;

Encourage new participants upon future hackathons and bounties;

Inspire new developers to fork repositories on BEPRO/TAIKAI's development Webapp;

Support the development and management of the official online community;


Super tasks:
Start partnerships with influencers, organizations, companies;

Provide a valid lead or close a bounty/hackathon client for Bepro/TAIKAI;

Provide Bepro Network ownership of your original content (written, video, other media);

Coverage of relevant events;


Every BePromoter can also share their own ideas and tasks that might not be listed yet.
Furthermore, we've decided to give financial compensation to every BePromoter for each Super Task completed, given its complexity. The incentives can be paid in stable coins, $BEPRO tokens, or NFTs.
BePromoter's rewards and incentives
Besides the financial incentives for super tasks, all BePromoters will have access to a range of benefits and rewards for joining the ambassador program:
Paid courses;

Access to educational online premium content / live streams;

Early access and beta test (product & development);

Discord role & community badges;

Merchandising;
Selection process and application submission
Just like we mentioned earlier, you can submit your application by using this form. Only a limited number of participants will be selected to join the program, so make sure to apply asap!
Every submission will be reviewed by a panel of staff members, and we will select each ambassador based on their Bepro Network general knowledge, blockchain experience, and expertise, and community engagement, to name a few criteria.
Excited? Stay tuned for more news from the marketing team and to learn about how we can build the future of decentralized development.
Rodrigo Nogueira - Head of Marketing and Growth TAIKAI x Bepro