Brand ambassadors are key to promoting your business organically and making it grow faster. Above all, they can help you increase brand awareness and image reputation through several ways such as events (both online and offline), social media, word of mouth, blogs, press, and more. 
Let's first understand the meaning of brand ambassadors and what they can do for you.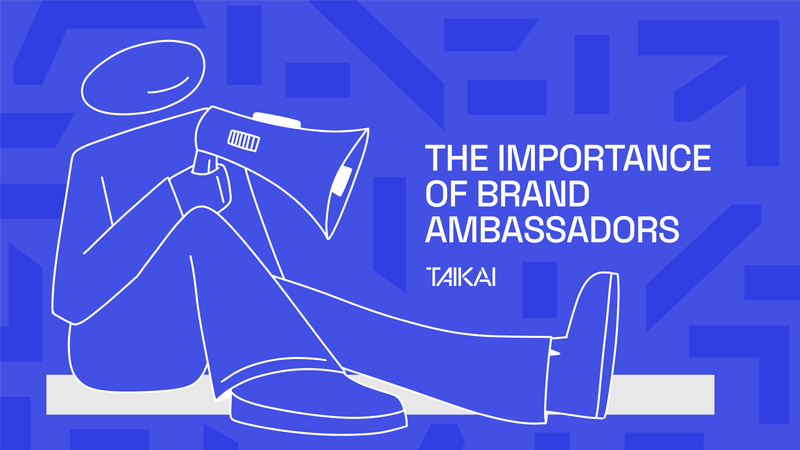 Table of contents 
Brand ambassador meaning: strategy importance 👨‍🏫
Examples of brand ambassadors: from influencers to employees 👦 👩 👨
Where and how can you find them? 🧐
Brand ambassadors' communities 👨🏻‍💻
Grow organically with advocates 🚀
Money isn't everything: how should they be rewarded? 🎁
Brand ambassador meaning: strategy importance 👨‍🏫
Perhaps you've heard of them before under different names. So, don't think it's weird when you find brand ambassadors synonymous: advocates, brand representatives, or brand associates are just a few examples. 
A brand ambassador is someone who is willing to promote and be an advocate of your brand. Their role is to embody the values, ethic, and identity of your company and defend it through thick and thin.
There are lots of reasons to believe in brand ambassadors and one of them is very convincing: Digital Marketing Institute found out that 74% of consumers trust social networks when making purchasing decisions. 
At this point, authenticity and trust are critical. This is especially true when discussing relatively new concepts such as web3 and blockchain, for example.
As customers, we tend to make purchases from people, not brands. We are influenced by our idols, our family and friends, our social networks, and the communities we're engaged with. As a result, you should broaden your reach with advocates.
Brand ambassadors also have the ability to reverse negative reviews. This is vital not only for reputation but also for convincing consumers who are hesitant to try a new brand or product.
Brand ambassadors' examples 👦 👩 👨
Now that you've become strategically acquainted with the brand ambassador meaning, we can assure you that your advocates don't have to be, necessarily, rockstars or superstars with millions of followers. They should, however, be familiar to your target audience.
In general, a good brand ambassador retains professionalism, social media skills, a medium-large audience base, and subject matter expertise.
However, you shouldn't overlook the "simple" regular ambassador. They can be great advocates or they can hurt your brand if you're not careful. A negative review, with arguments, can be harmful, just like a tweet can go viral and turn into a bomb. 
Based on this, take a look at some popular brand ambassadors' examples: 
Influencers: They typically have medium or large engagement audiences and are useful for promoting brands at both online and offline events;

Customer ambassadors who promote your brand organically in web 2.0 networks (such as social media sites like Twitter and LinkedIn) or offline. Since ancient times, word of mouth has been the most effective form of advertising; 

Expert ambassadors: if you have a startup or a web3 business, you should place your bets on experts in your industry niche. People tend to respect these folks' opinions. 

Affiliate ambassadors can promote your brand in exchange for a commission on sales that they are promoting or other types of compensation, such as coupons or discounts.

Employees: yes, your workforce is the first brand ambassador because they are on the front lines of developing, selling, or running your business. Consider it from the start of your remote hiring, as brand ambassadors are also used for employer branding.
Internal and external stakeholders are also advocates
Other internal stakeholders may be considered in addition to employees. Shareholders, for example, have a direct interest in your success. The same thing applies to web3 communities, as token holders and investors are keen on making your company grow. 
You should also think about external stakeholders, such as the community you work with. It can be local (such as a university or an association) or global, depending on the reach of your company, values, or products (think of reducing plastic consumption, for example).


Where and how to find brand ambassadors 🧐
Listen 👂
According to Nielsen, online reviews are the second most trusted source for consumers, with a 70 percent trust level, trailing only to recommendations from friends and family. 
So, here is the first tip for finding brand ambassadors: reviews. 
You may also contact those who do not provide positive feedback in order to rectify the situation. This personal contact may turn the tables and the consumer will be more likely to disseminate it through their channels. 
When you carefully read and watch reviews, you will be one step ahead. However, it is important to have the right tools in place to listen to what people are saying about your brand online. Mention, for example, enables brands to monitor their reputation on social media and websites.


Nurture relationships 🤝
Since we're on the subject of social media, if you're a local entrepreneur, you might want to check out local Instagram influencers.
Moreover, if you are a web3 entrepreneur or web3 investor, our advice is to follow the leaders of the Twitter and Discord communities. The biggest and best blockchain debates take place on these networks.
Participating in these discussions will help you build your brand image and find the right people to establish relationships as brand ambassadors.


Bloggers and newsletters
Another branding tip is identifying the top blogs, YouTube channels, and newsletters that your target audience may be familiar with.
They typically have a medium-large audience base on their social media, besides the fact that they may use their blogs and newsletters to amplify your reach. And, if you have a startup or a web3 business, you should place your bets on experts in your industry niche.
After all, people tend to respect these folks' opinions. 
They are the expert ambassadors type, mentioned earlier in this article. Even if they have a lower follower base than a big influencer, they may be regarded as gurus in their respective fields.
For example, if you are establishing a DAO to raise funds for wine production in Africa, will you contact a fashion influencer with thousands of followers or a wine guru with a smaller following who can put you in touch with wine sector investors?
Of course, if you value quality over quantity in your brand ambassador's strategy, you will go with the second option. And rightfully so!
Also, remember that you're looking for authenticity too. Consider whether the blogs on which you are betting are not promoting competitors or products indiscriminately.


Brand ambassadors' communities 👨🏻‍💻
Once you've identified advocates you want to work with more closely, it's time to get in touch with them. Before managing brand ambassadors' communities, invite them for a meeting via direct messages, customer newsletters, emails, events or the old-school strategy of calling.
👉 TAIKAI can help you in organizing hackathons where you can deepen your relationship and bond with mentors & talents who can become your brand ambassadors.
If you want to be trusted, you must be trustworthy. To demonstrate that you are talking seriously, invite your brand ambassadors to join an exclusive private online community.  
Closed Discord groups and Facebook private groups can handle the message if you can not put a dollar in initially.  However, if you are willing to invest in this, we can recommend the following platforms for Brand Ambassadors' communities:
BandChamp is a platform that allows easy communication with advocates as well as the tracking, and distribution of rewards, making it a useful tool for affiliated programs.

Ambassify puts employees literally to do the brand ambassador job. The platform provides information about a marketing campaign to a base (generally, employees). The software is integrated with popular social media platforms, and the results are analyzed by the tool monitor. You can reward advocates with points when they reach the campaign's objectives.

Duel Tech provides a platform for brands to create customer advocacy programs, VIP programs, micro-influencers programs, and pro-programs focused on experts and professionals. People are given tasks to complete and are rewarded for doing so. Take a look at this example of a brand ambassador program:
Besides broadening your reach, there are other possibilities in brand ambassadors' communities. You can talk about upcoming content, bring exclusive news (people love to be the first to know everything), collaborate, invite them to exclusive events, webinars and create polls. You could also create a special newsletter segment for your advocates. 
The idea is co-creating the community with brand ambassadors. It may become more difficult to manage the community as it grows, but this is a sign of success. You can also appoint brand ambassadors to help you in this role, and most of them will do so gladly.
Why is this good for organic growth? 🚀
Once you've built a community or a group of brand ambassadors, you've opened the door to exponentially increase your organic (non-paid) reach.
It spreads word of mouth about your brand around the world.  
Remember that 74% of consumers trust social networks before making a purchase. And this is significant because the percentage of brands people trust in North America is only 22 percent and 31 percent in Western Europe, according to a Hava Media study. 
Another important piece of data: Bloglovin found that 61% of women won't engage with an influencer's sponsored content if it doesn't feel genuine. 
However, the problem is solvable. Consider what people with 1,000 followers can do if they love your brand. Their network is more likely to have a close relationship than a celebrity with hundreds of thousands of followers. 
Once again, the data backs it up: according to Technorati, 54% of consumers believe that the smaller the community, the greater the influence.
Furthermore, the Bloglovin research says that 31% of respondents feel that too much brand messaging promoted by an influencer dilutes its authenticity. It means that diversification is a better bet than multiple posts from a single influencer. 
And it can be done through different brand ambassadors' examples. 
We can also say that relying on positive reviews from your brand ambassadors group is more than useful, as a Nielsen study found that 83 percent of consumers prefer recommendations from their peers over advertising.
Hosting a hackathon? Read our comprehensive guide on how to host a virtual hackathon, from A to Z!
Rewarding brand ambassadors 🎁
Of course, money can be used to reward brand ambassadors. This is common with influencers, but there are other methods for gaining their attention.
If you are from the web3 and blockchain world, there are lots of ways to do so. 
Ambassify and Duel Tech work on a scoring model. Your company can reward advocates through these scores allowing exchanges for discounts or gifts. 
Brandbassador operates in a similar manner. It is an example of an e-commerce focused marketing platform that allows brands to reward ambassadors with gift cards and free products. 
Another tip: consider cryptos. TAIKAI's hackathons and hiring challenges are based on a rewarding model with KAI Tokens, our own cryptocurrency.
Brand ambassadors could also be the key to a successful web3 crowdfunding campaign. You can reward them for their efforts on organic posts, in addition to their initial investment. 
The ones that take part in brand ambassadors' groups can also be pampered with exclusive items or have the opportunity to be the first ones to try products and services that you are planning to launch. This is great for prototyping.
There are also affiliate programs that are a great way to motivate your brand ambassadors to keep working in order to be rewarded. You should provide an exclusive link from which clicks can be tracked in order to assess the best ambassadors you're working with.


To summarize brand ambassadors 💭
Working with brand ambassadors may be one of the smartest ways for companies to expand their reach. Brand ambassadors meaning is much more than working with influencers.
It's about being strategic when working with various types of internal and external stakeholders. 
They could be experts, micro-influencers, affiliates, employees, or simply people who adore and support your idea. All of them have their own potential to organically scale your brand image and consolidate your reputation. 
And keep in mind that while brand ambassadors may expect to be compensated, you don't need money to do so. 
You must be creative and rely on your own resources.
Our platform provides a comprehensive set of features and tools for organizing a successful hackathon for your community, corporation, or web3 project. In a single software package, you can host a hackathon, manage participants, connect with them, live stream your event, form teams, and evaluate submissions.
You can count on us to take your company to the next level 🚀