The hackathon world is always evolving and expanding. Over the years, we've witnessed gradual changes in terms of attendance, structure, awards, and... themes!
Nowadays, the majority of hackathons are entirely digital or hybrid. With the growth of web3, other sources of incentive have emerged, such as our KAI tokens.
Today, we'll explore another crucial topic: what are the hackathon trends for 2022? And what can you expect from them?
Our research focuses on the most recent hackathons held at TAIKAI, future ones for Q1 2022, and the increasing demand in the industry over the last five years.
Keeping this in mind, we predict four hackathon trends for 2022 that will not disappoint you 🔥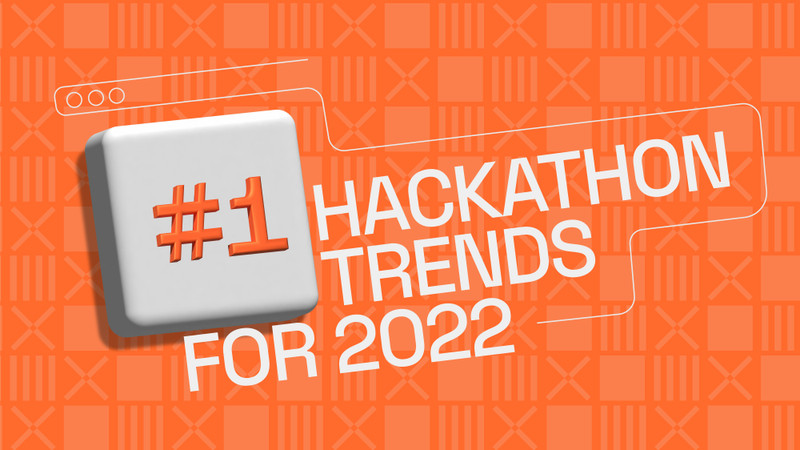 Hackathon trends for 2022 🔮
App development 📱
Starting our list is none other than app development. 
Application development has long been one of the most popular hackathon categories, and this trend is expected to continue in 2022.
Although this type of hackathon is transversal to numerous industries, it is particularly prevalent in the SaaS, retail, and health industries.
Companies organize hackathons to develop applications or specific features within them. 
We've seen projects such as community hubs and marketplaces being developed in hackathons, but the possibilities are endless.
Also, with the growth of blockchain, we are starting to notice increased demand to develop dApps. 
Decentralized applications, abbreviated as "dApps" or "dapps," are digital applications that run on a blockchain network of computers rather than on a single computer. dApps are free from the control and intervention of a single authority since they are decentralized.
With such a broad spectrum of choices and industries to work with, developers usually love these types of hackathons as they can put into practice what they learned and explore their ideas.
TAIKAI is a virtual hackathon platform that makes hosting virtual hackathon events easier. Talk with us today, we are here to help you with the process.
Web3 & Blockchain 🌐
In recent years, we have seen exponential growth in the number of organizations, products, and technology related to the web3.
Web3 is a concept that includes multiple industries, such as blockchain, DeFi, or the metaverse.
With a rapidly growing market, it's no surprise that this theme is among the hackathon trends for 2022.
In 2021, we held hackathons from companies such as Telos, Holon, and Harmony - three prominent web3 organizations.
More recently, in February 2022, the hackathon trend was validated with the 'Bug bounty hackathon' by Caduceus - a company that provides tools for developing infrastructures in the metaverse.
Web3 is here to stay. With so many products and technologies being developed each day, it's likely to become the most popular hackathon theme in the coming years.
Artificial Intelligence & Machine Learning 🤖
Another trendy topic in recent years has been artificial intelligence, as well as machine learning.
In 2022, we anticipate an increase in hackathons related to AI and ML, mostly by technological companies.
As big data grew in popularity, so did the need to extrapolate and analyze it. Furthermore, recent technological advancements have made these solutions more accessible and mainstream in companies everywhere.
AI products and services are now more polished and finetuned, thanks to the advancements in technology and its popularity in the recent past.
However, depending on the purpose of the hackathon, similar concepts can be developed in hackathon projects from other industries. The demand will keep growing too - not just in the next year, but during the next decade.
Hiring-oriented hackathons 🤝
As previously said, hackathons have matured gradually over time. Nowadays, organizations host hackathons not only to develop products or generate ideas but also to recruit talent.
Participating in hackathons is a good approach for new graduates or university students to demonstrate their technical talents and work dynamics to the job market.
Companies began to realize that there are participants with excellent skills and are capable of developing products and ideas in line with the company's vision.
The "Hilti Smart Construction Challenge" hackathon is an excellent example. The highly regarded HILTI corporation has developed a hackathon to find creative solutions in the construction industry, but at the same time, to recruit the best professionals in the field.
While the theme for the hackathon may vary depending on the industry and company, the ultimate purpose of these hackathons is to attract the best participants.
We recently launched hiring challenges - a hackathon-based tool for recruiting talent. The tool allows companies to fast validate profiles, while we reward the best candidates with crypto tokens. Learn more here.
Internet of Things (IoT) 📶⌚🔋
The internet of things, or IoT, is the last hackathon trend for 2022 on our list.
This market has grown significantly in terms of both technology and real-world applications.
The ease of connecting instruments and devices to the internet has brought a multitude of new products. As of today, it's common to see equipment for smart homes, agriculture, wearables, health, inventory trackers, among other applications.
There are so many implementations and potential use cases, but at the same time, there are still several industries underdeveloped. 
As a result, IoT will remain a significant trend in 2022, and we will undoubtedly witness more hackathons on the subject.
Bonus: Other trends to keep an eye out 👀
Before we go, we'd want to leave you with two more trends that will also shape 2022.
100% Remote or hybrid hackathons ✔
Due to recent work changes, the pandemic, and the growth of hackathons, remote work is here to stay. As a result, 100% digital or hybrid hackathons will increasingly become the go-to option for companies.
TAIKAI is the ultimate virtual hackathon solution, allowing you to easily host a hackathon in one place. Join our 100+ corporate partners that have already made part of our amazing hackathons or join a challenge here.


Hackathons as a source of income 💵
Developers are one of the most in-demand jobs in the labor market, and there are no signs of this momentum slowing down anytime soon.
As a result, organizations that are unable to hire full-time developers are turning to hackathons, bounties, and other methods of sourcing personnel. As a result, the overall prize pool of hackathons is expected to increase significantly.
Historically, hackathons have offered more educational prizes such as trips to events, trade exhibits, and workshops, as well as goods such as notebooks, tech accessories, and gaming consoles.
We expect to witness a transition in 2022 (and the coming years) with more resources and money allocated to hackathons, becoming a viable way to make a living as a developer.
These are the major hackathon trends for 2022. It will be fascinating to follow the development of these industries, as well as the growth of the hackathon ecosystem as a whole.
You can join our hackathon competitions, or even apply for a hiring challenge and get hired while earning crypto!
Hosting a hackathon can be challenging on its own
That's why at TAIKAI we developed a complete virtual hackathon platform that's easy and quick to set up.  In a few steps, you can host a hackathon, manage participants, connect with them, live stream your event, form teams, and evaluate submissions - all in one platform.
It's your turn to drive innovation and engage with your community. Talk with us today or Request a Demo, we're always here to help :)