Hosting a hackathon is one of the most effective ways to bring ideas and find talent for your company.
However, after the competition, gathering feedback is critical for planning and improving your next challenges. One of the most effective methods is to conduct a Hackathon NPS survey.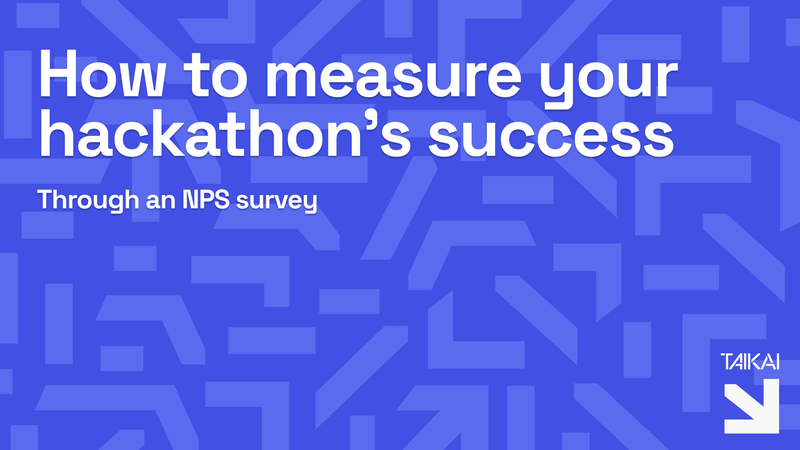 NPS is an acronym for Net Promoter Score, a satisfaction evaluation methodology that has become popular in organizations to measure customer success. 
It has also become a trend in events in recent years, as it can be applied to pretty much any type of product or service.
When promoting and attracting participants for your next hackathon, this type of survey can help you understand your audience's needs and how to provide better participant experiences, as well as develop strategies to engage the community during the event.
There are several tools available that can help you in measuring your Hackathon NPS. In this blog post, we'll explain how to measure your hackathon success through NPS.
Table of Contents
What exactly is a Hackathon NPS event?
How do you quantify detractors, neutral, and promoters?
Survey questions for your Hackathon NPS
How to calculate the final Net Promoter Score
How to automate your Hackathon NPS
Inviting attendees to complete your Hackathon NPS survey
Analyzing the hackathon platform
Final Thoughts
What exactly is a Hackathon NPS event?
In a nutshell, the NPS assesses the likelihood of your participants recommending your event. As a result, one of the most important post-hackathon actions to remember is a hackathon NPS.
A Hackathon NPS is a method for determining the positive and negative aspects of your innovation challenge. It is based on simple questions that should be answered on a scale of 1 to 10. 
Respondents are divided into three groups: detractors, neutrals, and promoters.
The final Net Promoter Score is calculated as the difference between the percentages of promoters and detractors and is expressed on a scale of -100 to 100.
This NPS rating zone is explained in detail below.
How do you quantify detractors, neutral, and promoters?
In simple terms, to understand who your Hackathon NPS detractors, neutrals, and promoters are, imagine you only asked one question on your survey:
"On a scale of 1 to 10, how likely would you recommend our hackathon to a friend or colleague?"
A detractor is someone who gives a score of 6 or less. Anyone who answers 7 or 8 is neutral. And anyone who answers 9 or 10 is a promoter. It's as simple as that.

Image Source: InEvent
But what exactly does it all mean?
Consider the following, according to the Net Promoter Score methodology developed in 2003 by Fred Reichheld, a partner at Bain & Company:
Detractors are disgruntled customers who can constitute a threat to your brand. To avoid this, try to improve the event experience as much as possible.

Neutral respondents may not recommend your product or service because their experience was not remarkable. 

Promoters are pleased, and they are likely to become brand ambassadors. Include an ambassador program in your brand strategy if you don't already have one.
Of course, we expect you to ask more than one question to determine your NPS. So, based on the average responses, you can divide your respondents into the three groups listed above.
Survey questions for your Hackathon NPS Event
If you're hoping for a high response rate, then keep your NPS questions short and sweet—no more than 5-10 minutes. Here are some post-Hackathon queries to consider (you don't have to use them all):
How would you rate the quality and relevance of the proposed challenges?
Was the communication between the organizers clear?
Were we able to help answer your questions and doubts?
Were the mentors knowledgeable and experts in their fields?
Were the Juris knowledgeable and experts in their fields?
During the hackathon, did the platform meet all of your requirements?
Was it simple to use and navigate the platform?
Do you believe the prizes were appropriate for the hackathon?
Were all of the deadlines met by the event's organizers?
How likely are you to participate in a future hackathon?
Would you recommend our hackathon to your friends?
Open-ended questions
Also, it's important to close your Hackathon NPS with an open-ended question, such as: 
We want to hear from you. How can we make future events better? 
The goal is to hear from participants something that cannot be rated on the 1-10 scale questions. 
You can also ask open questions on each query to allow the participant to justify the rate. However, if you have more than four or five questions, it is not recommended because it will reduce the number of respondents. 
After all, many people are unwilling to respond to qualitative questions.
How do you calculate your final NPS?
Finally, based on the number of questions asked, you will be able to calculate an average of each participant's satisfaction, labeling them as promoters, neutrals, or detractors.
It is now simple to compute a final score. As previously stated, just subtract the percentage number of promoters by the percentage number of detractors.
In other words, use the following formula:
% promoters – % detractors = NPS
For example, assume 100 people completed your Hackathon NPS Survey, yielding the following results: 
80% promoters

5% detractors 

10% neutral participants
To begin, exclude the neutral ones when calculating your Hackathon NPS. Then subtract 80 supporters minus 5 detractors. Congratulations, your NPS is 75. Isn't it simple?
NPS rating zone
Typically, there is an NPS rating zone that you can use to determine whether your product, service, event, or Hackathon NPS was satisfactory. Based on the following findings:
-100 to 0 means negative feedback. It's worrying; 

0 to 50 indicates that there is room for improvement;

51-75 indicate a satisfactory event, but there are still opportunities to improve;  
76 to 100 indicate success and possibly an open opportunity to bring new brand ambassadors to your company. 
How to automate your Hackathon NPS
You can, of course, calculate your Hackathon NPS event on Excel or Google Spreadsheet, but there are smarter ways to make your life easier.
If you already know the number of detractors, neutrals, and promoters, you can use this open NPS Calculator. However, you may use the following software and platforms during your Hackathon NPS:
Hotjar software enables businesses to send a questionnaire via email, collect detailed information, or conduct an on-page survey. It is also possible to ask follow-up questions based on the participants' initial responses to gain additional insights.

Refiner software has a large number of NPS templates and uses integrations to trigger automations and workflows in order to close the customer feedback loop.

Totango is an easy-to-use platform that enables businesses to classify customer data metrics, other than NPS surveys, on a customer health puzzle.
Other market options, in addition to the three mentioned above, include Promoter.io, Deligheted or Survey Monkey NPS Calculator. If your company already uses popular platforms like Hotjar or Survey Monkey, it may be easier to measure your NPS through them.
Inviting participants to complete your Hackathon NPS survey
Sending a thank you email to everyone who collaborated and participated in your event, including participants, of course, is one of the required post-hackathon actions. 
You must take advantage of this opportunity to invite participants to engage in your Hackathon NPS survey. 
However, you can go a step further: present a QR code directing to your survey during the transmission of your online hackathon's final pitch stage (or on the big screen if it is an in-person hackathon).
Aside from that, remember to promote your hackathon NPS survey link via all of your communication channels. This includes the following:
Your hackathon website or landing page; 

One week after the event, send an email to those who did not respond to the Hackathon NPS survey yet.
Analyzing the hackathon platform
It is critical that you also ask participants how they feel regarding the platform used to host the hackathon.
Even before you begin your hackathon, here are some suggestions that we believe are essential that an all-in-one platform provides and should be evaluated after the hackathon:
Easy communication for organizers, participants and mentors with a logical and simple-to-navigate landing page; 
Clean and simple design, with tabs for competition content, rules, prizes, the hackathon timeline, and updates;
A straightforward environment in which participants can form multidisciplinary groups;
A project submission system that accepts rich formats like images, videos, and attachments.
Live streaming to broadcast content like lectures and workshops.
These are, of course, just a few suggestions. All of this and much more are available at TAIKAI.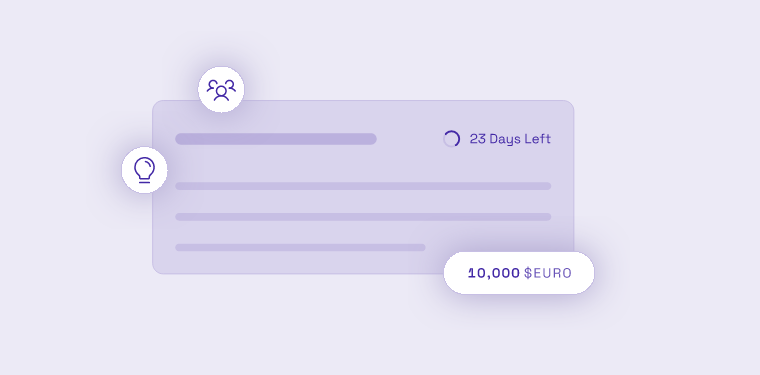 Our platform provides a comprehensive set of features and tools for organizing a successful hackathon for your community, corporation, or web3 project. 
In a single software package, you can host a hackathon, manage participants, connect with them, live stream your event, create teams, and evaluate submissions.
You can count on us to take your company to the next level 🚀
To sum up…
A Hackathon NPS event survey is one of the best ways to gather feedback and identify areas for improvement for your next event, as well as conducting qualitative research.
Crafting a well-thought and simple - yet effective - NPS survey will undoubtedly provide you with the key insights to build upon for future hackathon competitions. 
Finally, keep in mind that a fantastic online or hybrid hackathon can only happen if you have a fantastic platform to support it. 
Do you want to organize a hackathon for your company?
Talk with us today, we are here to help you with the process.