You're about to participate in your first hackathon, congratulations! You're in for an exciting, exhausting, and rewarding experience. 
Whether you're a developer, software engineer, or just have a great idea, hackathons are a great way to get your creative juices flowing and see your project come to life.
But before you can start hacking away, there are a few things you need to know. 
In this guide, we'll walk you through everything you need to know to participate in your first hackathon and make the most of your experience.
This beginners guide is split into 4 main sections: 
The basics
Pre-hackathon
The hackathon
Benefits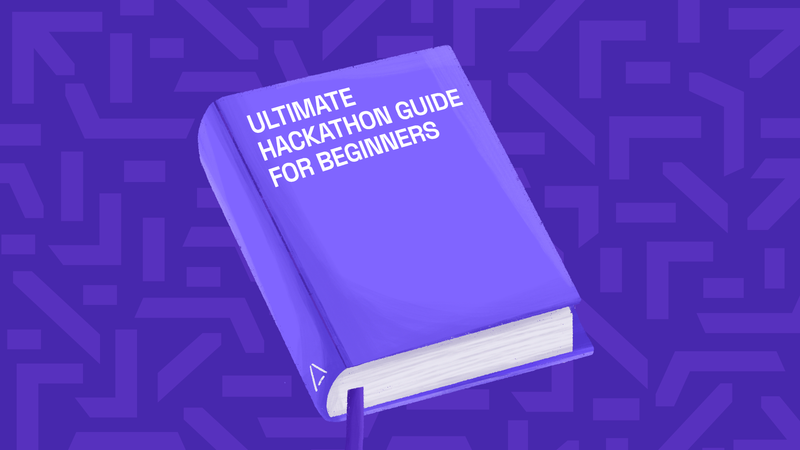 What is a hackathon?
A hackathon is a design sprint-style event where teams of developers, software engineers, and innovators come together to create prototypes or finished products over a short period of time.
Hackathons have been around for a while, but they've really taken off in the past few years.
A hackathon's purpose is to promote innovation and present new ideas or solutions. Companies resort to a challenge to seek community expertise in the hopes of developing a successful product or service. 
Participants, on the other hand, join hackathons for many different reasons: to win monetary rewards and prizes, network with peers, and gain experience, just to name a few. 
Companies are starting to use hackathons as a way of hiring talent, so it can also be a great place to land your first job or find a better opportunity.
How does a hackathon work?
Each hackathon is unique as they have formats and themes inherently related to the organizer and its industry. However, we can establish some identical and structural points. 
There are three types of hackathons: on-site hackathons, virtual hackathons, and hybrid hackathons.
The hackathon organizer will announce the theme of the hackathon, as well as the types of challenges they want participants to take part in. 
In addition to the challenges, the company discloses all information regarding the hackathon: timeline and phases, participation rules, rewards, goals, mentors and juries, FAQs, and communication channels.
Usually, the first step is the registration phase to gather participants. Once the period ends and registrations close, there's a phase dedicated to forming teams and choosing a challenge. 
Afterward, the hackathon begins and it is up to you, the innovator, to bring your concept and idea to life.
Finally, after the presentations and evaluations from juries, a winner (or multiple winners) is chosen. If you're part of the winning team, you can also discuss further details with the host once the hackathon is over.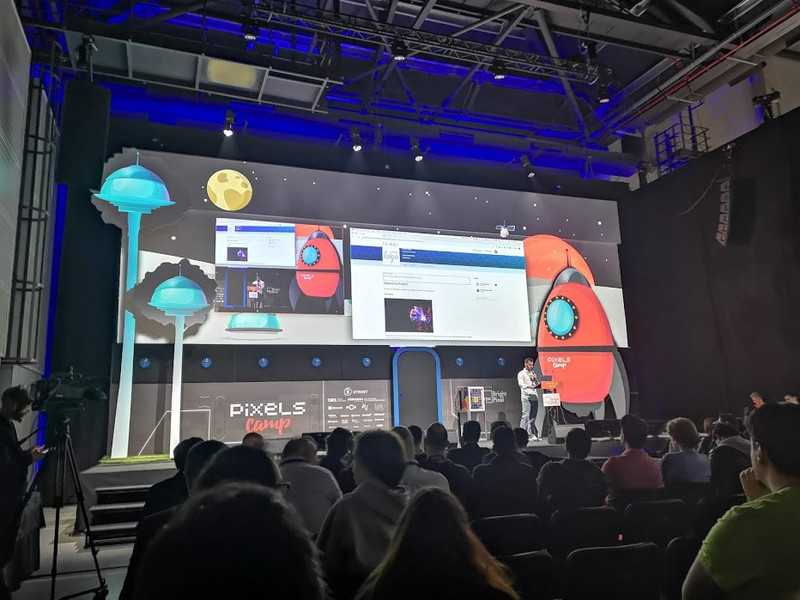 Types of hackathons
Open Hackathons
Open hackathons are, as the name implies, open to everyone. This is the most common type of hackathon because companies can reach out to a bigger and broader audience.
Internal or company Hackathons
On the contrary, internal or company hackathons are challenges hosted strictly for employees. They are great for medium to large-sized companies that have multiple offices and departments around the globe. 
By running a hackathon, they can bring teams closer together and have them work towards a single goal.
Hiring Hackathons
Lastly, hiring hackathons are challenges with the sole intent of recruiting and assessing potential candidates for a role. These types of hackathons are becoming a popular trend for companies looking to hire top tech talent in the market.
We can also group hackathons into other categories, such as:
Geographic region: some hackathons are exclusive to participants from Europe, Asia, or a specific country/region. 
By theme: Hackathons can also be thematic, for example, related to technology, human resources, climate change, communications, mobility, and many others. 
By profession: In the same fashion as themes, hackathons can also be targeted towards a group of professionals like data scientists, web developers, designers, etc. 
You should always choose a hackathon based on a subject you like and enjoy. Also, take the time to evaluate the hackathon beforehand and understand how you can contribute and create an impact.
Where to find the best hackathons?
The best way to find a hackathon is to use hackathon platforms like TAIKAI. These websites host hackathons from all over the world, both online and hybrid.
Another great way to find hackathons is through social media. Twitter is a great place to start, and there are also several Facebook groups that are dedicated to hackathons.
Finally, if you want to get really specific, you can search for hackathons by topic. 
For example, if you're interested in web3, there's probably a hackathon out there that focuses on that industry.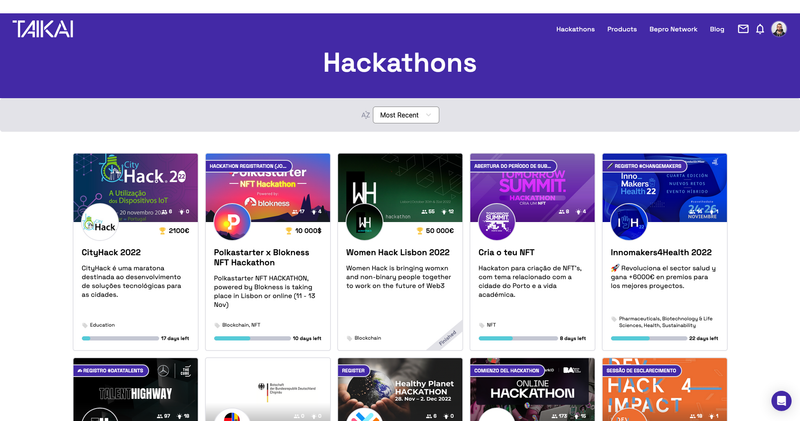 Pre-Hackathon 👨‍🎓
Once you've chosen the hackathon you want to participate in, the next step is preparing for it. 
This is the moment you will gather all the information about the hackathon, and learn more about the challenges proposed.
Get to know the company and its goals
It's always important to learn about the company, even if it's well-known. 
Most times, large corporations work with specialized companies to co-host the event. Also, it can be a particular department or sub-brand working at the forefront of the hackathon.
Take a look at the "Building the Future" hackathon, for example. While the organizer was Microsoft, they counted on co-hosts such as Galp and GoWithFlow, a startup working towards sustainable mobility.
Learning what these companies are working on and who they are can give you valuable insights later on.


Become part of the Hackathon community
During the pre-hackathon stage, organizations usually provide workshops, webinars, and talks to explain their process, goals, and challenges.
As a beginner, we strongly recommend you take part in this!
Get acquainted with the tools provided
Organizations regularly provide supporting documentation, as well as their software, especially for challenges focused on a specific subject. In the CASSINI hackathon, for example, the organization provided a satellite platform for innovators joining the challenge.
Start forming a team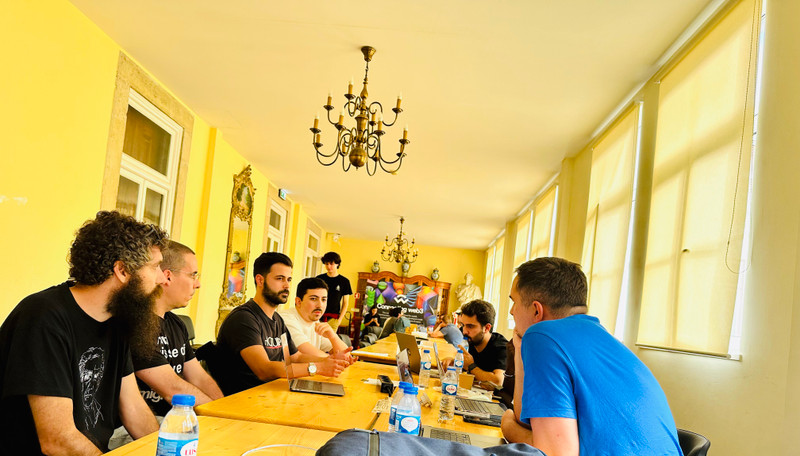 In a hackathon competition, the importance of building a good team cannot be overstated. We go more in-depth on this matter in our "6 Easy tips to win more hackathons" article.
Communication channels will also be publicly available by this time. It's a fantastic opportunity for you to join Slack, Discord, or other platforms, and mingle with participants!
At TAIKAI, we advise everyone to complete their profiles, because it's extremely helpful when team leaders are searching for members.
We also have a great matchmaking system, where you can find other teammates based on their skills and expertise! Simply choose a hackathon from the challenges page, and navigate to the "Matchmaking" tab.
There are other ways you can find a team, too. Look into your network of colleagues, friends, and peers on social media (Twitter and LinkedIn are great at this). 
More dedicated platforms are also good choices, such as Github.
Start working on your research
Finally, as soon as you have a good understanding of the hackathon and its challenges, you should start doing your research to later brainstorm ideas.
Many teams opt to do research individually and then get together to discuss their findings and conclusions.
If you need a good inspiration source to come up with ideas, our article about winning project ideas is a good place to start.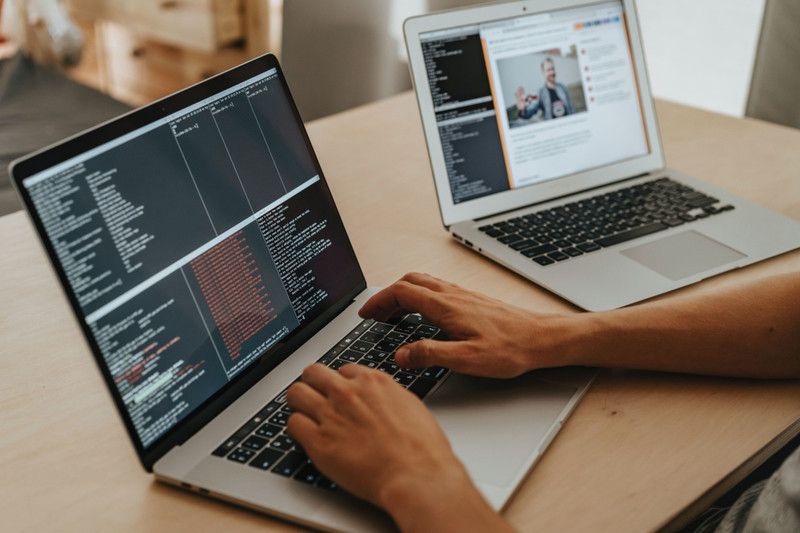 The Hackathon! 👨‍💻
This is it! The moment you've been preparing for.
First of all, regardless of whether you're participating in a live or virtual hackathon, we recommend you stay away from sugar and energy drinks.
On-site hackathons have built a somewhat bad reputation over the years because they were seen as maniac coding marathons, where web developers wouldn't even take a break to go to the toilet.
Thankfully, nowadays, those hackathons are more balanced, and with virtual hackathons, the problem is pretty much non-existent.
How to deal with Imposter Syndrome
Imposter syndrome is a phenomenon that occurs to pretty much everyone, at some point. It's when you doubt your own talents and feel like you're not as good as the rest of the field.
As a hackathon beginner, it can become a problem: you are very self-aware and feel like a fraud.
There's no magic formula to overcome this syndrome, but if you're feeling uncomfortable just take a step back, relax, and understand everyone started from zero at some point.
A hackathon is a great way to learn and get experience, not the other way around!


Manage your time
During the challenge, you must manage your time efficiently. Good team communication is necessary, and you should set checkpoints for each task or block. 
This way, everyone will be aware if a mistake or problem arises, and you can find ways to fix it faster.
Speak with mentors and organizers
Mentors are there to help you, so getting their feedback during a hackathon is extremely important! As a beginner, there will be times when you might feel lost, so reach out to them to guide you on the right path.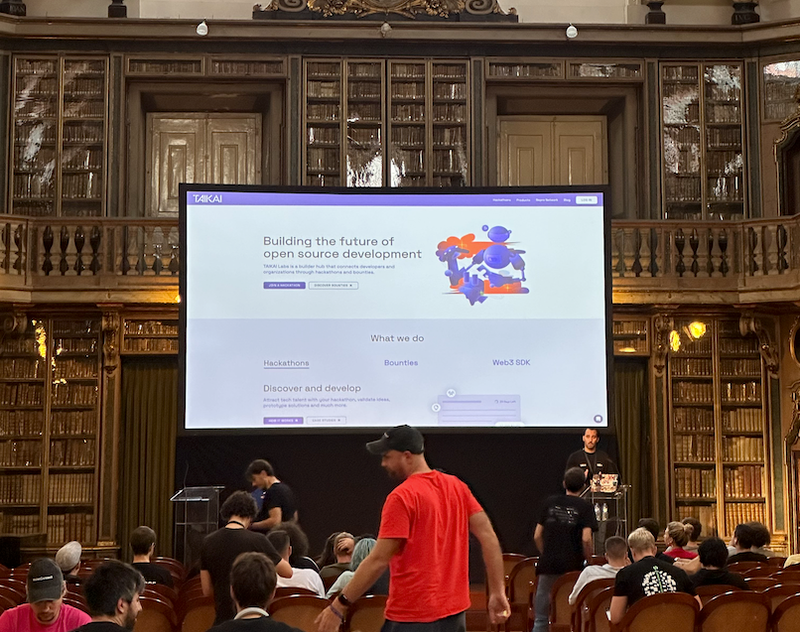 Why Participate in a Hackathon?
Before you sign up, it's important to know what you're getting yourself into.
First and foremost, you'll get to work with some of the brightest minds in your field, and learn a thing or two from them.
Second, hackathons are a fantastic opportunity to learn new skills. Whether you're a beginner or an experienced developer, there's always something to be gained from participating in a hackathon. 
You'll have a chance to try out new technologies and tools, and learn how to use them effectively in a short spawn.
Lastly, hackathons are a lot of fun! You'll get to work on cool projects, eat delicious food, and party with your friends (or make new ones).
Here's the full breakdown of the benefits of participating in a hackathon challenge:
Develop your hard skills
There's a reason people love hackathons - they're a great way to put your knowledge into practice. 
On one hand, you're developing a project in a real-world environment. No more fictitious exercises this time around.
But there's much more to it. You have to work towards a goal with a set deadline. Being timebound and having that sense of urgency is what makes hackathons great and forces you to be on top of your game.
Win Prizes
It goes without saying that winning prizes is another compelling reason to participate in a hackathon.
Participants might be rewarded in a variety of ways by the organizers. 
Here are a few of the most popular:
Monetary prizes (cash);
Rewards such as laptops, gaming chairs, headsets, and other tech items;
Mentorships;
Training;
Paid trips to major events & conferences;
Books & Swag; 
And many more! 
At TAIKAI we also reward participants with a cryptocurrency: our very own KAI social token! Even if you're not the winner of the hackathon, you can still win KAI's. 
Since KAIs are a complementary reward, you don't need to worry. You can still collect the hackathon prizes + KAIs! 
You can learn more about KAIs here.
Get exposure
Another great benefit of participating in hackathons is gaining exposure. Basically, in an event of this magnitude, you are surrounded by colleagues, as well as mentors and experts.
If you have talent, dedication, and a project that stands out (even if it isn't the winner), you have a great opportunity of making connections and be recognized as a top professional.
Network
A hackathon is all about networking. You'll find yourself surrounded by people who value learning and collaboration as much as you do.
Furthermore, simply working under pressure with your colleagues will most certainly help in building a special bond with someone that will stay long after the Hackathon is over.
Revamp your CV
In today's market, when reading your resume, hiring managers don't look just at the skills and certifications you claim to have. They go to greater extents to figure out who you are.
As a result of highlighting your hackathon participation, you build a reputation as a self-starter, lifelong learner, and challenge seeker. 
All of those skills are indisputable assets to any business, and they will set you apart from the competition.
Get recruited
As we mentioned before, attending a hackathon for the sake of recruitment is one of the main motivations to do so. Many businesses use hackathons to identify new talent.
They're looking for folks that can operate in a fast-paced atmosphere and succeed. So do your best and show off your coding skills, you might just land your dream job!
We covered how you should prepare for coding challenges in this article.
Have fun!
Hackathons are well-known for being exciting. You will be tested and stressed at times sure, but you will enjoy every minute of it.
Being surrounded by interesting people, getting freebies, engaging in entertaining tasks, and keeping your mind stimulated while developing ideas are all great ways to have fun.
Final Thoughts 💭
We truly hope our hackathon beginners guide allowed you to learn more about this exciting event.
We've covered every major aspect of hackathons so you can have the upper hand and skyrocket your skills and career.
First, you'll need to decide what type of hackathon you want to attend. 
There are all kinds of different hackathons, from ones focused on social good to competitions centered around specific technologies. Do some research and find one that matches your interests and skills.
Next, get prepared. Make sure you have everything you need, including a computer, software, and any required equipment. You'll also want to come up with an idea for a project and do some practice coding.
Finally, it's time to actually develop your project and start hacking! Have fun and be sure to learn as much as you can.
Now it's time for you to get started.
And a great place to do so is TAIKAI. We host hackathon challenges from companies such as Microsoft, CASSINI, ETH Foundation, HILTI, Taboola, and many, many more.
Simply sign-up, navigate over the challenges page, and find a hackathon that you enjoy and feel comfortable with! Good luck!
Frequently Asked Questions about hackathons
Where do I find hackathons?
There are many companies hosting hackathons out there. Luckily, one easy way to find hackathons is to check our challenges page. 
We host several virtual hackathons from companies like Microsoft, Hilti, NISSAN, and European Commission.
How do I start a hackathon?
Before you do, make sure you have the time and commitment to the hackathon. The first steps are usually signing up for a hackathon, finding teammates, doing research, and brainstorming your idea.
What to bring to a hackathon?
For online hackathons, the baseline is a stable internet connection, a working computer, and a headset to communicate with your team.
How do I add a hackathon to a resume?
If it's a printed resume, don't forget to add the name of the hackathon and host company, a brief description of the goal, and more importantly, an overview of the project you developed.
If you have an online CV or portfolio, you can link your TAIKAI Profile and redirect users to our platform, where they can find all the information about your project. You can also share your accomplishments on LinkedIn or other relevant social media channels.
What are hackathons like?
Hackathons are a lot of fun! In a short time, you'll talk and network with like-minded people, form a team, and dedicate your time to creating something unique and valuable. It's a feeling like no other.