On the Google network, there are over 2 million queries every month on how to make money online.
The issue is that making money online is a pretty broad term, and you are unlikely to discover the information you want.
With the introduction of the web 3.0 universe, we will show you several options you can take to earn money online as a content creator using web3.
First, it's always important to remember that Web 3.0 is a new era of decentralized internet. But if developers are making a profit, especially by developing blockchain applications, so can you, right?
Yes, you can. 
In this article, we will show you several different ways you can make money on web3 as a content creator.
Table of contents
If you are a designer, artist, or content producer 🎨 
Music & Blockchain 🎶
Are you a video producer? Name your price 📹
A great platform for content writers 📝
Get cryptos playing games 🎮
How to earn money online with web3
There are a lot of reasons you should be acquainted with web3. As you can see in the graph below, the number of monthly searches on Google has skyrocketed since 2021.
And it won't stop anytime soon.
Web 3 is here to stay and the earlier you start to get involved, the higher chances you'll have of becoming a top talent in the industry.

If you want to learn more about web3, we invite you to read our guide on web3 communities.
Designers and content producers, check this out
Well, as we said, we already told you how developers can make money in this new world of web 3. Now it's time to know how content producers, designers, musicians, or even gamers can do so.
First of all, you will probably be paid in cryptocurrencies. That's how payments are done in web 3.0. After all, Bitcoin, Ethereum, and other cryptos use blockchain, which is the pillar of the new generation of the internet.

All out of the eyes of central banks and trusted third parties, like banks that beg you to store your money.

So, here is the first tip: get a digital wallet where you can store cryptos, like
MetaMask
,
Coinbase
or
Trust Wallet
(these are the popular ones and you can download them on iOS or Android). 
NFTs, a good way to earn money online with web3
Something that's already revolutionizing the entertainment and marketing industries is Non-Fungible Tokens: NFTs.
They are like a digital certification based on blockchain that proves that you own something on the web. 
Here is the biggest sample of it (so far). In March 2021, a digital artist known as Beeple sold a print for the equivalent of US$ 69 million at Christie's, the world-leading art business, founded in 1766. 
But you don't need an art gallery to sell your art. Most NTF platforms were built on the Ethereum blockchain and there are some fees involved: especially the GAS FEE, which is the amount charged by Ethereum each time a transaction or a smart contract is executed. 
Of course, there is no need to create your own platform. We will help you with some examples, taking into account the type of work you can negotiate. 
Sell your NFT art 🎨
Rarible
Let's start with Rarible, one of the first marketplaces built on the Ethereum blockchain - it also supports Flow and Tezos blockchains as well. It's one of the most solid currently and is being used by artists, digital creators, and collectors.
To use it, we recommend you have some Ethereum on your digital wallet (such as MetaMask) to connect to Rarible's service. Once it's done, it's time to make money with web3. 😀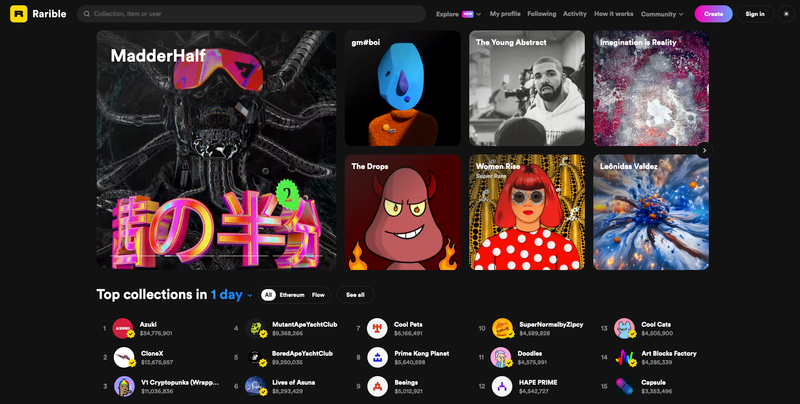 Follow these steps. They are very similar to selling your art on most part of NFTs platforms:
After connecting your wallet, it's time to create one or multiple NFTs of your work on Rarible at the blue button at the top. It can be: PNG, GIF, WEBP, MP4 and MP3 files. The limit is about 100 MB for Rarible and OpenSea, for example.
Ok, now that your art is already on, you should choose if you want to fix a price or set up an auction. Of course, if you choose an auction, you have to choose a minimum price, so, be careful not to devalue your work or charge too much.
It's very, very (really very!) important to add a good title and description for your art to maximize your chances of selling;
You will be asked for the minimum royalties if your buyer resale your art in the future. So, if you choose 10%, and sell it for 1 ETH, and your buyer resales the art later for 2 ETH, you will earn another 0,2 ETH. Nice, don't you think?
Unfortunately, there are not just rainbows and flowers. If you want to sell, you have to pay a fee. After creating an item on Rarible, you will be connected with your wallet to pay the fee. If you don't have enough, you will have to add funds. 
Get to know: on Rarible, you always must pay a gas fee, another fee to generate your NTF, the commission fee on the NFT sale, and the transaction fee for transferring the money from the buyer's wallet.  While you do have some costs upfront, it's still a great opportunity to sell your digital artwork.
OpenSea
This platform is very similar to Rarible but has the advantage that you can use USDC. Since this currency follows dollar fluctuation, as a stablecoin, it does not leave your art subject to so many altcoins fluctuations. Beyond USDC, on OpenSea you can use ETH and DAI currencies.
In addition to selling digital art, the OpenSea Marketplace also includes selling domain names, virtual worlds materials, cards, collectible items, and utility tokens.
Just like Rarible, it is possible to define royalties for your work.
Of course, here you have to pay fees as well, as the gas fee from the ETH blockchain. OpenSeas charges 2.5% of every transaction that happens.
If it's the first time you are listing something on OpenSea, you must pay two transaction gas fees to set up your account. On the other hand, returning sellers don't have to pay fees for each individual item until the item is sold.
Music: take Kings of Leon example 🤴🦁
Another good example of NFT selling was made by Kings of Leon. When they released When You See Yourself, in 2021, they were the first band to sell an album in the form of NFT, based on the Ethereum blockchain. 
Of course, you can listen to Kings of Leon on Spotify, for example. But NFT has become a possession record, a proof. It's the same as buying a physical CD or vinyl but in a digital way. 
It was a good call. The band has made $1.4 million in ETH.
OneOf
However, let's be honest. Until now, music collections have not reached the level of graphic design NFTs. 
What do you think about it?
We see this as an opportunity. Like our friends from Kings of Leons have done, you can sell unique albums and music on platforms like OneOf, built on the Tezos blockchain. 
It allows purchasing and buying NFTs and selling them. There is an ultra-rare level, where there are only NFTs of a few artists.
If you are starting, remember: Dreams Never Die
Well, if you are a starting musician or never managed to take your music to the world, read this. 
Dreams Never Die Records is becoming a DAO (Decentralized-Autonomous Organization) utilizing Ethereum blockchain to allow new artists to take a shot.  
The idea is to form a community by: 
Opening a private Discord Channel to recruit team members;
Discussing plans and fundraising ideas and launching fundraisers on Mirror crowdfund ecosystem. 
Build infrastructure for the DAO, which is now in the early stages.
Wanna be part of it? Access this page.
Music & Blockchain: Selling music on Audius and Musicoin 🎶
Musicoin is an alternative music-sharing platform based on its own blockchain.
Different from other NFT platforms like Rarible, it has no fee to upload and is open source. 
Basically, musicians upload their songs using a smart contract.
That's how it works: 
You or your band sign up with one social media account and the Musicoin team verifies; 
Then you can upload your musical creations; 
As its operation is made by smart contracts, you will be paid by a Pay-Per-Play model;
It means every time a song is streamed, you will be receiving a smart coin called $MUSIC.
How much $MUSIC can you earn? Well, we suggest always reading the smart contract. If you are interested, click here. 
But if you are not convinced, another option is Audius: a blockchain streaming of music. It already has more than 6 million mensal users and will get US$ 5 million in investments in 2021. 
The first step is to sign up (of course), then you can easily upload a soundtrack. 
While some audio is free, others are only accessible by paying tokens, by $AUDIO crypto. And that is how artists (yes, it can be you) make money. According to the platform, 90% of the revenues will go directly to the artists.   
Are not convinced yet? Well, BuilIn made a list of 15 companies utilizing blockchain in music. 


Video producers can earn money online with web3 as well 📹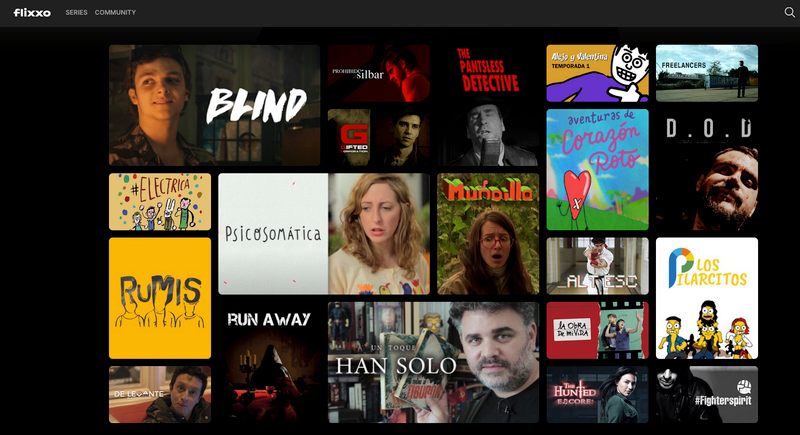 Well, here's another tip to fill your digital wallet: videography. Especially if you are a video producer and want to have more control of your content distribution.
Platforms like YouTube, Twitch, and Facebook manage the way of distribution (and how much you will be getting paid). 
On the other hand, new platforms like Flixxo embrace blockchain distribution by using smart contracts. You name the price of your videos.
It's all in a crypto-token called Flix and it is a way to operate in a decentralized blockchain network. This is how it works:
Download Flixxo for creators; 
When uploading, a video, you define the price and distribution rules that (as Musicoin) are based on a Pay-Per-Play model
It's possible to block your content geographically and all the data from flixxo is given by the platform. 
Flixxo has also eliminated server costs so all profit is for creators.
How to make money with web3 for content writers 📝
Content writers also have tools and platforms to make money with web3.
Platforms like Mirror.xyz (this one based on the Ethereum blockchain) allow you to create and publish content you actually own and earn crypto by doing so.
Mirror it's a community-centric platform that uses crypto-tokens called $WRITE. But how can you make money from Mirror.xyz? 
Well, you can opt to crowdfund writing ideas with NFTs; 
Does it also mean an article can become an NFT? Yes. And means you can sell your stories as an NFT to publications. 
Mirror supports embedding NFTs from other platforms that, in addition to images and videos, also support audios and text.
And with an ever-increasing demand for content writers, starting to experiment with these platforms early can turn into a solid payout at the end of the day. 
Play to Earn: Make money online on web3 playing games  🎮 
Games have been evolving in the past decades. Not just in graphics or playability, but also in the rewards.
In the early 2000s, most games were pay-2-win. That meant that whoever spent the most amount of money, would usually be the best one. 
This made some games unplayable and unenjoyable, with the majority of the players feeling like a small group had an unfair advantage.
Lately, we've started to shift to more fair competitive settings. In most popular games, you only need to pay for cosmetic items, such as skins. 
The current wave of web3 has already begun to change the gaming landscape forever. 
With Blockchain-based NFT games, you are rewarded just by playing! That is possible now, especially due to the metaverse. 
Sounds too good to be true? 
Give these games a try and start making money on web3
Axie Infinity is like Pokémon GO – yes, that game that was a huge success on mobile phones. However, you can make a profit from this blockchain game. In this case, you can train your creatures for battles and sell them.
According to this FXStreet article, "every time a user sells an Axie on an NFT marketplace they can earn an average of $270". Also, it takes 50 to 80 days to recover an initial investment of $800. Several hours of gameplay can net you around $10 to $15.  
Alien Worlds is a game where you have objectives to earn an NFT called Trillium (TLM). 
You compete with other players and assume control of planet organizations. They are Decentralized Autonomous Organizations (DAOs). 
There are some ways to earn money in Alien Worlds, like Mining for Trillium, selling NFTs on the game, and buying and selling lands. According to Metahub, as a complete beginner, only mining, you can get a dollar per hour.
Card games 🃏
Gods Unchained is a good alternative for people who like cards. In this world, you can collect rare cards that, of course, will give you the opportunity to earn money with web3. 
Just like an image that can be sold in NFT (see the above EVERYDAY: THE FIRST 5000 DAYS), you own the cards and can negotiate them. Another game that allows you to hold and sell cards is Spliterlands. 
In both cases, the amount that you receive is according to the cards that you own and sell.
Going on a metaverse trip!
The Sandbox is one of the most popular Ethereum-based metaverse games. You create an avatar and land.
You can be rewarded by playing games in the metaverse, and also by building games and monetizing them. Also, you can create assets and be a real estate investor on metaverse. This means that your income will be very variable.
Watch the first steps to begin: 
Other tips to earn money online with web3 💡
If you think these are the only ways to start adding up crypto to your digital wallet, we have good news: there's more! 
More and more opportunities have emerged to earn money online with web3.
For example, some sites will pay you with cryptocurrency to respond to surveys.
Concerning this topic, there are two good examples: GrapPoints and Timebucks pay on bitcoins. All you have to do is to take surveys, watch videos, download apps, install apps and sign up to websites.  
Remember Flixxo that we told you about in the video producers' session on this article? Well, by downloading the App you can earn Flixx by watching advertising. 
Another way to make money online with web3 is to take advantage of the growing communities that are emerging. That is because the blockchain boom projects need community managers. In other words, it is a great opportunity for non-developers.
How to make your art go big 🔝
If you have a product, don't forget to announce it. Using Twitter and Instagram (recently, it became easier to use links on Stories on Instagram), of course, it's a very useful tip. 
But now, keep in mind that if you can't pay ads to be on the top of OpenSea or Rarible sites. So you may go to Discord forums like this one. Believe us: there are fresh and potential chat rooms for crypto artists in there.  
You can also go to Reddit to showcase your work in artist community threads, such as this one. 
If you're new to Reddit: when your publication receives a lot of votes on Reddit, it goes up in rank. And more and more people will see your work.  
If you have already sold an NFT, you can also get in touch with your previous buyers to show your new job. If the person likes you, maybe your customer can help you by sharing it with other collectors (or by buying again). 
All in all, this is the perfect moment to embrace web3 and start to explore several routes to earn money. 
New opportunities and platforms emerge every day and as web3 becomes more refined, it also becomes easier to use and create content.
At TAIKAI, we also provide ways for you to earn money with web 3.0.
You can join our hackathon competitions to earn crypto and other prizes, as well as apply for a hiring challenge and earn crypto in the process.
The field is yours. Join our 50,000 member community and start your journey today! 🚀