Do you remember when collecting stamps used to be cool? Probably not since it's not something that was part of your generation but ask your parents and grandparents – they will know what we're talking about! Before the advent of the internet, collecting stamps was quite a popular hobby: people had to either call – not through a mobile phone, of course, but rather on a public phone booth or at home – or send letters to communicate to their loved ones, and, to do the latter one, they had to buy stamps. 
Collecting them was simple, every time one received a letter, one would carefully remove the stamp by cutting around it and then humidifying the area until the glue no longer attached the stamp to the paper. Imagine receiving a letter from a distant country, with a stamp no one ever saw before. Sounds exciting, no? 
Thanks to the internet, we no longer need to send letters the way our parents and grandparents had to, we can communicate in much faster ways, such as using e-mail, social media chats and so on – but on another hand, the magic of collecting stamps is lost, as e-mails don't bring along exciting art figures to collect.
Austrian Post is determined to change that. After first launching crypto stamps back in 2019 – which sold out within days, Austria Post presents now the Crypto Stamp 2.0. Each stamp has a credit card format, measures 86 millimeters by 50mm, and shows the head of an animal: a llama on a green background, a dog on a blue background, a honey badger on a red background, or a panda on a brown background. Are crypto stamps normal stamps? – you may ask. The answer is yes and no. Yes, they are still used as normal stamps to send letters but, at the same time, they are also limited edition virtual collectables, also known as non-fungible tokens (NFTs).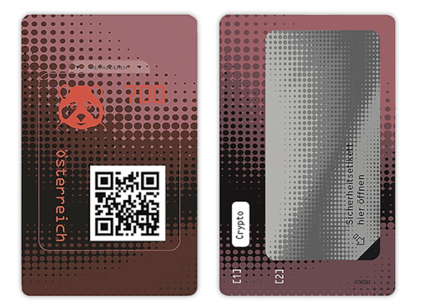 So, if you decide to buy one of these stamps, you are acquiring a piece of paper that can be used to mail a letter, but at the same time, the stamp has a code to access a virtual image, available in a digital wallet on the Ethereum blockchain. Because of the blockchain technology, the owner of a virtual collectable has exclusive rights over it – which means he or she can hold, transfer, sell, or trade it indefinitely. 
Cool, right? Well, so cool that this second edition of crypto stamps is already sold out online. But the good news is, there are still some copies available on physical post offices, so next time you visit Austria don't forget to include their post offices on your tour – crypto stamps would make an awesome souvenir, don't you think?
And speaking of Post services, have you heard we very recently launched a new challenge together with CTT – the Portuguese Post service? 
Gather a team of, at maximum, 5 people, and create an app able to read the barcodes available in each envelope or box – the winning team will be rewarded with 8.000€! Sounds exciting? 
Check the rules and timeline of the competition here and make sure you sign up until the end of the month!