In this Builder's Spotlight, we showcase Lepricon who is leveraging bepro-js for decentralized prediction market codebase and backend infrastructure. bepro-js will provide the smart contract infrastructure to develop the engine that will power FansPredict, a real-world events and sports hyper-casual prediction game. Lepricon has announced the launch of this platform for early 2022.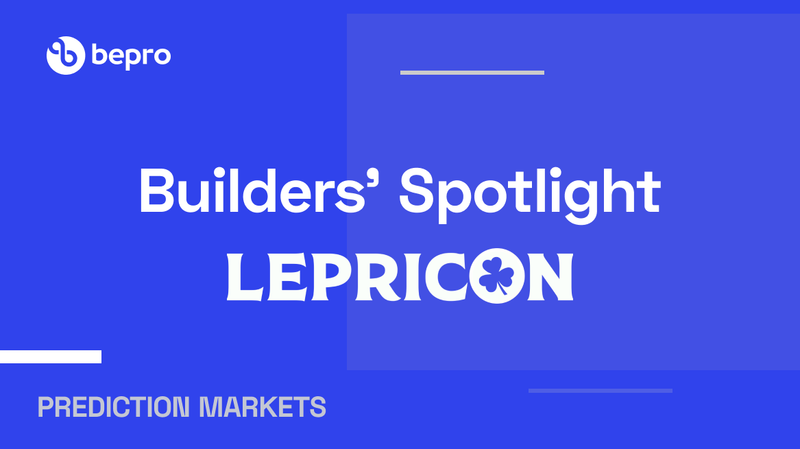 The prediction market industry is rapidly growing with adoption increasing everyday. We forecast that Lepricon will be a driver of this adoption for years to come. FansPredict will enable its users to participate in forecasting outcomes in a variety of markets and genres.
FansPredict uses a hyper-casual approach to predicting real-world events, allowing users to join pools for binary outcomes on almost anything. The game itself will become a platform for hyper-niched vertical games suited to different interests and markets. FansPredict is slated to launch in early 2022.
Lepricon and FansPredict
More and more people are joining this big wave of forecasting and predicting the outcome of real-world future events: Esports, sports, politics, climate change, globalization, and technological advancement across industries are just some of the topics that are fuelling this growth.
We are excited to be providing the critical technology to make Lepricon's FansPredict a reality. With the bepro-js prediction market codebase, any developer can quickly deploy smart contracts with all sorts of prediction market activities including adding and removing liquidity, and buying and selling outcome shares.
A day in the life of Lepricon, a Crypto/Blockchain Gaming Startup
In their most recent video that you can watch below, Phil Ingram, Chief Marketing Officer of Lepricon, explains in depth how thrilling it is to work in such an evolving industry. Additionally, he discusses blockchain and how they'll be integrating prediction markets and bepro-js APIs to their platform.
Lepricon is evolving its business model into a Decentralised Autonomous Organisation (DAO) — an organization represented by rules enshrined in computer code: transparent and controlled by the network participants and not by a central authority.