If you've ever been told to keep an open eye on opportunities, this is a wonderful moment to remember that advice. 
Especially if you work as a software engineer or technical writer, you've probably considered how to become a blockchain developer: and it's a huge opportunity knocking on your door.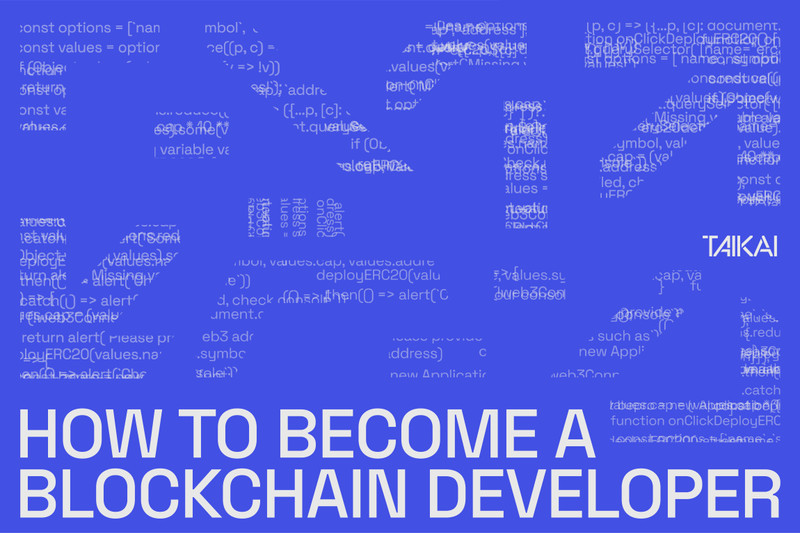 It's also a proven fact. The number of blockchain jobs is growing. 
According to ZipRecruiter, the average income for a blockchain developer is US$ 155k. And a Glassdoor survey shows that blockchain jobs increased by 300 percent in 2019 alone.
New to blockchain and web3? You can learn the basics in this TAIKAI blog post
Just like any other career, there are some prerequisites for learning how to become a blockchain developer. 
Blockchain developer: reprogram your mindset 🧠
To begin, adopt a real developer mindset. Resilience, good communication, flexibility, and familiarity with concepts such as agile methodologies are some soft skills you'll need.
Of course, the ability to read and write codes is a requirement for all Blockchain developer jobs. 
At this point, you must link it with your soft skills and ability to work under pressure.
Language teachers used to make us write for at least 30 minutes every day when we were in school. If you want to build up your developer blockchain skills, a great recommendation is to write code or learn about blockchain for at least 30 minutes a day.
This might sound silly if you're already a competent developer, but speed is an important skill to have when looking for blockchain developer jobs. After all, passing examinations requires tiger-like agility. And the greatest way to become a blockchain developer is through training.
At TAIKAI you can practice and gain experience with a variety of hackathons. From finding and fixing bugs, building dApps, or even product MVP's (minimum viable products) development on the web3, there's a unique hackathon for everyone.
The Telos Spark hackathon is a great example of this.
The web3 company is looking for blockchain developers to bring new tools to Telos EVM. If you want to learn more about EVM and its programming languages (Solidity and Vyper), enjoy the challenge: Telos EVM, which is the fastest in the world.
Bonus: if you're a beginner or want to perform better as a developer, we may recommend two Udacity Courses: Introduction to Programming (basic) and Full Stack Web Developer.
Blockchain developer jobs: what else do you require? 💼 
Compiling, testing, and deploying code are required skills for blockchain developer jobs: but there is more. We'll provide you with some information as well as course suggestions.


Data Structure & Blockchain architecture ⛓️💻
Knowledge of data structures and blockchain architecture is also important. After all, blockchain systems are based on the data structure. And blocks are groups that confirm transactions in relation to open registrations.
It's crucial to realize that a unit of information in a blockchain data structure might represent payments, property, DAO (Decentralized Autonomous Organizations), or proof of ownership. 
Any changes to the blocks will modify the hash, which can make a chain inaccurate. As a result, you should study and be aware of data structure and remember the key components:
Blockchain technology can be divided into four main types; 

The first is public, which requires independence, transparency, and trustworthiness. It's utilized on cryptocurrency investments and document validations; 

On the other hand, a private blockchain may have greater performance and access control. Supply chain and asset ownership are two examples that look for a private blockchain; 

Hybrid blockchain provides scalability, performance, and access, while can be less transparent. Who can make use of it? Medical records and real estate systems, for example. 

Last but not least, there are consortium blockchains, which provide good access control, scalability, and security. That's why banking, researching, and supply chain may prefer it.
Again, study and practice. And, once more, there are two Udacity courses that might be a good fit for you: Data Structures & Algorithms and a complete course to become a blockchain developer (over here). 
Cryptography for blockchain developers 🔑
Cryptographic concepts include learning how to operate keys, digital signatures, and wallets.
So, it shouldn't come as a surprise that blockchain developers need to go deep on it.
After all, in the web3 world, there are smart contracts and wallets like MetaMask and Exodus that operate assets such as cryptocurrencies, NFTs, among others.  To prevent unwanted access to data, they must be safer than a safe box.
Therefore, it is critical to scrutinize how to encrypt (turning plaintext into cyphertext, that is, a sequence of bits) and how to decrypt (convert the encrypted message into unencrypted text).
However, there is a need to go much further. In blockchain cryptography, there are some methods that can be used, especially:
Hash Functions: are used to compress a numerical input value. It's critical to create blocks on blockchains to keep track of all transactions.

Symmetric-Key Cryptography: a type of encryption and decryption that uses a single common key.

Asymmetric-Key Cryptography or Public-Key Cryptography: encrypts data with one key and decrypts it with another. Here the algorithm generates a key pair: a private and a unique public key.
Dan Boneh, a professor of computer science at Stanford and a cryptographer, gave a talk regarding decentralized applications (dAPPs) and blockchain settings at Crypto Startup School. In the video below, Boneh explains Cryptographic Primitives that are useful on the blockchain. Take a look: 
If you're interested in learning more about Cryptographic Blockchain now that you've gotten a taste of it, you may enroll in the full course from Dan Boneh about crypto on Coursera. The course is offered by Stanford. 
Interoperability skills: connecting APIs 🖇️
You must also be aware of how to send data from one blockchain to another. This is called interoperability.
Until now, it was not achievable to share data across Bitcoin and Ethereum for example but is already crucial between other blockchain architectures. After all, remember that there are four blockchains models that you can work on as a blockchain developer.
It is critical to make data capacity transfers easier in order to accomplish this interoperability. APIs, or Application Programming Interfaces, is the answer here.
The cryptocurrency exchange - Coinbase - is one of the most prominent examples due to its multiple and quick cryptocurrency support. It means that it integrates with existing APIs that the consumer is unaware of.
This occurs because APIs deliver data without requiring cross-platform verification, and a blockchain API can communicate with nodes or services on different blockchains. Here are two more pointers:
Jelvix has a very good blog post about blockchain APIs; You can read it here.
Professor Edward Chow of Colorado University offers a comprehensive course on Cryptography and Programming with Crypto API, so you can improve your learning about Cryptography, API, and dApps all in one place.
Smart contracts 📝
Exchanging goods and services without a third party involved is a utopia for many. But it's starting to become a reality due to self-executing contracts, that is, through smart contracts on web3. 
As a result, this is another must-have on learning how to become a blockchain developer: jobs that demand developing smart contracts require you to be able to write code on some programming languages such as Vyper, Solidity, and Chaincode.
It's challenging, but if you know how to do it, you'll be a step ahead of other blockchain developers. 
Smart contracts have become popular as a result of Ethereum's decentralized structure, which facilitates this business model.
In addition, smart contracts are a very useful way to transfer NFTs or even certify real goods, properties, or assets.
A free course about it was created by Free Code Camp, which introduced Solidity, Chainlink, and Ethereum:
Earning while Learning Web3 🤑
We understand that attending classes and reading new material, as well as revising it, can be tiresome. 
Well, that's part of the game. Remember that resilience is a must-have quality. 
But what if we tell you that you can earn while learning? That's possible thanks to TAIKAI's hackathons and challenges. 
In December 2021, Caduceus released the first metaverse public chain, which is now in the public testing phase.
The Metaverse Protocol - which incorporates augmented reality, virtual reality, 3D holographic avatars, video, gaming, and NFTs - requires blockchain developers to test and assist users in becoming fully immersed.
Because of that, Caduceus launched the Caduceus Bug Bounty Challenge. An expert panel evaluated each bug submission on the bug hunting and paid up to $10k per bounty!
That's a great way to earn money while learning and practicing. Caduceus bug bounty hackathon is over, but we have plenty more on our hackathons page from web3 companies such as Telos or Harmony.
Learn blockchain from the community 💬
In our hackathons, you'll encounter devs who are thinking just as you are right now. And there's a really good underlying aspect of learning: sharing knowledge is a great method to both learn and teach.
But where do you find other developers that want to evolve as much as you do?
We usually recommend Discord groups because they are great sources of information. So here is a list of them, where you can chat about programming languages and exchange knowledge about how to become a blockchain developer: 
You can also subscribe to our newsletter. We'll keep you posted about new hackathons, job offers and educational materials.
Getting Jobs as a Blockchain Developer  🙋
As you can see, blockchain developer jobs are very promising. There is a high demand for a few really qualified specialists. So, becoming a high-level blockchain developer must be your biggest goal.
Some recruiters may ask you about programming languages, so don't be surprised when these questions come up. At the very least, know the main characteristics of the following languages:
C++

Java

Python

Solidity

Simplicity
They might also be looking for SQL and NoSQL skills, as well as previous experience in blockchain projects. 
Again, if you're not feeling comfortable applying for a job, participating in a hackathon is a great way to get more experience and earn rewards.
Try the new Apply-to-Earn method 🚀
At TAIKAI we provide yet another great way for you to earn money while applying for a job.
Our new Hiring Challenge platform gives you crypto tokens as you advance through a recruitment process, even if you aren't ultimately the chosen applicant for a position. It consists of three steps:
Organizations launch a hiring challenge;

As a candidate, you apply and start working on the coding project;

The best projects are selected and candidates go to the next stage (usually an interview). As you progress, you're rewarded with KAI tokens.
Finally, remember to keep yourself informed. Join the groups that we listed in this article, subscribe to newsletters, but never forget to keep an eye on the market.
Immerse yourself in new tutorials and make a habit of using as many dApps as possible to familiarize yourself with them and potentially identify bugs.
And if we can give you one more bit of advice, it is to daily read specialized news about the sector. 
Recruiters regularly ask general questions regarding web3 to assess if you're up to speed.
At this level, CoinTelegraph, CoinDesk, CoinMarketCap, CryptoSlate, Bitcoin Magazine, and TodayOnChain are some of our suggestions.  
Good luck and count on us to help you develop new skills! 
Your journey starts today. Join our 50,000 member community taking the world by storm ⚡