So, you've decided to host a hackathon. Great!
But now you may be wondering how to make sure it's successful. The new challenge now is how to attract participants for your event.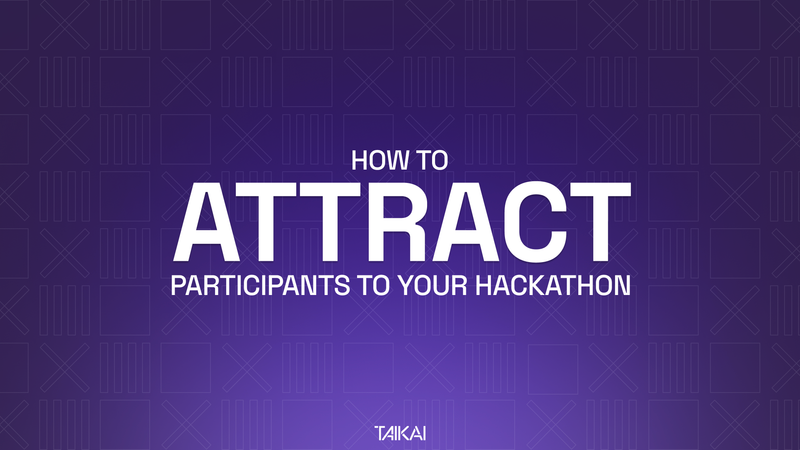 Table of contents
Using the right tools and platform
Where (and when) to attract participants
How to promote your hackathon on universities and startups
Promote your hackathon challenge
Create enticing challenge categories
Final Thoughts
If you want your hackathon to be successful, you need to market it using a strategic plan that includes various promotion techniques such as press releases, blog posts, social media outreach, email marketing campaigns, etc. 
Keep in mind though that none of this will matter if you don't target the right audience.
If you want people to come to your hackathon, you have to start by creating the right environment. This means promoting your event on social media groups related to your business or the theme of the event, forming partnerships (such as with universities), and relying on brand ambassadors.
Using the right tools and platform
The key to a successful hackathon is, before anything else, an easily navigable registration process. In other words: if you want participants, make sure your platform is user-friendly and informative. 
The main page of your challenge should include all relevant information seen in the image below, as well as clear login and submission instructions.
TAIKAI's hackathon platform provides essential advantages and benefits that other platforms lack. With our help, organizations can focus on the strategic elements of attracting participants to a hackathon while we take care of the operational side. Our platform is truly one-of-a-kind and offers everything you could need all in one place.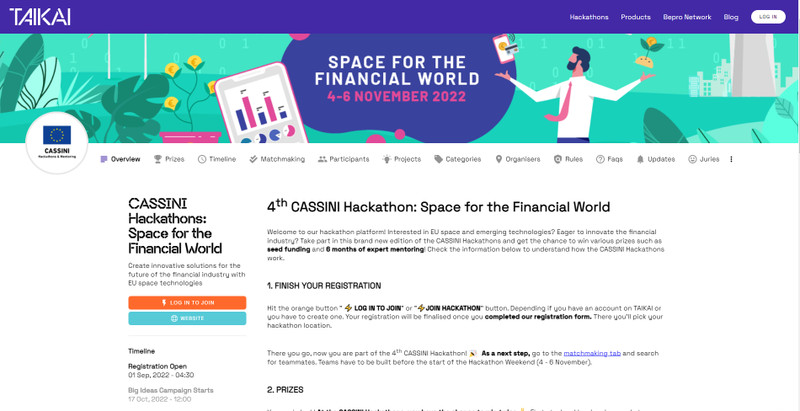 One of the main features of TAIKAI's hackathon platform is that it provides a simple, streamlined process for hosting and managing all types of hackathons. 
In addition to providing an online toolset that makes it easy to organize and manage events from start to finish, TAIKAI also offers an extensive library of resources designed to help organizers plan and promote their events effectively.
Whether you are just getting started with hackathons or have been running them for years, this platform provides everything you need to organize successful events.
Another key feature of TAIKAI's hackathon platform is that it allows organizers to easily collaborate with other participants throughout the event.
This can include communicating with sponsors, judges, and mentors, as well as coordinating with other event organizers. 
By providing a centralized hub for hackathon participants to communicate and work together effectively, TAIKAI helps ensure that each event is successful.
👉 10 Reasons to Use a Hackathon Platform for an Online Challenge
Where (and when) should you promote your hackathon in order to attract participants?
It is crucial that you start to promote your hackathon as soon as it is confirmed. This way, you can make the most to attract enough participants for the event. As a bare minimum, you should start advertising your hackathon at least one month before the event.
Sending press releases is also an important part of promoting your hackathon. 
However, don't rely on mass shootings to generate interest in your event. Instead, focus on specific editorials and targeted media outlets based on your area of expertise. 
Hackathons are usually well-regarded by publications in fields such as technology, innovation, human resources, and marketing.
You can also reach out to other communities such as local entrepreneurs, universities, and startup events.
Other than that, businesses can use paid and organic social media advertisements to garner attention and excitement. For example, let's see how we can shape this publicity:
Leverage the power of Social Media
Especially if it is a web3 open innovation challenge, Twitter, LinkedIn, Telegram, and Discord are the best choices because it's where software and blockchain developers interact with one another. 
You can also use Discord to host events. This is an excellent way to increase exposure and encourage members to invite their friends to your server and learn more about your hackathon challenge.
👉 The ultimate guide on how to build a web3 community
Tip: Start genuine relationships on all of these social media platforms!
Email marketing is key to attract participants
Some of the tips we listed before can also be used when you're promoting your hackathon through newsletters. 
Establishing relations with social media influencers in your niche has several advantages, one being that these contacts likely have access to newsletters as well. You could team up with them and cross-promote via the company newsletter, or simply pay a small fee for promotion - either way, this will allow you to attract more participants by expanding brand and event awareness
How to promote your hackathon on universities, incubators, and startups
One of the key steps is to establish strong connections with educational institutions, as students and recent graduates are often some of the first participants interested in taking part in a hackathon. 
To do this, you can work directly with course coordinators and professors' teams to promote your event to university students, post-graduate students, and recent graduates.
As a result, it is critical to promote external actions with universities (particularly if it is a local or national hackathon) in order to open doors to university students, post-graduate students, and recent graduates.
Aside from that, young entrepreneurs are frequently interested in publicly displaying their solutions. Consider contacting incubators and accelerators and asking them to send out communications to startups in order to attract participants to your hackathon.
Also consider promoting online events (for example, in Discord) for the public in collaboration with incubators and accelerators.
Promote your hackathon challenge mentors, jury and sponsors
Exposing your hackathon strengths when communicating with your audience, whether B2B or B2C, is critical, and this includes who will serve as mentors and jurors.
Sometimes all it takes to attract participants to your hackathon is the fact that they admire certain experts. So, write about their backgrounds and experiences.
If possible, request that they send you a video to promote your hackathon on social media. Of course, you should ask mentors and jurors to promote the hackathon, but don't forget to do your homework by presenting them as well.
Make it also clear when you are not alone by revealing who your sponsors are. It gives your hackathon challenge a sense of security, popularity, and credibility.
👉 Find out more why you should sponsor a hackathon
Create enticing challenge categories
After you've generated interest in your hackathon, it's essential to turn visitors into participants. Too often, hackathons lack clear and interesting categories that would engage potential competitors.
This is where you need to tap into your strengths as a hackathon organizer and come up with challenge categories that will engage your audience.  Think about the skills, interests, and expertise of your target audience, and then create categories that will appeal to them.
Consider including a mix of technical challenges, business-oriented challenges, design-focused challenges, and anything else that might interest potential participants. You could also include different levels of difficulty for each category to cater to a range of skill levels and technical backgrounds.
Make sure that you have a clear description for each category, including any requirements or rules for participation. You should also provide details about the prizes and other benefits that participants can expect if they are successful in your hackathon.
Finally, be sure to promote your challenge categories widely and encourage visitors to share them on social media and other platforms. This can help generate interest and excitement around your hackathon, driving more participants to sign up and compete.
Final thoughts
At the end of each day, take some time to track your progress. Keeping tabs on what has worked best in terms of attracting participants will help you succeed not just at this hackathon, but future ones as well. And while it's great to get people clicking on your challenge link, don't forget that promoting a positive experience is even more important.


Hosting a hackathon can be challenging on its own.
That's why at TAIKAI we developed a complete virtual hackathon platform that's easy and quick to set up. 
In a few steps, you can host a hackathon, manage participants, connect with them, live stream your event, form teams, and evaluate submissions - all in one platform.
It's your turn to drive innovation and engage with your community. 
Talk with us today or Request a Demo, we're always here to help :)