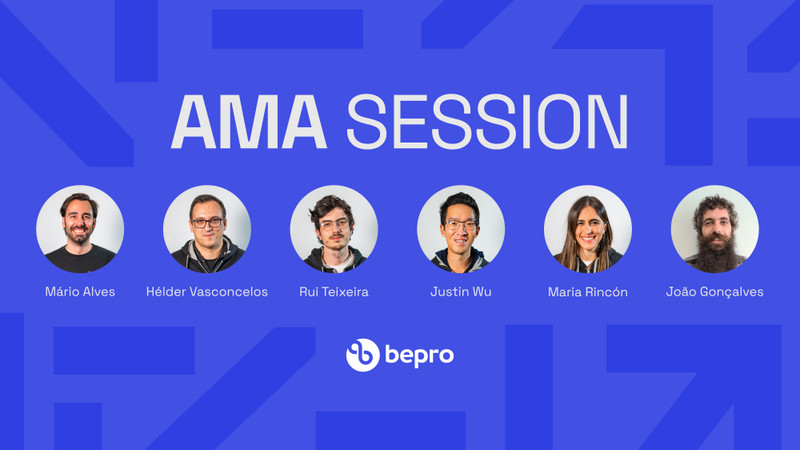 If you didn't catch up with the latest news, last week we announced the acquisition of Bepro Network Labs by TAIKAI. The announcement was a success marking a huge milestone for both companies! You can read more about the acquisition here.
On the same day, we ran a Meet & Greet on Discord where we gathered both teams to answer any questions from the community regarding the acquisition announcement what the future holds for both companies. 
For those who didn't have the chance to join the Meet & Greet, we launched a form where anyone could ask anything to TAIKAI Labs.
And, without further ado, here are the top questions we received from the community:
Q: What are the be benefits for early investors in Bepro? I can understand the wellness this brings to the project and to its success of it. But what about us, the early investors in the protocol? Do you pretend to still use the $BEPRO token or will you merge and convert it to a new one now?
A: The vision remains the same, it just got bigger with joining forces with TAIKAI. For the $BEPRO token itself, our plan is to keep it as the token used for further protocol deployments as well as integrate new utilities in the protocols as v2 is added, as well as adding more utility to it by making it a part of the TAIKAI's hackathon ecosystem and community — but more information on this soon.
Q: About community growth and planning, what are you doing to sustain the community? many of the groups held giveaway events (or invites) but it only lasts for a while.
A: That's an excellent question.
We are developing an ambassador program focused on long-term community engagement and collaboration.
Our goal is to establish sustainable community growth and to reward members that support the ecosystem development.
We're thrilled to have such a passionate community on board, and we'll share more details as they become available.
Q: What's your goal now with this partnership and how many team members shall be developing bepro?
A: Our goal is to unify both products, keeping TAIKAI Labs as the developer studio behind Bepro Network and Bepro.js as products. This means that the team behind Bepro's products just got bigger and stronger, counting now with more than 20 team members actively working on this project, both from TAIKAI and Bepro Labs. 
The current TAIKAI Product will transition over the course of the next months into Bepro.Network as an added feature to this product, transitioning also its clients and developers, making TAIKAI Labs ONLY the lab development studio behind the development of Bepro.Network, but more information will be informed soon about the updated Roadmap.
Q: Are you planning of marketing the new vision of the entity and the product after the deployment of V2 in Moonbeam Network or will some marketing campaigns start soon? Will there be other extra features in V2, and if yes which?
A: The v2 version will be launched with the features as proposed before by the Bepro Team, but our vision is going to launch a fully-integrated platform with bounties, hackathons, hiring challenges, grants and services that are really valuable to our users. The most important feature for us is to bring adoption to the products and develop functionalities that add value to the ecosystem.
Q: Will their project be used to pay with Bepro like implemented into Bepro system might be?
A: The $BEPRO ERC20 will always be the main utility token for bepro.network developed by TAIKAI Labs. Right now it is only used on bounties mechanisms, as well as curation and governance over the protocol(s), but we want to extend the utility of the token on the fully integrated platform. The token will be used on hackathon rewards, hiring challenges and other services as the reward or utility token.
Q: Have you set a milestone or a target to be listed in a new potential CEX/DEX exchange by the end of the year or any time soon?
A: We can't disclose any listings or partnerships with exchanges before they happen. We always have BEPRO token holders in their best interest, but we can't comment on this for now.
Q: Can we have announcements written in layman's word? Currently focus is more towards developers and less towards investors.
A: We understand that not everyone is familiar with the technical terminology and intricacies surrounding blockchain.
We do want to educate and share our knowledge with the community — regardless of whether you're a holder or a developer.
Therefore, we'll work on providing friendly content that everyone can understand and enjoy.
Thank you for your feedback.
Q: What areas of the market do you see BEPRO x TAIKAI being a use case for that aren't already established?
A: We think that there is no limit. Any entity that wants to externalize the development of their products could be a potential client of our network to use Bepro.Networksuite of services. The motto, "software is eating the world " completely defines the market that we could attract to the platform. We can have a financial institution launching a bounty on TAIKAI & Bepro Network, a health company launching a hackathon to generate new ideas, or a consumer brand launching an NFT collection with bepro.js framework.
Q: Could bepro-js or the protocol theoretically interact with more traditional gaming languages/software such as Unreal Engine and Source code?
A: Bepro.js is a generic SDK that could be integrated on any kind of product that requires interaction with web3 and Ethereum based blockchains. Our goal is to polish it and make it a reference on the web3 universe. We really believe that bepro.js could be a very effective SDK to onboard smoothly organizations to interact with smart contracts, NFTs, launch tokens or DAOs
Q: Where do you see BEPRO x TAIKAI in 3 years?
A: Our main focus is to build a fully integrated suite of services that allows developers, organizations, or corporate companies to build products in a decentralized way, grabbing knowledge and expertise from developers around the world using a fair market that rewards all the participants on the network. The road is long but we fully believe that we are making the right steps to build a major player on the web3 market
To sum up, TAIKAI as the lab, Bepro Network as the product, and decentralized ecosystem developed and powered by TAIKAI Labs.
About TAIKAI
TAIKAI is a talent marketplace that connects creators and organizations through crowdsourcing solutions to their challenges. The tools developed by the company for hackathons and hiring challenges enable global testing and validation of new ideas, products, and talent.
About Bepro Network
Bepro Network is a codebase for DeFi, Gaming, Prediction Markets & More. A Code-as-a-Service protocol providing technology and support for blockchain-based applications.