Hosting a hackathon is a great way to bring together people with different skills and backgrounds to come up with new ideas and solutions. 
Online hackathons are becoming more popular as they provide a level playing field for participants by removing geographical barriers.
But organizing one can be a lot of work. 
That's why it's a good idea to use a hackathon platform to help you with everything from registration to judging entries.
In this blog post, we'll give you 10 reasons why you should use a hackathon platform for your next online challenge.
TAIKAI is a virtual hackathon platform that makes hosting virtual hackathon events easier. Talk with us today, we are here to help you with the process.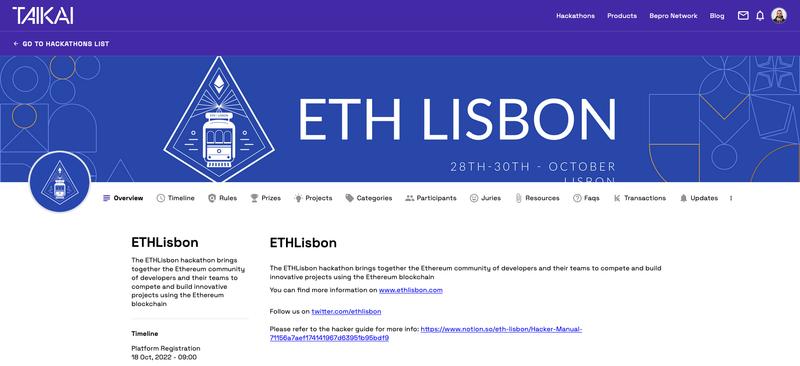 What Is a Hackathon Platform?
Hackathon management platforms are essentially online tools that help people manage their projects within a set timeframe. Project creation, progress tracking, deadlines, prize organization - these platforms have it all. 
A hackathon platform can also help you publicize your hackathon and attract participants.
There are a number of different platforms to choose from, so it's important to select one that meets your needs.
What Features Do Hackathon Platforms Have?
When looking for a hackathon platform, it's important to consider the features that it offers. Below are some of the features that you should look for:
A hackathon platform should allow you to create and customize your challenge.
It should provide a space for developers to register and participate.
It should have a submission system that judges submissions based on set criteria.
It should offer a platform for team formation and collaboration.
It should be easy to use and navigate.
We've conducted a careful review of the major hackathon platforms and created a benchmarking guide, so you have a quick and clear understanding of the features and benefits each one offers.
Why should you use a hackathon management platform? 👨‍💻
Complications can easily arise when hosting a virtual hackathon by yourself.
These would include putting together a landing page, communicating effectively between organizers and participants, managing registration, and more. 
Although it may seem daunting, with the right tools all of these complications can be taken care of effortlessly. This is where hackathon software comes in as your solution.
A Hackathon management platform streamlines your administrative tasks while also improving the quality of your submissions. 
It offers an all-in-one solution for your event-planning needs, such as managing participants, competition content, rules, prizes, event timeline, project submissions, and evaluation/voting stages.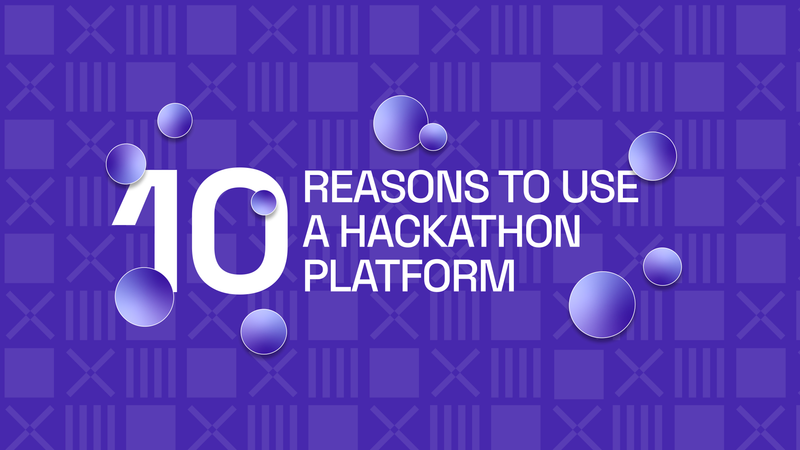 10 reasons to use a Hackathon Platform


1) Easy Accessibility for Event Information ℹ️
Having a hackathon management platform for your next external hackathons comes with several benefits, the first being a shared space to post all information related to the event. 
This is beneficial as it keeps everyone on the same page and aware of any changes made by organizers. It also helps prevent miscommunication that could cause confusion or frustration among applicants. 
Overall, using a management platform will help create a more efficient and organized hackathon experience for both participants and organizers alike.
2) Manage participant registrations 📃
An added benefit of hackathon software is that it manages all of your participant registrations for you, meaning that all you have to do is announce your event with the necessary details on the online hackathon platform. 
All the applicants will flock to your event, and their admissions process would be handled by the hackathon management tool requiring no external interference from you. 
This allows hackathon organizers to focus on more important tasks, like marketing the event and setting up the prize pool. 
Applications are also made easier for your audience developer community through the hackathon software.
3) Project management at your fingertips
Online hackathon platform offers project management tools to keep track of progress, assign tasks, and monitor deadlines. 
This helps teams stay organized and ensures that all team members are on the same page, leading to a better chance of success in the competition.
An online hackathon platform can simplify the process of managing a project team and guarantee cohesion among teammates.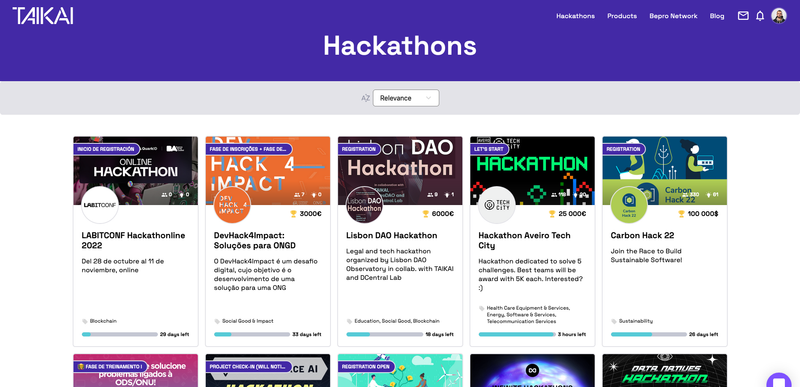 4) Collaborative hackathon project submission 🤝
Hackathon software is heavily designed to be user-friendly for both the organizers and the community, streamlining the process of hosting an event and removing all the inconveniences. 
A virtual solution facilitates tech communities participating in a hackathon event to work collaboratively and easily submit their finished product. 
Participants are allowed to submit their projects in rich formats with images, videos, and attachments, which results in a user-friendly environment for participants and the jury.
5) Streamlined evaluation process 🔍
Evaluating submissions can be a tedious task for organizers, particularly when there is a large number of projects submitted. Hackathon software simplifies this process by providing an easy way for judges to review and score submissions online. 
It also allows for multiple judges to evaluate projects simultaneously, saving time and streamlining the judging process overall.
Voting is one of the evaluation methods that is provided by virtual hackathon platforms, ensuring an equal opportunity for experts to get evaluated by a jury panel. All you need to do is define the criteria that the projects need to meet to match your objectives, and the rest of the evaluation process would be handled by the platform. 
TAIKAI platform supports several evaluation methods, a quantitative evaluation based on the KAI token or evaluations based on a set of criteria defined by the hackathon organizer.
The voting system is recorded on the blockchain, which makes it more transparent to participants.


6) Matchmaking system 👯
Virtual challenges consist of a massive and diverse community with highly specialized and creative minds. This makes online hackathon platforms a very useful place to find like-minded teammates. 
These platforms take it a step further and assist matchmaking in events where several teams are to be formed. 
This matchmaking feature allows participants to share their skills and create a team during a virtual hackathon without a struggle.
If you want to know more details about how matchmaking works on TAIKAI, read the Tinder for Hackathon Teams written by our CEO Mário Ribeiro Alves.
7) Communication tool between participants 🗣
Communication is key, especially when collaborating with people around the globe. Digital events don't have the luxury of spontaneous communication that onsite hackathons have. 
However, virtual platforms have made several attempts to ease communication between the community, such as private messaging features for participants to communicate with team members and mentors. 
This is also beneficial for those participants who are reluctant to share personal contact information with strangers.
TAIKAI integrates a Slack workspace for each event, where participants can communicate with their team members and mentors, ensuring smooth communication during the event.
8) Support from professionals in various industries 🧑‍💼 
Virtual events also have several advantages for experts and professionals to support the community. Mentors can join remotely from different parts of the world, providing guidance on specific areas or industries in which they excel. 
This creates a diverse pool of expertise for participants to learn from and receive feedback on their projects. 
On TAIKAI, you can choose to provide mentorship as an expert in your field by joining an event as a mentor. The platform also allows organizers to invite industry professionals as mentors through their network or reach out to potential mentors through the platform's network of experts.
9) Global outreach 🌍 
One of the biggest perks of virtual events is its global reach, allowing anyone from anywhere in the world to join as a participant or mentor. This brings diverse perspectives and solutions to challenges posed by organizers and creates a truly international community.
TAIKAI allows event organizers to set any location as their target audience, greatly expanding the pool of potential participants. 
The platform also supports multiple languages, making it accessible to non-English speakers around the world.
10) Cost-effectiveness 💸 
Finally, a hackathon platform is the most cost-effective way to host your event. You won't have to spend extra on numerous tool subscriptions when you could be reinvesting that money back into the hackathon in other areas, such as marketing or improving prizes.


What Are Some Hackathon Platform Success Stories?
Not only is a hackathon platform an efficient way to manage your hackathon, but it's also a great way to connect with developers and companies. Here are a few success stories from our clients:
Taboola used our platform to launch an internal hackathon for their global team. They were able to gather 799 participants from different departments of the company in just 20 days! Those employees formed teams that would eventually lead to 147 delivered projects by the end of the Innovation Sprint hackathon.
CASSINI hosted a massive open hackathon at TAIKAI that took place simultaneously in 10 different countries! Using TAIKAI's platform, the EU project managed to gather 575 participants and 84 delivered projects.
HILTI hosted a hiring hackathon at TAIKAI, in search of new potential talent. With a compelling challenge and a chance to secure a job at an industry-leading company, 97 participants joined the event and 15 projects were delivered at the end.

How to Get Started With TAIKAI's hackathon platform
If you're looking for a hassle-free way to host your next hackathon, TAIKAI is the platform for you.
The platform offers a complete suite of features and tools to organize a successful hackathon for your community, company, or web3 project. 
You can launch a hackathon, manage participants, communicate with them, live stream your event, form teams, and evaluate submissions in a single software tool.
Talk with us today or Request a Demo.
In Conclusion
A hackathon platform is a perfect way to manage and automate your hackathon. From start to finish, a hackathon platform can take care of everything for you – from registration to judging to prize distribution.
As a follow-up, we suggest reading the How to host a virtual hackathon article to learn more about the best practices when hosting a hackathon.