Welcome to BCN HACK!
The main challenge of Blockchain is its accessibility. How do we bring the next 1 million developers to work in blockchain, how do we bring the next 1 billion people to use it. We're here to creatre that impact. BCN HACK is a weekend experience created by and for the community. We're providing a community-based framework, coaching, and support for people looking to get into Web3 as well as for experienced blockchain-folks to scale their applications.
This is an in-person opportunity to meet and get guidence from today's leading players in blockchain. When the bears are running around, it's time to gear up, get together and start building. Join us to make your first steps in Blockchain, to meet your next co-founders, to find ideas for your new Web3 startup, to accelerate your venture and more. Let's hack it and have some fun while doing so.  
What type of solutions are we looking for: 
Web3 for public goods
DeFi accessibility
Infrastructure & Scalability
Regenerative Finance
Creator's Economy
How it works
The Hackathon will take place between July 8th-10th. Most of the activities will be at the venue (we're a big believers in the Metaverse but still think that there is nothing like seeing each other in full size). If you are not in Barcelona, you're welcome to join and participate along with team members that are here, we're happy to support you in our Discord channels and through the Taikai platform.  In any case, there must be at least one person to pitch your project in-person. , on the last day of the Hackathon. 
 

  Venue: Coworking Aticco Bogatell

C/ de Pallars, 108 (08018) Barcelona






What happens in Barcelona stays on the Blockchain
ETHBarcelona brings together over 2000 makers, developers, and blockchain enthusiasts at a 3-day conference to explore how Blockchain Technology can help build a sustainable world. ETHBarcelona is a community-led project about the Ethereum blockchain, cryptocurrency, and decentralization that aims to enhance knowledge of blockchain technology through projects that create a positive social impact.
Jury 3.0
We're using the Taikai platform, which uses blockchain to democratize the hackathon experience. The platform allow us to have a create a community-based transparent hackathon. You can learn about other teams and participants, find a team to work with, engage with mentors and most and foremost witness on-chain how does judging process works.
Important Dates
June 21th - Registration opening
July 8th - Hackathon launch meetup
July 9th - 10th  - Hacking time, mentorship sessions, coaching and workshops
July 10th - Pitching and Awards Ceremony
Meet our Sponsors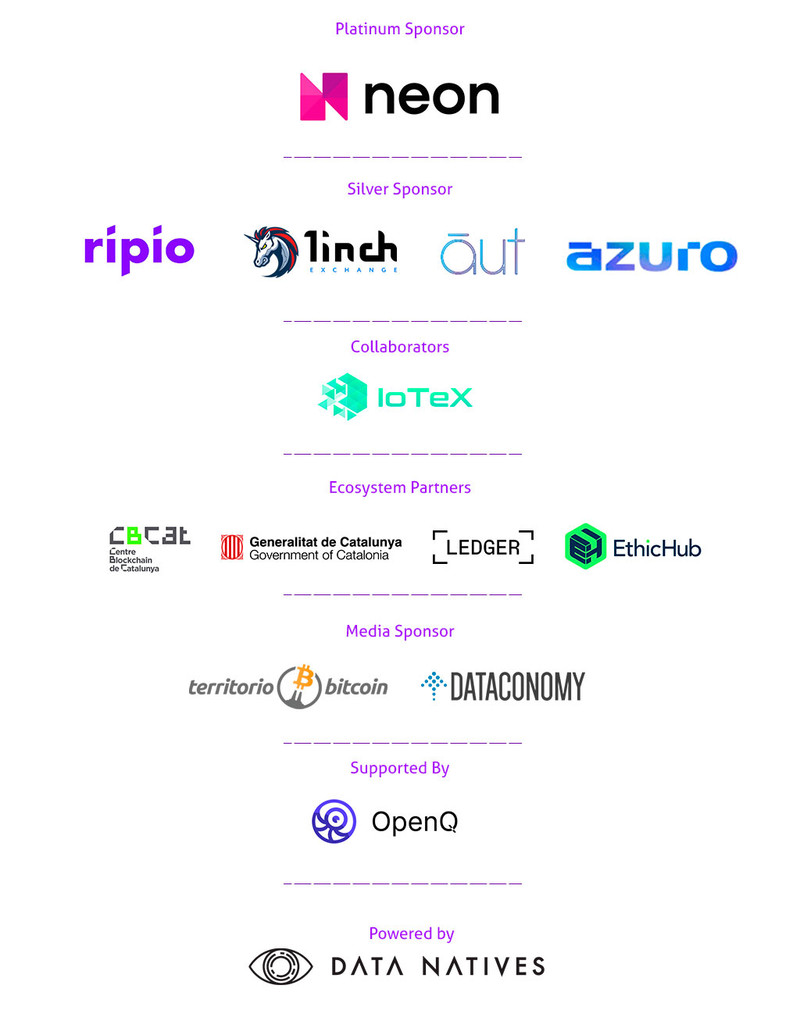 Data Natives
Founded in 2015, Data Natives is a community of over 183,000 data enthusiasts. We spark innovation across industries by working with our vast network of entrepreneurs and builders, in professional conferences, hackathons and across media channels.