When organizations decide to plan a hackathon, one of the most common questions we hear is: "What should we do after the event?". If you have the same dilemma, this post-hackathon guide will help you.
First and foremost, your strategy should include a post-event survey form the start in order to collect feedback, as well as a heartfelt message of thanks. To be successful, you will also need to collect data and conduct a post-hackathon retrospective.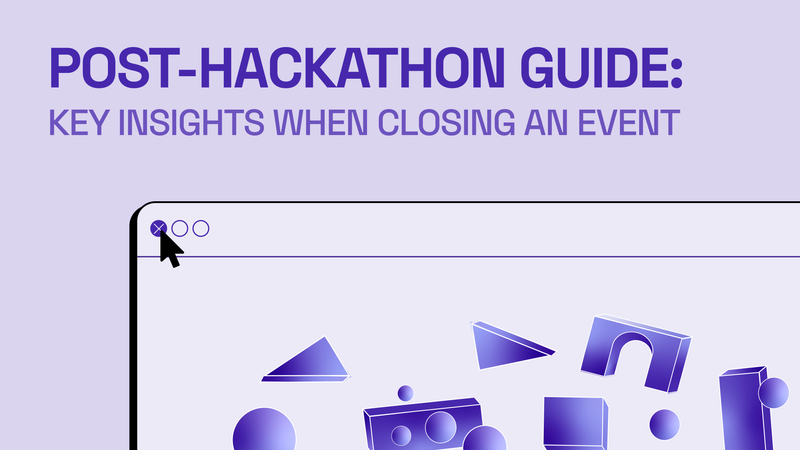 Table of contents
Sending a thank you note
Post-hackathon NPS Survey 
Gathering evidence from media and social media
Making a post-hackathon retrospective
Sharing the evidences 
Starting a POC or an MVP 
Send a thank you note to everyone 🗒️

Now that your hackathon has ended, it is appropriate to send a thank you note to everyone who collaborated and participated. This includes:
Participants, of course; 
Mentors; 
Judges; 
Co-organizers; 
Sponsors;
And volunteers.
Ideally, you should have different messages for each of these stakeholders. After all, everyone had different responsibilities at your event. However, you can narrow your message by including:
Sincere appreciation for the effort, emphasizing the importance of the work of the participant, mentor, judge, co-organizer, sponsor, or volunteer; 

One or two motivational phrases encouraging the person to keep track of open job opportunities and to attend other company events; 

A brief mention and congratulations to the winners;

An invitation to take part in the hackathon survey. 
Here's an example of what you could write to participants:
Dear [name of the person],

We are grateful for the dedication and effort you put into your project. You have overcome many challenges and we are proud of your accomplishments.

We hope you enjoyed the [name] hackathon as much as we did! It was fun, exciting, and challenging at the same time.

Before you go, please let us know your thoughts on the event by completing a brief survey. It will only take you 5 minutes.

We would also appreciate it if you could let us know your thoughts about the event by completing a brief survey. It will only take you 5 minutes.

Keep on rocking,

[company name] team
Send a personal message to the winners 📨

This message is also a chance to inform winners of the next steps. You can spell out how the project's owners need to proceed in order to get the prize.
For instance, if part of the award was an internship program, tell them what they have to do from this point on (who they should talk with, what papers they should submit, etc.).
👉 Learn how to promote a hackathon: 5 steps to attract participants.
This personalized message is also essential, particularly if your company wishes to turn the project prototype into an MVP (minimum viable product). 
After all, isn't it fair (and necessary) that at least some of the participants participate when the project becomes a reality?
Post-hackathon NPS survey 👍

Setting up an NPS survey is also extremely helpful to measure your hackathon performance. You might be thinking that conducting a survey is pointless, but people actually love giving their feedback.
For optimal response rates, your survey should take no longer than 5 minutes to complete.
A Net Promoter Score (NPS) is usually a method of measuring customer satisfaction. It is built around simple questions that are supposed to be answered on a scale of 1 to 10. It's as simple as that. 
But don't forget to leave room at the end for an open-ended question.
Finally, based on their average responses, you can divide your respondent into three groups:

Image Source: InEvent
Detractors are dissatisfied customers who may become a threat to your brand. So, try to improve the event experience as much as possible to avoid this.
Neutral respondents may not recommend your hackathon because their experience was not remarkable. 
Promoters are pleased, and they are likely to become brand ambassadors. Consider including an ambassador program in your brand strategy if you don't already have one.
👉 Discover the importance of brand ambassadors for your business.


How to measure your final NPS?
You will be able to calculate an average of your hackathon satisfaction using the following formula:
% promoters – % detractors = % NPS
Gathering evidence from the press and social media
Aside from conducting feedback research (NPS), a critical task is gathering evidence on what people said about your event and when and where they mentioned your hackathon.
To begin, you must do what journalists and public relations professionals refer to as clipping: select, collect and analyze news about your company or hackathon published in various media outlets. 
If you don't have the budget for a news monitoring company, delegate this data analytics to someone on your team.
Additionally, if you had a great pre-hackathon strategy, chances are you told participants to use a hashtag related to your event on social media. Now is an opportune time to take measurements and analyze the results:
What people said about your event and how many times your hashtag was used;

How many people shared your event announcement post, live broadcasts, and/or relevant hackathon links?

Collect photos, prints, and relevant conversations about your brand and event on various social media platforms; 

Engagement metrics: determine how many likes, clicks, comments, and favorites you received when you or hackathon sponsors shared information about the event.

How many people interact with your brand during the active event period, compared with other non-event periods; 

Audience growth rate: monitor how much your social media base (number of followers) has grown since the event was first announced; 

Bounce rate: the percentage of users who clicked on your link, visited a single page and left. A huge bounce rate it's a sign that your destination page/landing page (or even your event) isn't interesting enough. 
There are several social media monitoring tools that you can use to assist you. 
Compiling all of this data and information will be critical for your team to reflect on the hackathon experience. Also, it will be useful not only for planning future events but for showing the event results to your stakeholders.
Run a post-hackathon retrospective!
Once you've gathered all of the hackathon records (number of teams, total participants, mentorships provided, etc.) and combined them with the evidence collected, it's time to conduct a post-hackathon retrospective.
Gather your team to reflect on the event experience internally. The idea is that by working together, you can figure out what worked and where you can improve.
You can talk about a variety of topics, such as:
Process and procedures; 

Determining whether the target audience has been reached;

The quality of the projects submitted and if they met the expectations;

The quality of mentorships and the jury when evaluating projects; 

Teamwork, and so on.
The use of post-its is an excellent brainstorming tool in this case. Mural can be used if your team works from home. Here's an illustration: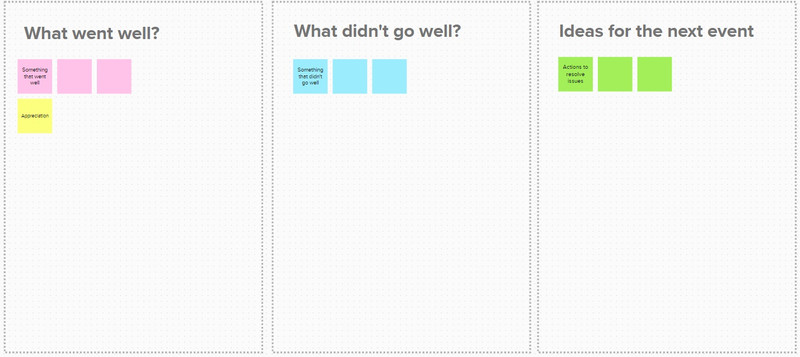 The retrospective report should indicate: 
Everything that went smoothly, so you can do it again.
Everything that went wrong so you can scrap it or improve it in the future.
How much did the event cost in total and per participant?
What your NPS Survey and social media tracking revealed about what participants liked and disliked.
Analyzing the hackathon platform experience
Aside from talking with your team, gather feedback from the hackathon platform you used for your open innovation challenge. The main goal here is to determine whether all expectations were met.
It's important that you schedule a meeting with platform representatives to discuss topics such as: 
Did the platform facilitate effective communication between participants, mentors, and organizers?

Was it simple for participants to form groups and submit projects using the platform?

How did the judges rate the projects? Is there anything we could have done better?

If the platform supports live streaming, how was the performance?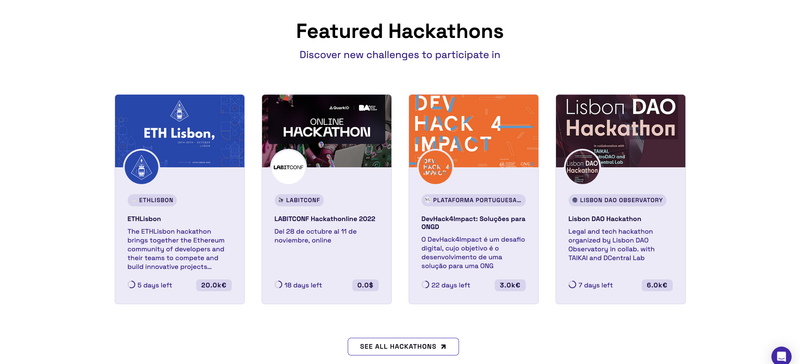 At TAIKAI, we always have a debriefing call with organizers to not only receive feedback about our hackathon platform but also about the event as a whole.
We understand how important it is for the platform and host to be able to communicate effectively, so we're always working to collect feedback from organizers and improve our tool accordingly.
We have spent years optimizing our platform for online, hybrid, internal, or recruitment hackathons. 
If you want to get to know TAIKAI better, reach out to us over here.
Share evidence and celebrate the winners!
Since you collect evidence, why not start sharing them? 
Photos, tweets, webinars... any useful content should be included on a social media posting calendar.
Aside from that, you can also publish a blog post on your website after compiling the results of an internal report, recognizing the teams' efforts and demonstrating the hackathon's success.
To show appreciation for the participants, a good strategy is to also publish content about the winning projects.
By sharing the winning projects with the community, you immediately create a sense of inclusion and proximity. Furthermore, this strategy promotes your event and gives future participants a taste of how much they will be valued if they perform well.
As an example, TAIKAI has published a Blog Post with Data Science project ideas. We mentioned four challenges that we co-create with partners in the blog post, along with four winner ideas.
Building a POC or MVP
Hackathons are frequently used to generate ideas and prototypes for new products. So perhaps, now is the time to capitalize on the fact that you have attracted talent and start working on a proof of concept (POC) or an MVP.
Driving an acceleration program to develop the best solutions or finalist projects is a perfect example. 
Investing in this digital infrastructure can lead to opportunities for product development or, in the best-case scenario, spin-offs.
To conclude this post-hackathon guide…
Remember that in order to follow this post-hackathon guide, you must begin planning your strategy before the event begins.
It means that you must set SMART goals (specific, measurable, achievable, realistic, and time-bound objectives) from the moment you begin planning your event.
By the time you start attracting participants to your hackathon and engaging your community during the event, you must keep an eye on the number of social media interactions, news that are being published and jot down what is going well and what is not. 
This will simplify your post-hackathon meetings and reports.
Furthermore, don't wait until the last minute to write your NPS survey. You can prepare ahead of time using online tools like Refiner or Totango.
And, of course, you can make your life easier by hosting your challenge at an all-in-one hackathon platform like TAIKAI.
We're here for you.
Request a demo today. Contact us to learn more about our collaborative and personalized platform.