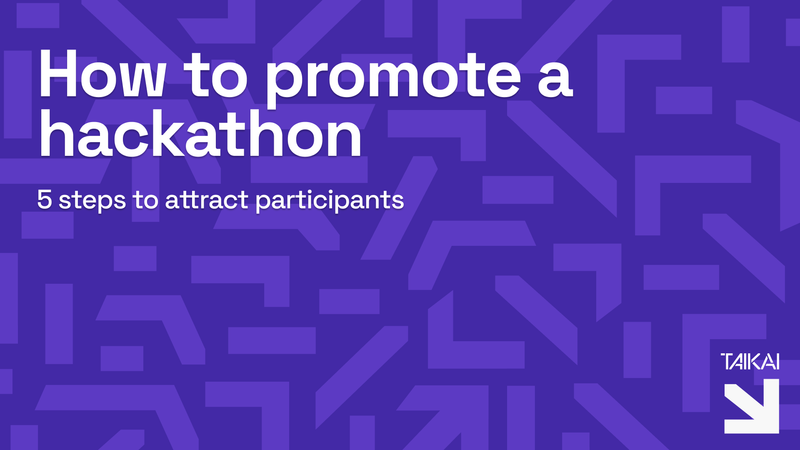 Assume your company is ready to launch a hackathon. You've already set up tools, rules, mentors, and a jury. You must now concentrate on how to promote your hackathon: attracting participants is the new challenge.
Promoting a hackathon is comparable to selling goods and services to customers. Organizations require a strategy that includes press releases, blog posts, social media, email marketing, and other activities. 
However, this will not be effective unless you target the appropriate audience.
You must create the right environment and be present in the right places to attract participants to your hackathon. 
It means promoting your hackathon on social media groups related to your business or the event theme, forming partnerships (such as with universities), and relying on brand ambassadors.


Table of contents
Have an effective platform
Where (and when) attract participants
How to attract participants on universities
Promote your mentors, jury and sponsors
Use events to promote your hackathon

1. Have an effective platform
First and foremost, even before you host a hackathon, you should keep the registration process simple and easy to understand. 
To put it another way, if you want to attract participants to your hackathon, you must provide a robust platform.
Ensure the main page of your hackathon challenge has all crucial elements, similar to the image below. 
All data must be in conjunction with a simple login and project submission process.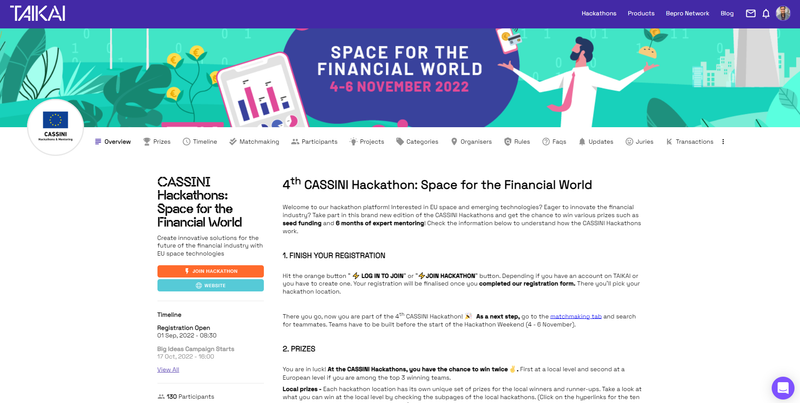 All of these features are significant advantages of the TAIKAI platform, which is a unique all-in-one platform.
We provide all of the necessary tools and resources for organizations to worry about the strategic part, which includes attracting participants to the hackathon, while our platform ensures the operational part.
👉 10 Reasons to Use a Hackathon Platform for an Online Challenge
2. Where (and when) should you promote your hackathon?
You must begin to promote your hackathon as soon as it is confirmed internally. Make sure that you start advertising your hackathon to attract participants at least one month before the event.
Of course, sending press releases is critical. 
Do not, however, bet on mass publications. Concentrate your efforts on specific editorials and targeted media based on your area of expertise.
Hackathons are generally well-regarded by publications in fields such as technology, innovation, human resources, and marketing.
Also, send your press releases to influencers and bloggers in your niche.
👉 Learn how to host a virtual hackathon
Aside from that, organizations can use paid and organic social media announcements to generate buzz. Let's look at how we can structure this publicity:
Social Media Power
Especially if it's a web3 open innovation challenge, Twitter, LinkedIn, Telegram, and Discord are the best choices because it's where software and blockchain developers interact with one another.
Here are some ideas on how to attract participants to your hackathon:
You can also host events on Discord to help how to promote your hackathon. It's an excellent way to increase exposure and encourage members to invite their friends to your server.
👉 The ultimate guide on how to build a web3 community
Also, don't forget Facebook: your team should join groups and interact with target participants even before the official launch to make your brand known and trustworthy.
What about Instagram? Well, this is a really powerful social media to use paid ads because the Facebook Business Tool, which is integrated with Instagram, has the best demographic and interests segmentation to reach the right audience.

Newsletters can attract participants to your hackathon as well
Many of the suggestions above also apply when you promote your hackathon through newsletters.
One of the most significant benefits of connecting with niche influencers on social media is that they may also have newsletters that can help you reach the right audience.
You can cross announcements and publicity with them via your company newsletter, or you can pay them a small fee to promote your hackathon: this will make it easier to attract participants because you will be expanding your brand and event awareness.

3. How to promote your hackathon on universities, incubators, and startups
You are usually using a Business to Consumer (B2C) strategy when you make an announcement on social media. However, Business to Business (B2B) marketing is an excellent way to attract participants to your hackathon.
The first step is to establish a network of connections with educational intuitions.
When a hackathon challenge is presented, students are usually the first to express an interest in forming groups.
And what better way to reach them than to collaborate with course coordinators and professors' teams?
As a result, it is critical to promote external actions with universities (particularly if it is a local or national hackathon) in order to open doors to university students, post-graduate students, and recent graduates. They can also serve as ambassadors for your program.


👉How to engage your community during a hackathon
Young entrepreneurs are frequently interested in publicly displaying their solutions. 
Consider contacting incubators and accelerators and asking them to send out communications to startups in order to attract participants to your hackathon.
Also consider promoting online events (for example, in Discord) for this public in collaboration with incubators and accelerators.
4. Promote your hackathon challenge to mentors, jury and sponsors
Exposing your hackathon strengths when communicating with your audience, whether B2B or B2C, is critical, and this includes who will serve as mentors and jurors.
Sometimes all it takes to attract participants to your hackathon is the fact that they admire certain experts. So, write about their backgrounds and experiences.
If possible, request that they send you a video to promote your hackathon on social media. Of course, you should ask mentors and jurors to promote the hackathon, but don't forget to do your homework by presenting them as well.
Make it also clear when you are not alone by revealing who your sponsors are. It gives your hackathon challenge a sense of security, popularity, and credibility.
👉 Find out more about why you should sponsor a hackathon

5. Additional events to your hackathon challenge
Participating in other online and in-person events will attract participants to your hackathon because your company will be perceived as an organization interested in promoting open innovation.
If you have extra funds, you can sponsor some of these events or rent a boot for your company. Trade fairs, conferences and summits are usually great ways to connect with like-minded people and organizations.


Finally...
At the end of the day, it's critical to track your progress.
See what has worked best to attract participants to your hackathon and apply what you've learned to other opportunities.
However, always remember that more important than making people click on your hackathon challenge link is promoting a good experience from start to finish.
So, once again, it's critical to look for a platform that provides an all-in-one solution:
Providing spaces for mentors to chat with one another and with participants in order to form virtual teams; 
With a large community eager to engage and create solutions to your problem; 
A dashboard that enables participants to submit their projects in rich formats, including images, videos, and attachments, in a user-friendly environment for both participants and the jury;
A platform with live streaming capabilities for broadcasting all events and phases of your hackathon challenge;
A simple voting system that is preferentially auditable (such as a blockchain infrastructure).
A matchmaking system for participants to engage and form teams.
All of the items mentioned above, as well as many more, are available on the TAIKAI platform
Still not sure if we're the best platform for you to manage your hackathon or open innovation challenge? Our team is here for you! Get in touch to know more and experience our collaborative platform with a personalized demo.