dApps are becoming ever so popular with the steady user growth of web3 products and services.
Just like any other industry, researching and learning about new tools, coding languages and wallets can be a hassle.
If you want to create your own dApp, this article provides user-friendly tools that will increase developer productivity while saving time and, in some cases, money, when developing decentralized applications.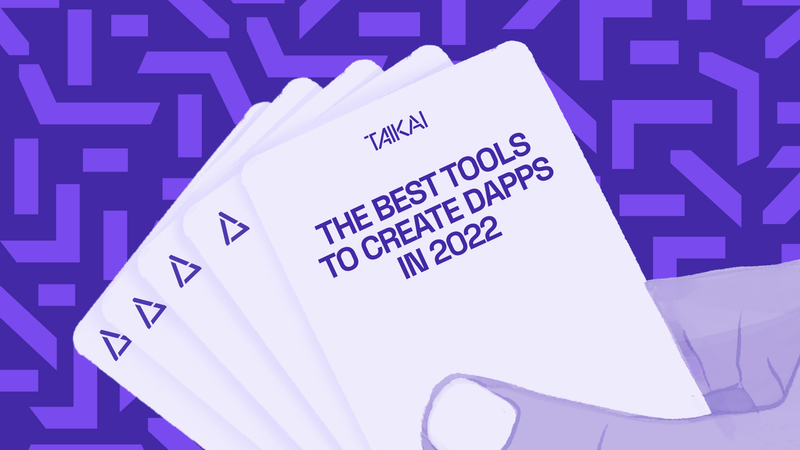 Before we get into the best dApp tools, here's a tip on how to make dApps:
Developers are probably familiar with some programming languages for structuring new decentralized applications, including Solidity (particularly for smart contracts) and the popular ones: HTML, CSS, and JavaScript.
There are also specific wallets that you can use to access dApps. The most popular is MetaMask, but there are others, such as Portis and the WalletConnect protocol.
7 best development tools to create dApps
dappKit
Truffle Suite
Remix IDE
Solidity
MetaMask
Portis
WalletConnect
There are several approaches to developing dApps. In this article, we will provide a list of tools, languages, and wallets recommended for creating better and more compatible blockchain-based decentralized applications.
The best tools for dApps in 2022 🛠️
Dappkit
With an easy setup and user-friendly documentation, dappKit, developed by Bepro Network, is a free/open-source web3 SDK that enables developers to build web3 features and products with an easy-to-use framework.
The main goal of dappKit is that developers do not need to write web3 code from scratch, simplifying the development process in as little as three lines of code.
It is possible to create an infinite number of dApps and web3 products, including DeFi platforms, Decentralized Autonomous Organizations (DAOs) and crypto tokens, among other possibilities.
👉Learn more about dappKit and understand why is it the simple way to start your web3 project
One of the most significant benefits is that web and JavaScript developers with no Solidity experience can use dappKit to interact with Ethereum Virtual Machine (EVM) standard contracts (ERC-20, ERC-721, ERC1155). 
This is because dappKit-launchpad reads Solidity contracts and generates javascript proxies from them using dappKit classes and helpers.
Using the dappKit transpiler, developers can create a typescript/javascript SDK for custom smart contracts. 
Furthermore, there is no need to deeply understand how to connect to a blockchain because you can specify the EVM RPC endpoint (Ethereum, Avalanche, Fantom, Moonbeam, and so on) to deploy on dappKit.
Here's a recap of why dappKit is one of the best tools to create dApps: 
Easy setup and user-friendly documentation from source, as well as community-maintained Gitbook documentation;
Less time researching because dappKit adheres to standards and provides an easily navigable one-stop-shop for all of your contract requirements;
Web3 features integration with just a few lines of code, eliminating the need to repeat code when interacting with the blockchain. In three lines of code, dappKit connects to an EVM Blockchain node;
Simple integration with any smart contracts via an extensible model that can interact with any Application Binary Interface provided. Also, you can deploy standard and custom contracts to any EVM-compatible blockchain;
Easy wallet integration with Metamask to sign and submit smart contract transactions in your javascript dApp; 
DappKit provides its own utilities in addition to those provided by web3js, and it allows you to generate a wrapper for your EVM contract.
Truffle
Truffle has a great development environment. As Truffle Suite says, this tool made smart contracts "sweeter".  
Truffle has an excellent baseline for frameworks and an asset pipeline for EVM-based blockchains. 
It is a JavaScript-based tool for dApps that includes:
Ganache - An Ethereum simulator that allows you to create faster, easier, and safer dApps. You can use it to deploy contracts and create your own dApps.
Drizzle - A collection of front-end development libraries that simplify and improve the reliability of dApps.
Besides that, as a fantastic tool for decentralized applications, Truffle also provides the following features:
Smart contract compilation, linking, deployment, and binary management; 
Contract testing that is automated for quick development; 
Framework for deployment and migration that is scriptable and extensible; 
An interactive console that allows direct contracts communication
Configurable build pipeline
In addition, Truffle and Ganache have a user interface (UI) that makes smart contract transactions easier to understand.  You can start with the Truffle Starter Kit.


Remix IDE - Integrated Development Environment
Written in JavaScript and developed as an open-source web and desktop application, Remix IDE is one of the best tools for developing dApps because it requires no setup, has a rich set of plugins, and has a quick development cycle.
To begin with, the Remix IDE project was primarily aimed at Solidity programming language developers, with modules for testing, debugging, deploying, and administering smart contracts written in Solidity code.
As Solidity was built for the Ethereum Development Environment, Remix IDE ends up being an excellent choice for developers working on the ETH blockchain because the Integrated Development Environment provides:
An Analyzer that checks security vulnerabilities and bad development practices on Solidity smart contracts; 
The Remix Astwalker provides a friendly reader with the AST (Abstract Syntax Tree) of smart contracts. 
Basic smart contract debugging tools; 
Remix Tests is a feature for continuous integration testing.
Low-level libraries for developers enhance features.
Best coding languages to build dApps 📙


Solidity
Solidity is the primary language used for developing smart contracts on Ethereum.
It is an object-oriented and statically-typed programming language that can be used for all EVM-compatible chains, including Polygon and Binance Smart Chain.
Solidity was designed based on other existing programming languages like C++, Python, and JavaScript, using similar language structures, and already provides some developed functions and commands, such as timestamps for blocks. 
It allows for the extension of other contracts through inheritance, as well as libraries for reusable code (enabling the creation of different contracts).
HTML and CSS
They are equally important for developing the web frontend user interface, as they are used for laying out the structure and user interface (UI) of apps.
In other words, HTML is used to add the structure, fields, and buttons to a web page, while CSS is used to determine the style.
It is not by chance that HTML and CSS are the prior layers of Web2 development. This brings us to what is known as the third layer on the web: JavaScript.
JavaScript
When creating Dapps, developers may need to use JavaScript to develop the frontend logic. It is primarily used for web development and is an object-oriented programming language. 
There are currently many libraries available for blockchain developers that work with JavaScript.
Furthermore, Web3js is the most commonly used language for communicating with smart contracts. 
And it is an excellent choice for testing frontend and backend on smart contracts, allowing the majority of the code base to be shared.
To summarize, developers can use CSS to style dApps, HTML to organize information, and JavaScript to provide functionality and interactivity.
Connecting the best tools for dApps with wallets 💵
Aside from learning the fundamental languages for developing in web3 and locating the best tools for dApps, you will also need to connect your new blockchain app to wallets.
So, we've compiled a list of three of the best web3 wallets available right now.
MetaMask
The most well-known cryptocurrency wallet is also one of the best options for connecting dApps. 
MetaMask is useful because it is a nearly universal wallet that converts popular browsers (such as Chrome, Firefox, and Opera) into "Ethereum browsers".
In addition, MetaMask has an Ethereum Provider API that developers can use to request a user's account information and request that they sign a transaction from dApps. 
As a result, it is simple to access, create new Ethereum addresses, and send transfers.
Portis
This wallet also supports the major browsers and allows dApps to communicate with the Portis SDK via standard web3.js methods.
With just four lines of code, Portis can be integrated with dApps and smart contracts.
Portis only requires an email address and a password to authenticate users. It means that no private key is required. Portis also supports blockchain interoperability. As of today, this are the blockchains that Portis supports:
Ethereum
Bitcoin
EOS
SKALE
Matic
Ubiq
Thundercore
WalletConnect
This is not exactly a wallet, but rather a protocol that allows blockchain developers to connect wallets to decentralized applications. 
WalletConnect positions itself as an open protocol designed for developers with simple integration to securely communicate between Wallets and dApps. 
As its documentation indicates, it can be linked with feel lines of code. In addition, SDKs for Javascript, iOS/Swift, and Android/Kotlin are available.
The protocol uses strong encryption. It symmetrically encrypts connections to apps or devices using a shared key between the two peers. 
Moreover, WalletConnect was designed to work with any blockchain. 
They expect to connect with more chains in the future, but for now, it connects with Ethereum, Cosmos, Polkadot, Celo, Solana, and Near.
Conclusion 📍
When considering how to create dApps, three factors must be considered as a blockchain developer: simplicity, good documentation, and community support.
Remember that JavaScript is widely used in the blockchain space. As a result, it will help you in connecting with a variety of wallet options.
Of course, there are other languages that are used in the blockchain world that we did not mention above, such as Python, Vyper, Goland, and C#. But then again, we covered THE best tools :)