A virtual hackathon is a challenge-based event that allows participants to share their ideas and solutions online. It is a great way to get people thinking outside the box and coming up with new and innovative solutions.
Hosting a virtual hackathon can be challenging.
It involves a lot of planning, preparation, gathering an audience, and a handful more steps to pull it off the right way. 
But there's good news: it's easier than you might think.
If you're thinking of hosting a virtual hackathon, here are some quick tips to help you get started:
Choose a theme for your hackathon. This can be anything from product development to marketing campaigns.

Draft a list of challenges that participants can choose from. These challenges should be designed to inspire creativity and innovation.

Create a timeline for the hackathon and make sure everyone involved knows what's expected of them.

Promote the event online and make sure it's accessible to anyone who wants to participate.

Host a final judging session where participants can present their solutions to the judges.
In this article, we're going to dive deep into the technical setup and tools, but also the main components and processes you should be familiar with to get your first virtual hackathon up and running in no time.
Ready? Let's go 🚀
What's a hackathon?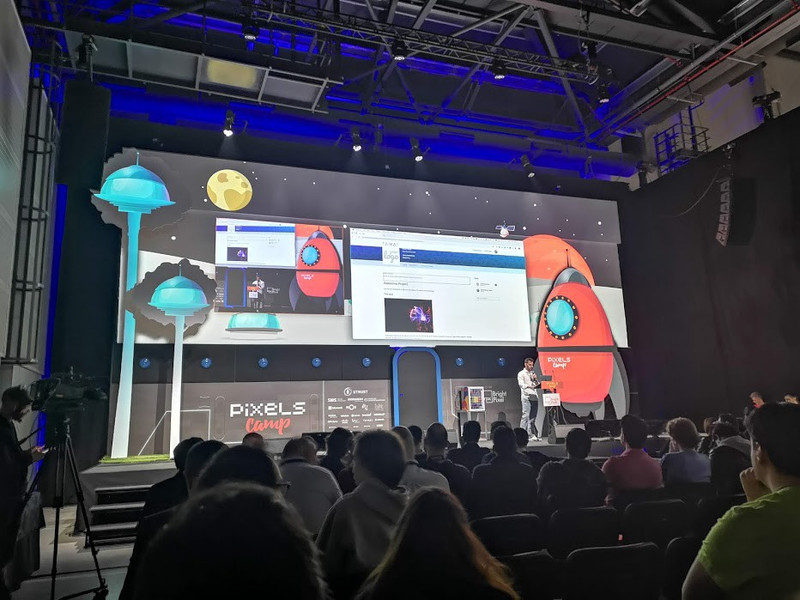 A hackathon is often used to refer to sprint-like events where computer programmers and other software developers cooperate to solve real-world problems. 
Hackathons can be used for a multitude of purposes: from community building to problem-solving to even talent sourcing. 
The term was first used by OpenBSD in 1999 and over the next decade, hackathons surged in popularity. 
They began to be viewed by organizations as an effective way of developing software technologies and solving challenges.
The transition from live to virtual hackathons 🌐
If we fast forward to today, the benefits of hackathons are still the same, if not even broader. However, we've started to transition hackathons from in-person events to the digital world.
You might recall the good ol' days of hosting a live event, as software developers would come flocking in.
Laptop in one hand. 
ID Card around the neck. 
A t-shirt of their favorite tech brand. 
And a beaten-up backpack solely containing a sandwich and a couple of energy drinks to stay awake for about 48 hours. 😅
Good times.
But times change. Here's why:
Why Host a virtual hackathon?
Hackathons are effective as they facilitate a set of creative minds to come together and focus their energy on a single goal in a short amount of time. 
Transitioning from a physical space to a virtual one may bring some drawbacks, such as generating less hype than onsite hackathons.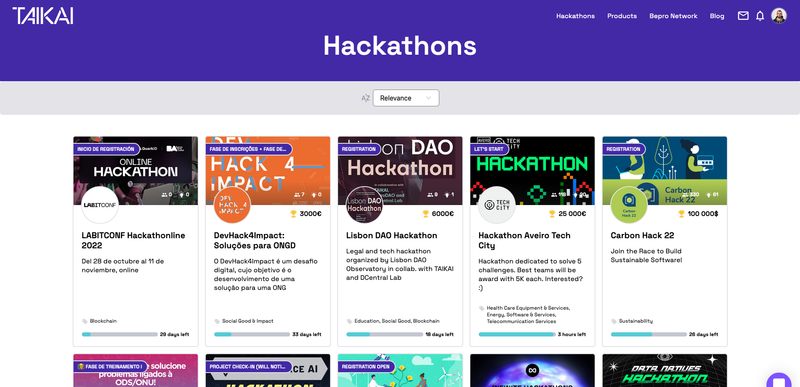 However, a virtual hackathon platform overcomes these drawbacks by offering a plethora of benefits.
Cost 💰
The costs incurred by hosting a virtual hackathon are significantly less compared to a real-world hackathon. While hosting an onsite hackathon you would have to factor in the cost of renting a venue, employing staff, utilities, and much more. 
Online events, in comparison, require significantly lesser funding. 
Providing software licenses and building a digital infrastructure and equipment are a few things that would take up most of your expenditure when you host a virtual hackathon event.
Participant Comfort 🛋
Many participants have different skill sets and work better under different conditions. 
An online hackathon event grants each participant the ability to work in conditions where they are most efficient. 
For some, this might mean working in an ice-cold room. For others, this might mean blasting their favorite music. 
Whatever their preference, they will be able to do so without becoming a hindrance to other participants. 
This, in turn, leads to increased productivity and better results. This liberating experience tends to create a sense of community among like-minded enthusiasts.
Diversity 👩‍💼🙎‍♂🙆🏽‍♂️
While hosting an online hackathon event, you are not bound to a particular location, allowing individuals from different backgrounds to participate in the event. 
This is beneficial as it leads to more creative output. 
Additionally, companies would not have to invest in transportation costs for individuals who might live in a different corner of the world.
Additional benefits of hackathons
There are many more reasons and benefits for hosting a hackathon, but in short:
Hackathons promote creativity and innovation.
Hackathons bring people together from all over the world to solve problems.
Hackathons are a great way to get new ideas for your business or organization.
Hackathons are a fun way to engage your employees and promote teamwork.
Hackathons are a great way to learn new skills and technologies.
Planning Your Hackathon
Before you can start planning your virtual hackathon, you should answer a few questions:
What are your goals for the hackathon?
What kind of challenges will you be offering participants?
What kind of prizes will you be offering?
How will you judge the submissions?
Once you have answered these questions, you can start planning the logistics of your hackathon. 
This includes setting a date and time, creating a registration page, and deciding on a submission format.
How to set up a virtual hackathon ✅
Virtual hackathon events require less preparation compared to real-world hackathons. 
In order to make successful hackathons events, it is essential to carry out proper preparation before a virtual event. 
In this section, we will discuss how to set up a virtual hackathon.
Online hackathon platforms
Thanks to online hackathon platforms like TAIKAI, it's now easier than ever to host a virtual hackathon. 
These platforms make it easy to manage challenges, communicate with participants, and track submissions.
If you're looking to foster innovation and creativity in your organization, a virtual hackathon is a perfect way to do it.
The types of programs required for hosting an entire hackathon event are as follows:
Text-based chatting: Participants in a team must communicate with each other to discuss ideas, clear doubts, or ask questions. A text-based chatting program would allow teams to stay in contact and swap ideas. 
Presentation: The peak of a hackathon session is when all the hackathon teams present their finished project. It is up to the organizer to decide what program will help demonstrate the final project of their participants. 
Centralized user interface: A centralized hub where all the event-related information is updated. The information may include rules, schedules, FAQs, or contact information. This would help participants stay up to date on the event.
Timeline: Having a clear timeline will help both the organizers and attendees manage their workflow better. Usually, the process is drafted like so:

Registration phase

Ideation phase

Project submission phase

Results phase
These are the most common time frames for virtual hackathons, but you can customize them depending on your specific needs.
Still not sure what hackathion platform to choose? We've conducted a careful review of the major hackathon platforms and created a benchmarking guide, so you have a quick and clear understanding of the features and benefits each one offers.
Judges
For a legitimate external hackathon, a qualified judging panel must evaluate the participant's efforts and ultimately declare the winner of the competition. 
It would be favorable for the virtual hackathon organizers to choose a well-known judge among the event participants. 
Advertising a judge who is relevant to the theme of the event would indeed generate more hype and trust.
Prizes
Organizers of external hackathons offer prizes to incentivize the participants and to promote competition. 
The prizes come in different forms: could be cash, gift cards, tech products (laptops, smartphones, tablets, accessories, etc.), software licenses, educational prizes such as mentorships, or even a job at the company.
As a rule of thumb, advertising the rewards helps garner more attention for the event and entices people to take part.
How to Host an Online Hackathon ✅
Now that you are informed about the tools required to organize a hackathon, we will talk about how to organize an internal hackathon or an external hackathon.
Listed below are the steps to follow when you plan to host a virtual hackathon event. 
You can also read the external hackathon case study to understand better how CASSINI pulled an amazing experience.
Define the Challenges: All hackathons are based on a particular theme. It is crucial to choose a theme that resonates with your target audience. The specific challenges could be defined prior to the event or at the start of the event. It is not necessary for the hackathon to be coding-related. Some non-coding-themed hackathon project ideas include culture change or supply chain management.

Identify Key Stakeholders: It is best to identify and involve key stakeholders as early as possible. They will be the ones who will sponsor a part or the entirety of your virtual hackathon event. As a result, they will be the ones who would be most impacted by the results of a successful event.

Define Audience: Choose whether you want to organize an internal hackathon or a public hackathon for your target audience. Suppose you choose to host a public virtual hackathon event. In that case, you may decide whether you want citizens of your own country or city to participate.

Host the Event: You would start by debriefing the participants about the nature of the challenges and judging criteria. The participants would then form teams and work on the project. Upon completion, they would present their projects in a wrap-up session. The best hackathon teams would be rewarded with prizes.

Recap the event: Once the prizes have been distributed, you can recap the event and recall memorable moments and exemplary ideas. After the event, you can further recap the event on social media pages to garner attention and provide insight into the event for those who missed out on it.
Strategies to engage your community during the hackathon
Hosting your hackathon is the first step, however, you must also account for community engagement. 
After all, you want to drive innovation and get as many participants as possible. We have an in-depth article explaining the best strategies and actions to perform before, during, and after the hackathon.
We know.
Hosting a virtual hackathon is demanding. But what if you could do all of this in one single platform?

TAIKAI is a virtual hackathon platform that provides a multitude of features such as live streaming, a messaging interface for communication between participants and a matchmaking system. 
Our platform also enables participants with the opportunity to publish their submissions in rich formats, build up their hackathon portfolio and share it on social media. 
The best participants could be rewarded with prizes and token incentives based on their performance on the platform.
As for you – the host - we provide a unified, yet simple web user interface, where you can manage the entire hackathon challenge. 
From competition content, rules, voting system, prizes, and an event timeline, we developed our platform to be an all-in-one solution so you can focus on the hackathon itself instead of wasting energy and resources managing it.
Tips for a Successful Hackathon
Last but not least, we want to share a few tips to help make your hackathon a success:
Make sure that your hackathon is well-organized and easy to participate in. The last thing you want is for people to be struggling with the rules or the logistics of the challenge.
Make sure that the challenge is interesting and motivating. It should be something that people will want to work on, not something that feels like a chore.
Promote your hackathon well in advance. The more people know about it, the more likely they are to participate.
Provide plenty of support to participants. They should be able to get help whenever they need it, whether it's with the challenge or with anything else related to the hackathon.
Have fun! Hackathons are a great opportunity to learn, network, and have some fun too.
In Conclusion
Congratulations on deciding to host a virtual hackathon! It's a great way to bring out the best in your team and foster innovation and creativity in your organization.
To make sure your virtual hackathon is a success, follow these simple steps:
Choose the right platform
Draft the rules and regulations
Create an encouraging environment
Get the word out
Manage the submissions
Choose a winner
Hosting a hackathon can be challenging on its own. 
That's why at TAIKAI we developed a complete virtual hackathon platform that's easy and quick to set up. In a few steps, you can host a hackathon, manage participants, connect with them, live stream your event, form teams, and evaluate submissions - all in one platform.
It's your turn to drive innovation and engage with your community. Talk with us today or Request a Demo, we're always here to help :)