Recently, a hackathon winner project caught our attention by being a prime example of how creative ideas can transform an entire city's life.
The project was part of HACKATHOME, a real estate hackathon held in Lisbon, and it shared a fantastic concept of how we can tokenize real estate. It combined concepts such as blockchain, web3, and tokenization to demonstrate the ability to add value to the entire chain involved:
Let's take a closer look at how they pulled it off.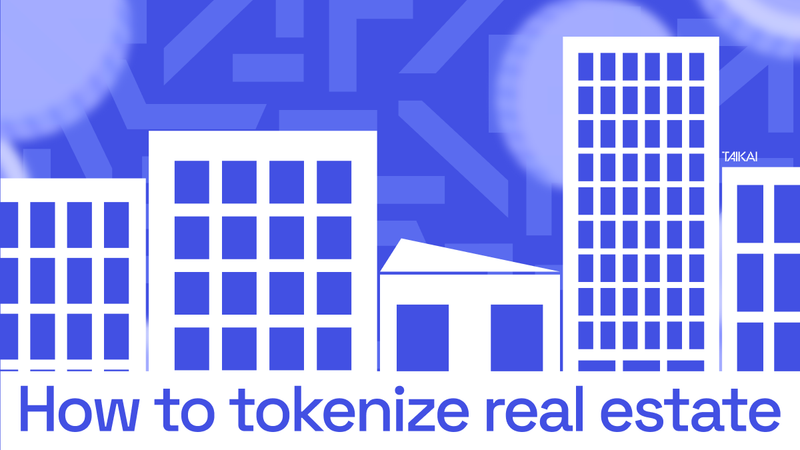 Hackathon overview
Before we get into the details of the real estate project, it's essential to understand the challenge.
There are 48,000 empty houses in Lisbon, and the City Council and Startup Lisboa have challenged university students to solve the problem by giving these empty properties new life.
Students were required to form multidisciplinary teams during a two-day challenge to develop technological solutions that offered a sustainable solution with minimal bureaucracy. 
There were 10,000€ in rewards.

A token-based real estate hackathon concept 🏘️
A group of junior company representatives from the Higher Technical Institute of Lisbon (Junitec) created a group named JUNIKEK, and the solution presented was dubbed as DAOHomes. 
The project is a web3 blockchain platform that aims to connect all interested parties through the use of an exclusive cryptocurrency.
The idea behind the real estate project is for owners to raise funds for a property improvement reform. This is accomplished by investors seeking new types of investments.
With the project, investors can connect their crypto wallets such as MetaMask or Binance Wallet and purchase property pieces using asset tokens.
Then, curators may join the reform project, and a portion of the tokens are set aside as a reward for the project's success. 
Aside from that, there is a significant and attractive difference in this process:
Aside from the owner, investors may vote on project decisions based on the number of tokens invested, similar to how on DAOs work (Decentralized Autonomous Organizations). To summarize, in these companies, investors receive tokens and have the ability to vote on DAO decisions.
Everyone should be happy at the end of the day: properties are sold or leased, and tokens are distributed among owners, investors, and curators. And DAOHomes generates revenue by charging a small commission.
The real estate hackathon project step by step 👣
First and foremost, owners must make their property available on the platform by entering a high-level data description of the renovation requirement.
The owner has to insert information such as name, address, purpose (sale or lease), property footage, floor, photos, property documents, estimated return on investment and estimated cost for renovation (the system will show the value converted into tokens).
Then, the property will be automatically marked on a map with a pin and will be ready for the first round of investment.
At this point, investors may now purchase pieces of the house. This is accomplished by investing in house tokens with fiat money during the investment rounds. 
In exchange, the investor receives specific house tokens.
To make the project a reality, using tokens from the first round of investment, a project manager is always hired and defines all renovation plan. 
The next step is to collaborate with curators who can register and offer their services on the DAOHomes platform.
Curators who accept the job are rewarded with bonus tokens via smart contracts, which are a very useful way of transferring resources and certifying real goods, properties, or assets. 
The goal is to make the job more appealing.
At each milestone, renovation work is validated by the entire community of token holders (owners, investors, and curators) through a voting system akin to a DAO. In other words, owners and investors have the ability to vote on and comment on the curator's project, thereby validating ideas.
Following the completion of the preceding steps, the reform is complete, and the big day has arrived: houses are ready to be sold or leased. 
To accomplish this, a smart contract automatically makes the house available to a partner real estate agency, which will seek a buyer or renter.
Finally, when a house is sold or rented, each user receives their proportionate share.
To Summarize the Hack 💻
Real estate projects such as DAO Homes are welcomed in many locations.
In recent years, more than 11 million empty houses were esteemed in Europe and, as DAOHomes study has shown, 49% of the population is interested in investing in real estate. It represents a paradox. 
However, web3 projects like the one mentioned above may help both owners (who don't have the money to renovate an empty house) and people who want to invest in real estate (but don't have enough money to buy a house, but can purchase a smaller percentage through tokens).
Aside from that, vacant homes are a social issue that governments like the Lisbon City Council want to address. 
Projects presented on HACKATHOME stimulate reforming and can give a clean face to empty uninhabitable houses, assisting in the provision of accessible housing for people who cannot afford to pay high rents.
At this point, DAO Homes are clear proof that projects that combine blockchain and data science are applicable to real estate and may assist governments and citizens in resolving various issues.
So, if you have an idea that can solve social and technological problems, keep an eye out for our live hackathons!