Internal hackathons can be one of the most effective ways to drive innovation in your business. It's like opening Pandora's box: new products, creative solutions, and new features will be born, as will collaboration and corporate silos.
This blog post will walk you through the process of organizing internal hackathons step by step. They can be online, offline, or hybrid. 
But first, it is critical to understand why internal hackathons are so important to your business strategy.
Table of contents
Internal hackathon benefits
· Healthy competition
· New ideas and solutions
· Bring together remote or hybrid teams
· Give employees active voices

Organizing an internal hackathon
· Aligning Goals and Expectations
· Choosing the right hackathon platform
· Structuring the content trail
· Defining rules, mentors and judges
· Forming teams
· Communication is key

Why should you host an internal hackathon?
There are numerous reasons to host an internal hackathon. Some of the most immediate benefits include encouraging internal networking, constructing creative environments, and developing hard and soft skills on your teams. But there's a lot more.
Healthy competition
To begin, organizing a private hackathon is a fantastic opportunity to embrace an innovative environment while also forming multidisciplinary groups and encouraging healthy competition within the company.
Competitions, when done correctly, can be excellent sources of motivation. To encourage participation, you can provide employees with non-monetary rewards or dedicated time just for attending your hackathon.
New ideas and solutions for real problems
Hackathons, both external and internal, provide fertile ground for the rapid development of innovative and disruptive solutions. It means that when a company truly understands its pain points, these collaborative events help to solve complex problems and also serve to co-create projects across different areas.
Several businesses encourage hackathons to implement paradigm shifts that have a direct impact on business. The Facebook Like button, for example, arose from an internal hackathon.
Bring together remote or hybrid teams
Internal hackathons allow people who have never met in person to exchange experiences in a closer setting.
As a result, the benefits of internal hackathons include increased coworker camaraderie, social connection, and a more human experience.
👉 Take a look why internal hackathons are important to remote companies
Allow employees to speak up
When you organize an internal hackathon, you allow employees to bring ideas out of the closet. Teams will recognize that they have genuine opportunities to make a difference for the company, providing them with a genuine sense of belonging and inclusivity. 
Great, but how do I organize an internal hackathon?
The first step is to decide whether your hackathon will be online, hybrid, or offline.
Pandemics have shown that hackathons do not have to be in person. In other words, for teams spread across multiple cities or countries, online internal hackathons are a great tool to help you host a hackathon.
Aligning Goals and Expectations
To begin with, as with any internal event, you must involve as many departments as possible when planning an internal hackathon. After all, ideas come from everywhere, and hackathons are multidisciplinary events.
In order to set up specific organizational pains and needs, invite managers and leaders from key areas that can help you structure and organize the event, such as: 
Innovation and Business to set up specific organizational pains and needs. By doing this, it will be easier to determine the theme(s) for the company hackathon; 

Human Resources (HR) deals directly with all organizations. As a result, HR professionals are familiarized with each area's routines and can help with the engagement strategy;

Communications and marketing are critical areas to consider when deciding how to disclose and engage participants. 

Technology and logistics departments (such as IT and P&D) will assist you in allocating digital efforts and determining the best platform for your company to use when promoting the internal hackathon. 
At the kick-off meeting, you must describe the objectives, team sizes, and deliverables. It is time to spell out exactly what is expected of hackathon participants. Teams may be required to provide Proof of Concepts, Prototypes, Pilots, or MVPs, for instance.
Dividing tasks to organize internal hackathons
Because you already have other areas to support you, it's critical to create a calendar to follow by determining each person's responsibilities for organizing your internal hackathon. This includes: 
✅ The hackathon main theme and topics, of course, but also the rules and who can participate;
✅ The budget available for the event; 
✅ Rewards that will be given to the winners;
✅ Who will be the judges and mentors of the hackathon. Tip: Invite people from outside the organization to fill this role as well.
✅ Creating internal communications and endomarketing strategies to attract as many employees as possible;
Choosing the right hackathon platform
Many organizations resort to google sheets, notion, forms, and another panoply of tools to organize a hackathon. The truth is that using all these tools is exhausting, requires time and energy from the organizers and ends up being mostly manual work.
Many organizations resort to google sheets, notion, forms, and other similar tools to run a hackathon. The reality is that using all these tools can be draining, requires organizers to spend a lot of time and energy on it, and generally ends up being mostly manual labor.
TAIKAI hackathon platform makes organizing an internal hackathon easy and straightforward. 
Our platform can be used for online or hybrid hackathons and facilitates communication among organizers, participants, and mentors. We also provide a logical and easy-to-navigate hackathon page for your organization to manage and present competition content, rules, prizes, hackathon timeline, and updates.
Internal hackathon structure: content trail
Nowadays it is common for hackathons to last more than a day. They can take weeks or even months, depending on the challenge. The goal is to give participants more time to develop better, more comprehensive solutions.
Since the participants will be devoting time and effort, nothing is more equitable than creating a powerful content and learning trail. That is why defining the content trail is one of the most important aspects of organizing an internal hackathon.
In other words, you must devote time to researching and planning activities that will be deliverables at each stage of the event. It entails, for example, planning the workshops and seminars that will be held as part of the event. Here is an example of hackathon stages: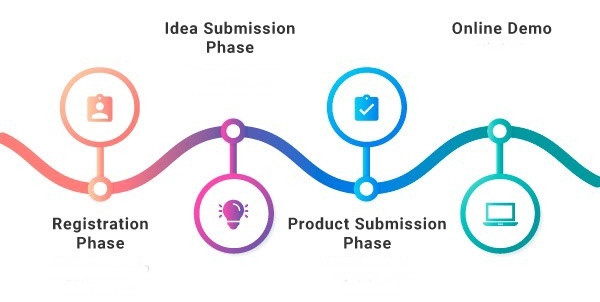 In a nutshell: 
The registration phase occurs when the company promotes the hackathon and participants form teams and submit ideas.
During the ideation phase, your company should provide exclusive content, educational trails, mentorship, workshops, and seminars that focus not only on the event theme, but also on relevant activities such as MVP development, design thinking, creativity, and idea generation. Meanwhile, the participants are working on and refining their projects..
Participants must complete and submit their projects for judging based on the knowledge gained in the previous phase
The projects chosen by the judges will be invited to present a pitch during the final phase of the internal hackathon. This is where the magic occurs and the winners are determined.
Stay tuned: Remember online events can make people feel isolated, so set aside specific hours or days for team catch-ups where they can discuss their progress as a group. Furthermore, the platform used on the internal hackathon must facilitate team communication and interaction to foster this sense of unity.
Defining rules, mentoring and judging criteria
Hackathons are typically organized around specific topics, technologies, or processes. So, do your best to ensure that participants stick to the proposed theme. 
One obvious way to accomplish this is by clarifying the rules. So, even before you start promoting your hackathon, write them down.
The rules must be easily accessible to all participants at all times and include information such as judging criteria, time limits, tools that participants must use during the event, and so on.
👉 Here is a comprehensive guide on how to promote a hackathon: 5 steps to attract participants
It is possible to condition hackathon registration on a rule's acceptance checkbox. However, this is insufficient. Take some time during the hackathon launch event to review:
A synopsis of the main rules; 

Who are the mentors (explain if generalist mentors are available in addition to specialists) and how and when they will meet with the teams; 

How will the projects be rated by the judges? It is critical to follow a clear methodology in this case. TAIKAI, for example, provides tokens to judges in order for them to evaluate projects.
Forming teams and matchmaking

It's also important to set some rules when it comes to forming teams. Naturally, people will try to form teams with colleagues that are closer to them. Unfortunately, this might not be the best approach as teams might become less diverse.
A rule of thumb would be to only allow one teammate per department, for example, a team of four would be composed of one member from marketing, one from design, one from sales, and another from tech.
Remember: communication is key
Good communication is critical for success, especially if you're running a hybrid or online internal hackathon, from the moment you start promoting the event.
To make the event public, use internal communications (intranet, email, and other internal channels) to ensure that everyone is aware of the innovation challenge. Involve managers as well to help you engage employees.
However, you must proceed when the game is being played. Of course, these internal channels are important for communicating the hackathon's next steps, but it is critical that you use a platform that ensures all necessary information.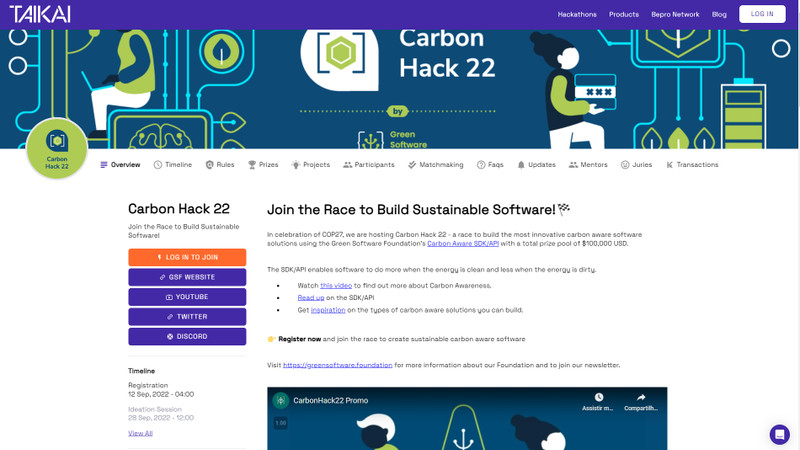 Final thoughts
To sum it all up, in order to organize your first internal hackathons, you must:
Align goals and expectations with all parties involved, and try to make the process easier with the help of a hackathon consultant specialist; 
Decide whether an offline, online, or hybrid model is best for your in-house hackathon;
Distribute tasks among the members of the internal hackathon organizing team;
Create a content trail for each internal hackathon stage (registration phase, idea submission, product/project submission, pitch day); 
Before beginning to promote a hackathon, define the rules, mentors, and judging criteria.
Host a great hackathon at TAIKAI
Choosing an all-in-one hackathon platform will help with all processes, such as team formation, communication between organizers, participants, and mentors, a dashboard that allows participants to submit their projects in rich formats, live streaming capabilities for broadcasting, and a simple and auditable voting system.