Welcome to the AirWards Challenge 2021: Ideas for the Future of Drones!!!!
Challenge Description:
Drones are one of the most exciting technologies of our time. Many creative and amazing people are working day and night to advance the future of building, designing & innovating drone technology. But the drone future is so much more than the technicalities - the world needs people imagining new ways for drones to be used, and so much more surrounding drones are waiting to be discovered!
It's time for you to use your voice and join the community of people shaping the future of drones in our world!
This challenge empowers you to go beyond the creation & technology of drones. Now more than ever, the world needs ideas for everything surrounding drones: imagining drone ports, new business opportunities for drones parts, and extraordinary business ideas for the use of drones! Do you feel like your imagination is starting to go wild? Good, because this is the challenge you were looking for!
We are looking for your ideas in these three categories:
Imagine drone ports
New business for drone parts
Business Ideas for the use of drones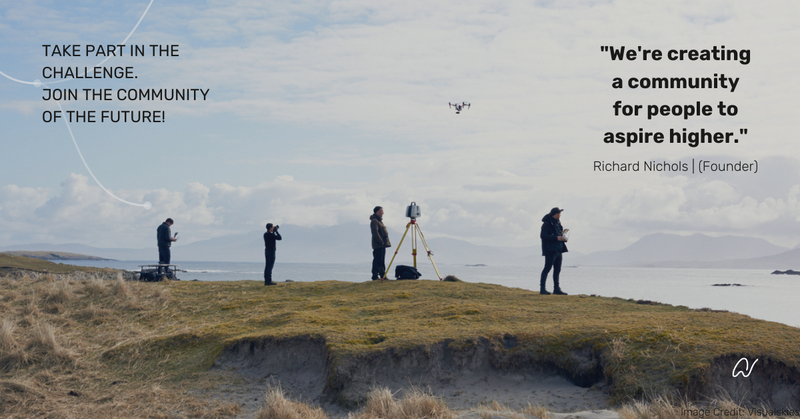 Are you as excited as we are to hear your ideas? Here's some new information to get your brain going...
Infrastructure and accessibility challenges persist in many areas across the globe. In Africa, only 34% of citizens in rural areas live within 2km of an all-weather road compared to 90% in East Asia. Whereas driving conditions for ground vehicles are unsafe at night or deteriorate in adverse weather conditions, demand for service provision across medical, humanitarian, and other fields seldom does.
Un-crewed Aircraft Systems (UAS), commonly referred to as drones in the media and general discourse, are a prime example of a 4th Industrial Revolution Technology with the potential to address some of these challenges. Characterized by lower costs and complexity compared to manned systems, drones provide an opportunity to utilize the lower skies as a mobility resource and to enable new applications.
However, despite the rapid expansion of drones and recognition of the benefits gained through improved connectivity, safer and cleaner operations, and, therefore, more cost-effective business models, commercial activity is severely limited in many areas across the globe.
To bring fresh ideas to these challenges, Airwards has partnered with Blue Globe Innovation to organise an innovation sprint known as a hackathon. We envision the event to convene creative minds from all over the world, knowledge from different disciplines, and field experts in the world of drones together for 60 hours in a virtual environment to work on tangible solutions for reimagining the lower skies.
Key Objectives:
This hackathon aims:
To identify and develop innovative use cases and applications using drones to address common development challenges.

To identify innovative solutions for increasing economic activity using or surrounding drone technology

To Improve current service provision, and remove the adverse effect of bottlenecks to scaling of drone services
Key Criteria & Judging Process of the Best Idea:
All criterions are valued equally at 25%.
Novelty 25%

Safety 25%

Economic Sustainability 25%

Impact (environment and societal benefits) 25%
Approach:
The leapfrogging development hackathon will be a purely virtual hackathon with an official launch of the challenge on the 22nd of November using a portfolio of online collaboration tools, including TAIKAI and Discord.
The hackathon invites individuals and existing companies accompanied by domain experts, researchers, and academia to create the most relevant and innovative solutions to challenges identified by the actors in the field of drones.