We are thrilled to announce BEPRO Network's partnership with Crypto.com for the integration of Crypto.com Pay into bepro-js. In addition to this partnership, Crypto.com will receive a grant in our BEPRO Network #BUIDL Grants Program.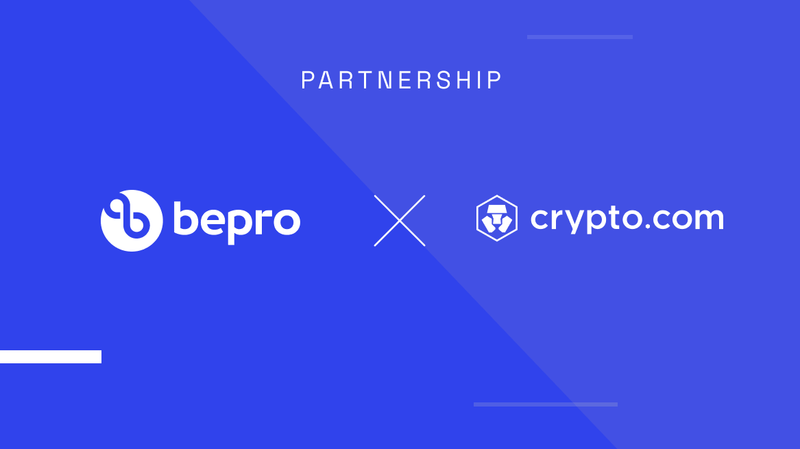 Crypto.com Pay is a payment gateway that allows merchants to accept cryptocurrencies, such as Bitcoin, as payment and seamlessly settle in fiat stablecoins. Merchants and developers within the BEPRO network can sign up for an account and start today; BEPRO Network is a code-as-service and developers' network that enables any company, team, or individual to speed up the development of blockchain and decentralized applications by leveraging our codebase and developer network.
This is a great opportunity to expand the capabilities of all the decentralized applications built with bepro.js.
BEPRO Network's Grant for Crypto.com Pay integration.
BEPRO Network is making a grant available to developers who wish to integrate Crypto.com Pay payments solution into our codebase. In practical terms, it consists of creating a bepro.js method and class to allow anyone using BEPRO's framework to easily add payment solutions to their applications, using Crypto.com Pay.
The grant will fund a public bounty for developers who wish to take the challenge and build the integration and merge it with our codebase. The final solution and code, that will be accepted to be included in the official bepro.js framework, will receive the bounty.
The integration will make it super easy and accessible to add payments support in more than 30 different digital currencies to anyone who's developing a dApp with bepro-js, and will allow them to start accepting payments from 30M+ cryptocurrency users globally.
Adding the possibility to easily support payments will considerably increase the overall value of the framework for all the developers that use it. A feature like the payment gateway will also certainly bring many more developers to the community.
We believe there are many use cases of applications built with bepro-js that could benefit from this gateway. Some examples can be found below:
NFTs & Digital Art:
Help to easily monetize NFT intellectual property through Crypto.com Pay and bepro-js.
Gaming:
Add in-game monetization strategies to blockchain based games
Digital Money & DeFi:
Add critical on and off-ramps via Crypto.com Pay to DeFi dapps and services
BEPRO Network & Crypto.com Partnership
Further down the line, this partnership will extend to everyone in the BEPRO network and ecosystem, and will enable bepro-js users and developers to gain access to the Crypto.com ecosystem of over 10M users and merchants across the globe. Dapps and teams building on bepro-js will soon be able to directly program payment methods into their applications using our codebase, and market their applications to the worldwide user base of Crypto.com.
Additionally, Crypto.com will be able to leverage our network of developers and entrepreneurs for business development and marketing opportunities. We are excited to see where this will lead.